Who will care for your dog if you no longer can?
Our mission is to be a resource and advocate for senior dogs and senior people on California's Central Coast. We find loving homes for dogs whose guardians can no longer care for them and for senior dogs in shelters. We also provide volunteer and financial assistance so seniors can keep their pets with them as long as possible and make arrangements to take in their dogs if they can no longer care for them.
Meet a few of our adoptable dogs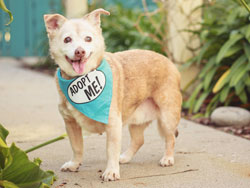 Abalonetti Spring Fling
Join us on the patio at Abalonetti Bar and Grill on Fisherman's Wharf overlooking Monterey Bay. Bring a dog for our look-alike or dress alike contest for your chance to win great prizes.

When: Thursday, April 13
Time: 5:30 - 7:30pm

Bring a dog and get a free raffle ticket. Dog contest begins at 6:30pm. Prizes include a $100 Gift Certificate to the Raw Connection in Carmel.

Enjoy your choice of one of Abalonetti Bar and Grill's famed Local Special Menu Items, sip wines from Bernardus Vineyards, and enjoy Mad Otter Ale on tap.

Cost is $40 per person. Event is limited to 40 guests plus their dogs. Reservations required.

Purchase tickets now.
Hofsas House Hosts Wine Tastings in 2017
Join POMDR and Hofsas House for Locals Fridays wine tasting in the poolside meeting room. Sip local wines, enjoy small bites and support Peace of Mind Dog Rescue. Your four-legged friends are invited too!

May 5 5:30 - 7pm Holman Ranch and Jarman Wines

September 22 5:30 - 7pm Twisted Roots

Hofsas House is located on San Carlos Street between 3rd and 4th, Carmel.

$15.00 per person includes one glass of wine and nibbles. Space is limited to 40 attendees. Reservations required. To make a reservation, contact Carrie at Hofsas House at (831) 624-2745 or carrie@hofsashouse.com. 100% of the proceeds for wine and dog menu benefit POMDR. More info.