Who will care for your dog if you no longer can?
Peace of Mind Dog Rescue is a resource and advocate for senior dogs and senior people on the Central Coast. We find loving homes for dogs whose guardians can no longer care for them and for senior dogs in shelters.
POMDR Holiday Open House
Sunday December 15, 4:00 pm - 6:00 pm
615 Forest Ave, Pacific Grove
You are invited for some holiday refreshments and good cheer.
If you'd like, you can play Santa for the dogs by bringing a gift to place under the tree. Our POMDR dogs made a wish list and this is what they need: beds, medium and large harnesses, all size collars, toys, high quality food and treats, a donation toward medical care, or a gift card to one of your favorite pet supply stores.
Please RSVP to karen@peaceofminddogrescue.org. Well -behaved dogs welcome to join us!
Monterey County Gives 2013 Campaign
Starting now and running through December 31, 2013, any donations made to POMDR through the Monterey County Gives website will be matched. We will earn dollar for dollar all donations up to $14,000 which is being matched by the Boand Family Foundation. We will also receive approximately 14 cents for every dollar which will be matched by the Monterey County Weekly Community Fund.

Click here to make your year end donation go even further to help senior dogs.
Purchase a Wreath, Raise Money for Senior Dogs
Creekside Farms produces a quality line of natural artisanal wreaths and garlands designed for year round decorating. All of their products are handmade, assembled and packed in Monterey County by skilled craftsmen for shipment direct from Creekside Farms. Place an order at Creeksidefarms.com. and use discount code "POM-2013" and you will save 10% on your order and POMDR will receive a 5% donation.
Rescue Tales Calendar
Rescue tales is a beautiful 16 month, 2013-2014 calendar featuring 16 animal rescue organizations including POMDR.

POMDR alumni, Trooper, is featured in July.

Calendars are $15. Email us to get yours or order online.
Major Plaque/Stone Sponsorship Opportunities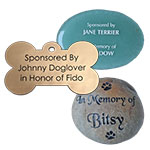 POMDR has three new Sponsorship Opportunities in memory of a dog or a person or in honor of a dog or a person. We will create an engraved plaque or river stone to remember your special someone which will be displayed at the POMDR Bauer Center. Your sponsorship will help POMDR carry out our mission of helping senior dogs and senior people.
Read more about these sponsorship opportunities.
Wish List

We are in need of the following items to help us care for the dogs. We have limited storage space and accept donations by appointment only. If you would like to donate any of the following, please email us. Thanks!
Crates
Collars
Leashes
Harnesses
Dog Beds (Kuranda Dog Beds offer a discount)
Blankets
Bowls
Postage Stamps
Ex Pens
Dog Gates
Baby Gates
Gift Cards for:


Pet Food Express
Raw Connection
Best Pet
Diggidy Dog
Stones Pet Shop
Other Pet Supply Stores
General Volunteer Orientation and Foster Training
Wednesday January 29, 5:30-7:30 PM
615 Forest Ave, Pacific Grove

All new and current volunteers are invited to attend. If you are considering volunteering, we would love to have you as well!
For more information about our volunteer opportunities or to download a volunteer application, click here.
Please email us to RSVP for the orientation. Whether you are a current volunteer, a new volunteer, or a prospective volunteer, we would love to see you there — and bring a friend!
Shop on Your Favorite Sites and Earn $$$ for Senior Dogs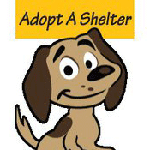 Simply go to POMDR's adopt-a-shelter page by clicking here. Then choose your store and shop like you always do. All your favorites are there. From Amazon to Ebay to Zappos. A portion of EVERY purchase will come to us in a cash donation.
How Can You Help?
If you would like to help POMDR with a donation, consider sponsoring one of our dogs. Your sponsorship will help cover the costs of their medical care while they are looking for a permanent home. Visit our adoptable dog page to choose a dog to sponsor.
Our dogs also need more exposure to find that perfect home. If you or your business would like to sponsor an ad in the Carmel Pine Cone, Monterey County Weekly, PG Hometown Bulletin, Cedar Street Times, the Monterey County Herald, or the Santa Cruz Sentinel please email us. We welcome sponsors who would like to sponsor a one time ad or are interested in sponsoring one ad per month ongoing. The cost of each ad is between $100 and $150 depending upon the newspaper.
POMDR License Plate Frames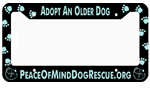 Get the coolest License Plate Frame around and show your support for POMDR and adopting older dogs!
$15 plus $5 for shipping
To order your frame, send check for $20 to:
POMDR
Attn: License Plate Frame
PO Box 51554
Pacific Grove, CA 93950
Donate Your Car and Support POMDR
Your used vehicle could help POMDR save more dogs left behind! It is easy to do. Just fill out a simple online form, then Donate Car USA will arrange to have your vehicle picked up, they will transfer the title, and auction the car off on behalf of POMDR. The will also send you a receipt for tax purposes. Click here to get started.
Support POMDR - Use Your S.H.A.R.E.S. Card!
Shopping at Savemart, Smart Foods, Food Max, or Lucky can help POMDR save more lives.
It's simple, it's easy, and it costs you nothing. Present your S.H.A.R.E.S card each time you shop at one of these supermarkets, and POMDR will receive a donation of 3% of your purchase.
Email us your name and mailing address and we'll put your S.H.A.R.E.S. card in the mail to you today so you can start raising money for dogs in need. Let us know how many cards you'd like for any member of your family that shops.
Fundraising Help Needed
Do you have an idea for a little fundraiser for Peace of Mind? We are a new organization and every little bit helps. If you'd like to help us raise money by doing a bake sale, car wash, garage sale, or any other fundraiser you can think of, please contact us. We welcome all suggestions!