Who will care for your dog if you no longer can?
Our mission is to be a resource and advocate for senior dogs and senior people on California's Central Coast. We find loving homes for dogs whose guardians can no longer care for them and for senior dogs in shelters.
Meet a few of our adoptable dogs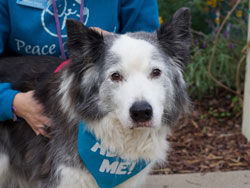 Cards and More by Catherine Sullivan Benefiting POMDR
Artist and POMDR supporter and volunteer, Catherine Sullivan, has created a website showcasing her dog and floral themed artwork and greeting cards.

We have an assortment of her greeting cards and postcards for sale at the POMDR Bauer Center (615 Forest Ave, Pacific Grove) including her line of Valentine Cards.

You can also purchase Catherine's cards and artwork through her website.

All of her profits (100%) go to POMDR!


Second Annual Lucky Dog Gala
Tickets are available now!

When: Thursday March 16, 2017

Time: 5:30 - 9:00 pm

Where: Exclusive Pebble Beach Private Club

What: Wine, Beer, Nosh Reception, Banquet Dinner, Live Auction, Silent Auction, and Hawaii Vacation Raffle.

Tickets: Space is limited, so get your lucky seat now! $125 per person, or table for 10 for $1,150.

Interested in going? Reserve your seats and get more information.
Lucky Dog Maui Vacation Raffle
Win a relaxing one week Maui Vacation and help senior dogs!

Eight days and seven nights in a 4 bedroom, 4 bath home on the beautiful island of Maui. Airfare for two is included. The house is available March to December 2017 or 2018.

Tickets are $100 each or six for $500.

No more than 500 tickets will be sold.

Drawing will take place at the 2017 Lucky Dog Gala on Thursday March 16, 2017. (Need not be present to win!)

Download your raffle order form.
Hofsas House Hosts Wine Tastings in 2017
Join POMDR and Hofsas House for Locals Fridays wine tasting in the poolside meeting room. Sip local wines, enjoy small bites and support Peace of Mind Dog Rescue. Your four-legged friends are invited too!

January 20 5:30 - 7pm Mesa Del Sol Winery

May 5 5:30 - 7pm Holman Ranch and Jarman Wines

September 22 5:30 - 7pm Twisted Roots

Hofsas House is located on San Carlos Street between 3rd and 4th, Carmel.

$15.00 per person includes one glass of wine and nibbles. Space is limited to 40 attendees. Reservations required. To make a reservation, contact Carrie at Hofsas House at (831) 624-2745 or carrie@hofsashouse.com. 100% of the proceeds for wine and dog menu benefit POMDR. More info.
Free Pet Trust Seminar
When: Saturday February 18, 10 AM to Noon

Where: POMDR Patricia J. Bauer Center, located at 615 Forest Avenue in Pacific Grove

Pet Trusts are set up by caring individuals who want to make sure their non-human family members are taken care of in the event of their own death or disability. We will have 3 experts available to answer your questions.

Guest speakers will be Margaret Clark and Whitney Clark from Clark Law Offices (clarkslawoffices.com) and Kristina Kuprina from Sequoia Wealth Advisors (sequoiawa.com). Please RSVP to info@peaceofminddodgrescue.org. Space is limited.