Who will care for your dog if you no longer can?
Our mission is to be a resource and advocate for senior dogs and senior people on California's Central Coast. We find loving homes for dogs whose guardians can no longer care for them and for senior dogs in shelters.
Meet a few of our adoptable dogs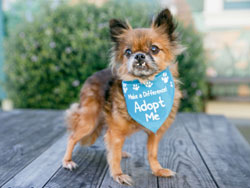 General Volunteer Orientation and Foster Overview
Tuesday May 3rd, 5:30 - 7:30pm
615 Forest Ave, Pacific Grove

All new and current volunteers are invited to attend. If you are considering volunteering, we would love to have you as well!

For more information about our volunteer opportunities or to fill out an online volunteer application, click here.

Please email us to RSVP for the orientation. Whether you are a current volunteer, a new volunteer, or a prospective volunteer, we would love to see you there - and bring a friend!
Abalonetti Spring Fling
Join us on the patio at Abalonetti Bar and Grill on Fisherman's Wharf overlooking Monterey Bay. You will be entered in our door prize drawing if you bring a four-legged friend.

When: Thursday, May 12
Time: 5:30 - 7:30pm

Bring a dog and get a free raffle ticket. Dog contests begin at 6:30pm. Categories are: Most Outrageous Outfit, Smallest Dog, Biggest Dog, Best Trick, Most Heart-Tugging Rescue Story. Prizes include a $100 Gift Certificate to the Raw Connection in Carmel.

Enjoy your choice of one of Abalonetti Bar and Grill's famed Local Special Menu Items, sip award-winning wines from Hahn Vineyards, and enjoy Mad Otter Ale on tap.

Cost is $40 per person. Event is limited to 40 guests plus their dogs. Reservations required.

Purchase tickets now.
Hofsas House Hosts Wine Tastings in 2016
Join POMDR and Hofsas House for Locals Fridays wine tasting in the poolside meeting room. Sip local wines, enjoy small bites and support Peace of Mind Dog Rescue. Your four-legged friends are invited too!

May 13 5:30 - 7pm Twisted Roots

September 23 5:30 - 7pm Holman Ranch

November 11 5:30 - 7pm Scheid Winery

Hofsas House is located on San Carlos Street between 3rd and 4th, Carmel.

$15.00 per person includes one glass of wine and nibbles. Space is limited to 40 attendees. Reservations required. To make a reservation, contact Carrie at Hofsas House at (831) 624-2745 or carrie@hofsashouse.com. 100% of the proceeds benefit POMDR.

More info.
Oldies But Goodies Adopted POMDR Dog Reunion Party
Tickets are on sale now!

Date: Sunday June 12

Time: 1 - 4:00 PM

Where: Carmel Valley Saddle Club, 85 East Garzas Road, Carmel Valley

Cost: $20 per person

What: Vegetarian BBQ with all the fixin's, wine, beer, raffle, live music with the classic rock cover band - The Salty Dogs.

Thank you to our sponsor - List Engineering!

Get more info and Purchase tickets.
Tail Waggin' Tasting at Tarpy's
Join the fun, meet Ody and show your support for POMDR!

When: Sunday, June 26
Time: 2 - 4pm
Where: Tarpy's Roadhouse, 2999 Monterey-Salinas Highway, Monterey

Special dog menu created by Chef Todd, $10 per pup.
De Tierra wines just $10 per glass.

Four-legged friends can order from the menu while their people enjoy De Tierra specialities. We'll have a silent auction too!