Who will care for your dog if you no longer can?
Our mission is to be a resource and advocate for senior dogs and senior people on California's Central Coast. We find loving homes for dogs whose guardians can no longer care for them and for senior dogs in shelters.
Watch Our Video
Meet a few of our adoptable dogs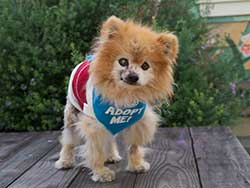 General Volunteer Orientation and Foster Training
Wednesday April 29, 5:30 - 7:00pm
615 Forest Ave, Pacific Grove

All new and current volunteers are invited to attend. If you are considering volunteering, we would love to have you as well!

For more information about our volunteer opportunities or to download a volunteer application, click here.

Please email us to RSVP for the orientation. Whether you are a current volunteer, a new volunteer, or a prospective volunteer, we would love to see you there - and bring a friend!
Advantages of Philanthropy
Join POMDR for a free two hour seminar with Henry Nigos of Nigos Investments. Henry will share the many advantages to you of donating to a non-profit organization, including the tax advantages of an estate plan.

When: Saturday May 2, 10am-noon

Where: POMDR Bauer Center, 615 Forest Ave, Pacific Grove

RSVP to POMDR.
Hofsas House Hosts Wine Tastings in 2015
Join POMDR and Hofsas House for Locals Fridays wine tasting in the poolside meeting room. Sip local wines, enjoy small bites and support Peace of Mind Dog Rescue. Your four-legged friends are invited too!

May 15th 5:30 - 7pm Winery to be announced
September 18th 5:30 - 7pm Blair Wines
November 20th 5:30 - 7pm Twisted Roots

Hofsas House is located on San Carlos Street between 3rd and 4th, Carmel.

$15.00 per person and includes one glass of wine and nibbles. Space is limited to 40 attendees. Reservations required. To make a reservation, contact Carrie at Hofsas House at (831) 624-2745 or carrie@hofsashouse.com. 100% of the proceeds benefit POMDR.

Click here for more info.
Twisted Roots Tasting Room Fundraiser
Friday May 22, 5:00 - 7:00 pm
Twisted Roots Tasting Room
12 Delfino Place, Carmel Valley

Twisted Roots Tasting Room celebrates May as National Dog Month with a fundraiser for POMDR. It is sure to be a tail wagging good time!

$25.00 per person includes one glass of wine and nibbles from Point Pinos Grill. Space is limited to 40 attendees. Reservations required. To make a reservation, contact Twisted Roots at (831) 594-8282. 100% of the proceeds benefit POMDR.
Porter's in the Forest - Summer Brunch
Porter's in the Forest at Poppy Hills Golf Course in Pebble Beach will hold a Summer Brunch on the patio benefiting POMDR.

Date: Sunday May 31
Time: Brunch is served 11am - 2pm
What: Farm to Table brunch by Chef Johnny DeVivo, Bloody Marys and Mimosas, house made dog biscuits, photos of you and your dog, adoptable POMDR dogs.
Cost: $45 per person, includes 2 drink tickets and photo with your pet.

RSVP Required. For reservations, call (831) 622-8240. Space is limited to 50 guests. Dogs welcome.


Montrio Bistro Wine & Whiskers
Sip award-winning wines while savoring new seasonal menu items from renowned Chef Tony Baker. Be the first to experience Montrio's new pet-friendly parklet. Meet Montrio Bistro team members and learn about the exciting new Wine & Whiskers Wednesdays that will benefit both POMDR and AFRP.

This event will also feature adoptable dogs on site, a live and silent auction, and a live remote with personalities from KRML Community Radio station.

Do no delay because space is limited to 100 attendees and the cost is only $25, with 100% of the ticket price going to POMDR and AFRP.

RSVP to info@peaceofminddogrescue.org or call 831-718-9122.
Will's Fargo Celebrates National Dog Month
Every Saturday and Sunday from Memorial Day to Labor Day $1 for every pet meal ordered will be split between POMDR and AFRP. Every four-legged friend will get a commemorative dog bowl.

Tail Wagging Dog Menu: Poached Chicken Breast, Carrot and Rice $5, Raw Beef Patty $4, Cod Fish Skin Bite $2.50, Pig Ear Chew Treat $3, Doggie Biscuit $2

Reservations recommended: Visit Will's Fargo Restaurant or call (831) 659-2774.