We Need Foster Homes!
We typically have about 80 dogs in our care at any given time. We also typically have up to 15 dogs waiting to get into foster homes. If you are interested in fostering any of the dogs on this page, email us.
POMDR will provide supplies such as crate, bed, collar, harness, leash, id tag, bowls, toys, flea prevention. We also cover all medical expenses. We ask that our foster homes provide the food and a loving, safe home until your foster dog is adopted.
Fostering is a wonderful way to help dogs left behind find their forever homes. You may also want to foster as a way of finding the perfect match for your home if you are looking to add a dog to your family. Click here for more information about volunteering and fostering and to fill out an online volunteer questionnaire.
The following dogs need foster homes:
Harold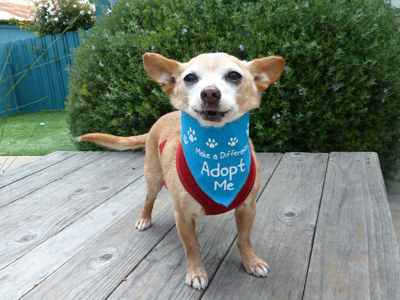 Breed: Small Mixed Breed
Age: 13 years
Weight: 9 pounds
Gender: Male

Harold is very people-oriented pup. He is a smart guy who is great at following his person around. He loves to be picked up and held. He is much more active than his age would indicate, and he could fit into any environment where he would get personal attention and moderate activity. Harold is happy lounging by your feet, or cruising around the block with you.
Harold thrives as an only pet, but can peacefully coexist with other dogs. He isn't a big fan of kitties and would do best in a home without them. He has lived with older children and done well with them.
Harold has a heart murmur that will need to be monitored for the rest of his life, but it currently doesn't slow him down one bit.

Harold came to us from the SPCA for Monterey County after being picked up as a stray by one of our volunteers.
Harold would love to find a foster home. Or, if you're interested in adopting, fill out an adoption questionnaire.
Titus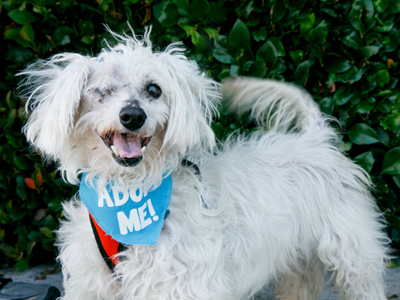 Breed: Small Mixed Breed
Age: 11 years
Weight: 11 pounds
Gender: Male

Titus is very curious about the environment and likes to explore. He is a cheese fiend, and will eagerly do anything for a bite. He responds to humans and is good with other dogs. He has a perky demeanor and a low to moderate energy level.
Titus came to us from Salinas Animal Services after being found as a stray.
Titus is at the vet clinic getting an eye enucleated and up to date on vet care. He would love to go home to a foster. Or, if you're interested in adopting, fill out an adoption questionnaire.
Bandito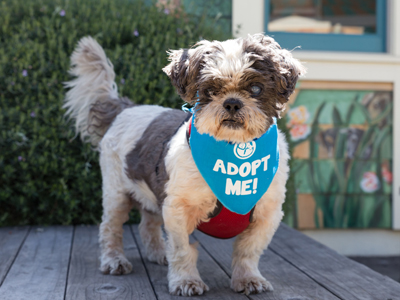 Breed: Shih Tzu
Age: 13 years
Weight: 25 pounds
Gender: Male

Bandito is a charming senior fella who loves to toddle around the yard and befriend people and dogs alike. His hearing is great, so it's easy to catch his attention and get a little head tilt, and it helps him navigate the world, since he is slightly vision impaired.
Bandito enjoys your affection and will thrive with someone who just wants a happy-go-lucky companion to watch TV with. He won't require longs walks, so if reading and basking in the sun is your cup of tea, Bandito could be the guy for you! He has lived with kitties and dogs and is crate-trained, making him an easy fit in most low-key households.
Bandito has a salivary gland adenocarcinoma and glaucoma in his eye. Both are being treated.

Bandito came to us with two other Shih Tzus, Molly Mae and Herc, when their guardian had to move and could no longer care for them.
Bandito is looking for a new foster home because the resident dog is having their own medical issues and the foster mom would like to focus on helping her heal. Or, if you're interested in adopting, fill out an adoption questionnaire.