Helping Paw Program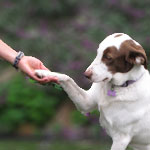 Our Helping Paw program assists seniors, hospice patients and other pet guardians facing challenging times in keeping their beloved dogs and cats, and provides a bridge to help them stay together as long as possible.
When people are physically or financially unable to care for their pets, Peace of Mind Dog Rescue would like to lend a helping paw.
Our Helping Paw program provides volunteer assistance and financial assistance. The financial assistance program is generously funded, in part, by a grant from Animal Welfare and Assistance Group.
Pet Food Assistance
Due to the COVID-19 pandemic, we know that many members of our community are struggling to provide pet food for their dogs and cats. If you need assistance providing pet food for your pet, email us.
Helping Paw Financial Assistance
Geography
: Monterey County residents mainly. Limited funding for Santa Cruz and San Benito County Residents.
Income
: You must be receiving social security or disability, or be unemployed, or earn an income at or below poverty level to qualify for financial assistance.
We cover
: Urgent medical needs that will alleviate an animal's suffering. We cover expenses for cats and dogs.
We do not cover
: Microchipping, routine exams, routine dentals. (We can provide flea treatment when available. We can mail it to you or arrange pick up.)
Exam and estimate
: It is best if your pet has had an exam and you can provide us with an estimate for care needed. In some circumstances, we can cover the cost of the exam.
Annual grants
: Our financial assistance is meant to be a one-time safety net during difficult times with a limit of assistance once per year.
We work closely with Max's Helping Paws Foundation and Birchbark Foundation. You do not need to fill out an application for each program. We can share your application with other organizations that can help.
Helping Paw Volunteer Assistance
We provide
: Short term dog walking for emergency situations, emergency short term foster care or boarding for people who are in the hospital or recovering from illness or surgery, transportation to vet or groomer for disabled and senior pet guardians.
Geography
: Monterey, Santa Cruz, San Benito County residents only. Subject to volunteer availability in the area.
Income
: There are no income restrictions for Volunteer Assistance. Donations are welcomed.
If you are unable to fill out an application or need more information, you can call us at (831) 718-9122. Please be aware that this will delay the processing of your request.
Helping Paw Supplies
We can provide the following supplies that have been donated to us, as available. They must be picked up at our headquarters in Pacific Grove.
Dog food (we rarely have cat food)
Flea prevention
Collars
Leashes
Crates
ID tags
Blankets
Dog jackets, sweaters, raincoats
A few of the dogs and people this program has helped:
While Neva, a senior citizen, was hospitalized for several weeks, POMDR was able to provide temporary foster care for her Rat Terrier, Cierra. When she was able to return home and be reunited with Cierra, she wasn't able to walk Cierra any more. POMDR volunteers provided dog walks for Cierra seven days a week so the two could stay together.

When Sue, a senior citizen, had to have multiple surgeries, POMDR was able to provide temporary foster care for her beloved dog Casey. While Sue was recovering, POMDR volunteers walked Casey daily so she could live at home with Sue.

Tristan and Crystal lost their home in the 2016 Soberanes Fire. POMDR provided temporary foster care for their little Frenchie, Ilie, while they took the time they needed to regroup and figure out where they would live while they rebuild.

When Jane had a stroke, her family contacted POMDR to provide temporary foster care for her little poodle mix, Betsy. We arranged for visits with Jane while she was recuperating. POMDR took care of Betsy for six weeks until she could be reunited with Jane.

When Josephine fell on hard times, she was unable to pay for vaccines and could not afford to get one of her dogs neutered. POMDR was able to help so she could keep Bear, Peanut and Bella with her.

When Petey's guardian had to have surgery with a lengthy recovery, POMDR provided temporary foster care until they could be reunited a few months later.

Charlene was a victim of domestic violence. She ended up living at a friend's house, but was unable to keep her dog with her. Her 12-year-old Labrador ended up being impounded at the city shelter. Charlene was not in the position to take him back, and her beloved dog was at risk of being euthanized or sent to a rescue group where he would be re-homed. POMDR was able to board her dog for a week while Charlene secured a safe, stable new living situation with her parents in another part of the state.

Bruce and his family ran into hard times financially and relocated from Georgia to California to accept a job offer here. With the expense of the move and starting over, they could not afford vet care for their senior dog, Layla. She had a skin problem that was making her miserable. They contemplated euthanizing her because she was suffering and they did not have the money to take her to the vet. POMDR was able to help with a $350 grant to have Layla examined and start treatment for her skin condition. "We were able to get Layla more shampoo and medicine. She is doing much better and is putting on weight and is very playful again. I will schedule a follow up appointment which we will be able to cover. We could never have done it without the POMDR Helping Paw Program to get that initial exam and tests. We are so very grateful. Thank you!"

Sarah was struggling financially and ended up living in her truck with her dog for several months. When she finally had an opportunity to work a temporary job and earn some much needed money, POMDR was able to pay for doggie day care for her dog while she was at work. Sarah has since found a place to live and steady work.

Gloria was diagnosed with advanced cancer. She had two dogs that she wanted to keep with her as long as possible. She also had two toads and two guinea pigs that she just could not care for any longer. POMDR arranged for new homes for her small pets and will be available to help care for her dogs and place them in new homes should the need arise.

"I think your organization is a godsend. There are so many here who are older, and their older or abandoned pets need to be fostered and loved and cared for when their owner has become disabled or has died. You should be very proud of yourselves. This is a beautiful thing you are doing. I hope word gets out about your organization. It is a crucially needed service, not only for the animals, but for their people, too."

Sharon, a senior citizen, was no longer able to get her little Yorkie out for walks. POMDR was able to help out with volunteers walking the Yorkie several times a week.