Volunteer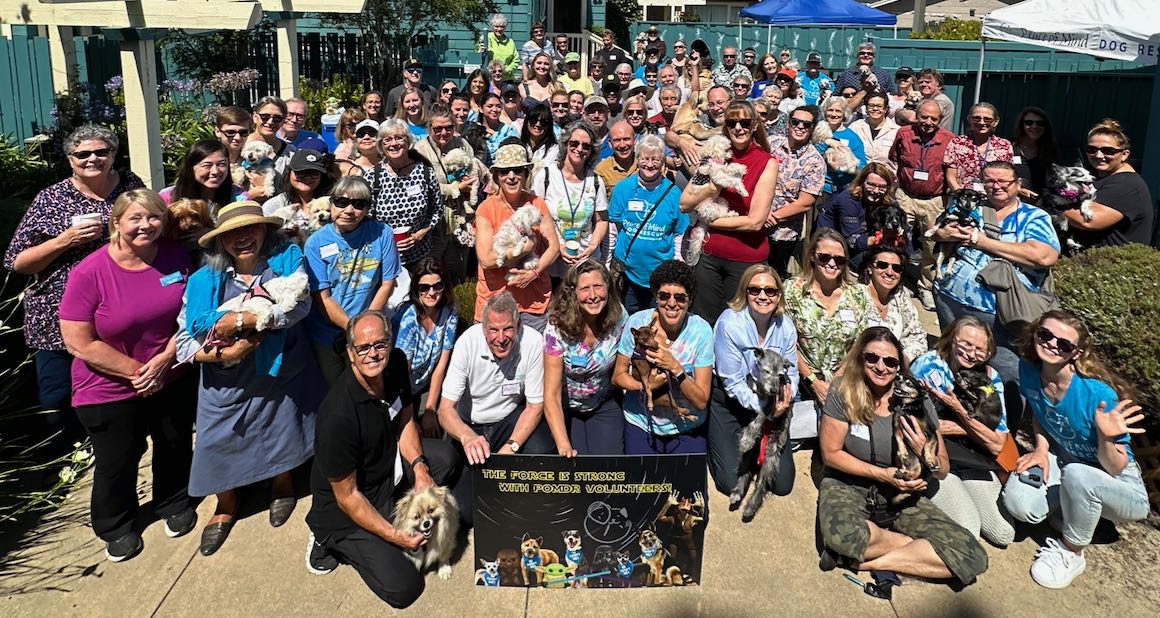 Peace of Mind Dog Rescue relies on the time and talents of over 1,300 volunteers to save and improve the lives of as many dogs as we can.
If you are interested in volunteering, please fill out a volunteer application.
We have the following volunteer opportunities:
Foster Home – Foster volunteers are the heart and soul of what we do. We could not save the lives of dogs in need without our foster homes. Peace of Mind covers any approved medical expenses for the dogs in our care. Sometimes we may have donated food to provide our foster homes with, but, at times, you may also be required to provide high quality food for your foster dog at your expense. We can also supply donated crates, beds, blankets, toys, chewies, and treats as available. You will receive a foster manual, training, an emergency contact number, and ongoing support and behavior troubleshooting from a foster mentor assigned to work directly with you. Providing a temporary home for a dog in need can be a very rewarding experience. Your foster dog will be forever grateful. Click here for more information about fostering. Click here for a complete list of dogs that need fostering.
Transportation- We often need help picking up dogs from the shelter that are ready to go to their new foster home or taking dogs to the vet for exams and surgery. If you have time during the day on week-days for this type of volunteer work, we can use your help!
Adoption Events – We need volunteers to put on adoption events once or twice a month at a variety of dog friendly locations. Adoption Event volunteers will be trained as adoption counselors and will also answer general questions from the public about our organization. If you enjoy interacting with people and would love to be part of the process of facilitating an adoption for a dog in need of a family, working at adoption events might be the perfect volunteer position for you.
Fundraising – We need volunteers willing to help out at fundraising events or to help coordinate a fundraising event. Fundraising is a very important area of volunteer work that can help us save the lives of many, many more dogs. If planning or implementing fundraising ideas is one of your interests or strengths, please let us know. We would love to hear from you.
Tabling – We need volunteers to setup an info table in front of retail venues and tell people about our organization. This is a great way for Peace of Mind to gain volunteers and supporters. If you enjoy interacting with people and getting people excited about our organization, this is the job for you!
Helping Paw - We need volunteers to help walk dogs for seniors or ill people who can no longer walk their own dogs. Sometimes we also help with transportation to the vet or groomers and other miscellaneous tasks.
Other Specialties - We often have opportunities for volunteers with specific skills, including writing, grant writing, graphic design, PR or marketing, photography, and fundraising.
General - If you want to help out, but can't commit to a specific task or specific hours, please join our volunteer brigade. You will receive periodic email requests for help with special events, helping to network with potential adopters for a specific dog, or special transportation requests. Even if you can only take on an assignment once a year, your assistance can be invaluable in helping us accomplish our mission.
Youth Volunteers (Ages 10-17) - We welcome volunteers under the age of 18 accompanied by a parent or guardian. The parent/guardian will complete the volunteer application.
Come to an adoption event or help with dog walking accompanied by an adult.
Do a fundraiser at your school for POMDR: a bake sale or a dog-treat sale.
Use your social media skills to promote an adoptable dog!
Fostering is for the entire family. As long as the adults in the home are on board, fostering can be a family project.
Bring Peace of Mind Dog Rescue to your school! Email info@peaceofminddogrescue.org for more information.
Thanks for your interest in volunteering!