About Us
Peace of Mind Dog Rescue (POMDR) is a 501(c)(3) nonprofit organization founded in October 2009.
Our mission is to be a resource and advocate for senior dogs and senior people on California's Central Coast.
We find loving homes for dogs whose guardians can no longer care for them and for senior dogs in shelters. We also provide volunteer and financial assistance so seniors can keep their pets with them as long as possible. In addition, we make pre-arrangements to take in dogs should their guardians become unable to care for them.
We have a lifetime commitment to all the dogs who come into our care. They will either be adopted into a wonderful, permanent home, or will live out their lives in one of our foster homes. (Sometimes when we bring a senior dog into our care, it becomes evident that he or she should not have to endure one more move or life change.)
We help senior citizens pay for veterinary care for their dogs if they are unable to afford medical expenses. We also provide temporary foster care for people who are hospitalized and dog walking for people who are no longer able to walk their dogs.
POMDR is led by a dedicated board and an incredible staff. POMDR is also supported by a network of over 600 volunteers who help with foster care, adoption events, transportation, office work, fundraising, and other tasks as they come up. We pride ourselves on adhering to the POMDR culture.
Our vision is to model lifetime care for dogs and all companion animals to help bring about a positive change in the way society thinks about and treats senior dogs, and to create better lives for them through rescue, foster, adoption, hospice and education.
Our offices and headquarters are located at the POMDR Patricia J Bauer Center at 615 Forest Avenue in Pacific Grove.



Board of Directors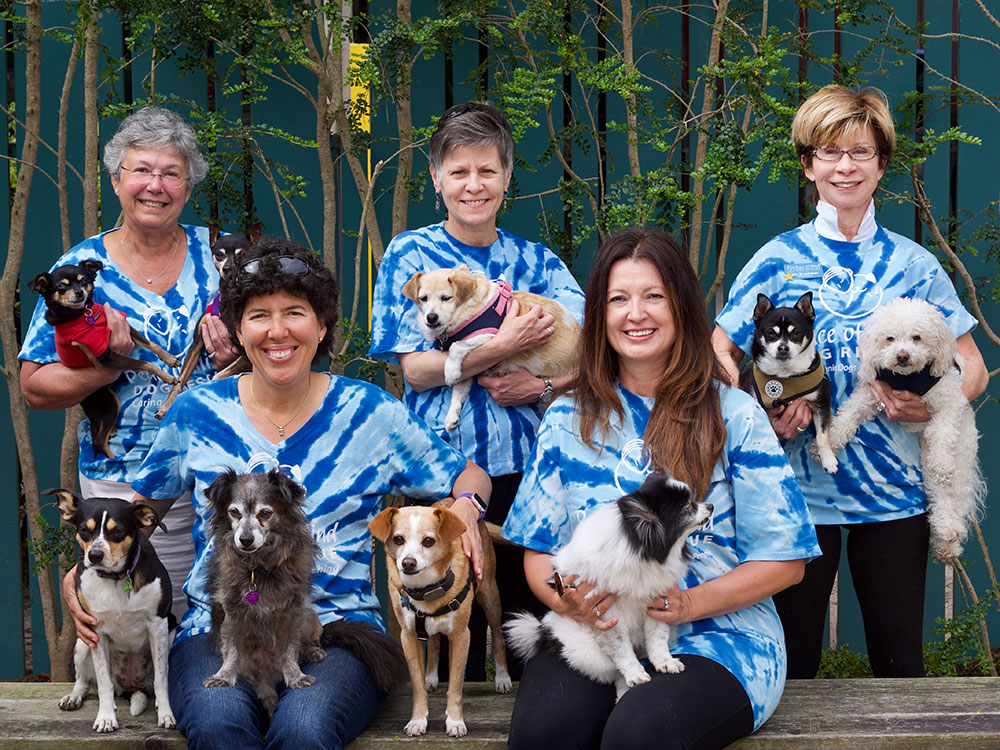 (Top L-R): Kathy Henney, Tracey Pepper, Elle Brookman
(Bottom L-R): Monica Rua, Tracy Bellem
Dogs (Top L-R): Bernie, Diva, Chloe, Mikey, Annie
Dogs (Bottom L-R): Zeta, Hershey, Hamilton, Barbie

President and Co-founder - Monica Rua currently shares her home with four rescue dogs from POMDR and AFRP (Animal Friends Rescue Project), and is usually fostering one or two POMDR foster dogs also.
Monica has devoted over 20 years of her life to animal rescue. She first worked with dog and cat rescue groups in the Bay Area. In 1998 she co-founded AFRP in Pacific Grove, where she served on the board for 11 years, with 8 of those years as Board President. Monica oversaw and actively participated in all aspects of the organization's operations, including educating the public, fundraising, volunteer database management, animal tracking, and fostering many dogs and cats. She was also instrumental in helping foster families with dog behavior issues. Monica has been on the POMDR board since 2009 when she co-founded this organization with Carie Broecker.
Before launching into animal rescue, Monica was the Education Director of Happy Hollow Zoo in San Jose. Prior to that, she worked as a software engineer for NASA Johnson Space Center, Lockheed, and Sun Microsystems.
Monica holds a Master of Science in Computer Science: Artificial Intelligence (MSAI) from Stanford University and a Bachelor of Science in Computer Science from Rensselaer Polytechnic Institute with a minor in Philosophy.
Vice President - Elle Brookman currently shares her life with four wonderful canines. Elle adopted her first two rescue dogs as youngsters during her 5-year tenure as a volunteer with AFRP in Pacific Grove. She transitioned easily to POMDR as a board member when the organization was formed in November of 2009, and it wasn't long before rescue dogs Mayla and Mikey joined her little pack!
Prior to joining the animal rescue effort, Elle's volunteer service included assisting in an elderly care facility for 6 years, and assisting foster youth as a CASA (court-appointed special advocate) for 7 years.
Before moving to the Monterey Peninsula and starting a staging/redesign business to assist local realtors, Elle spent her career in executive search for high tech companies, and in sales/business development for a major contract furniture company, both in the Silicon Valley. She was also a Western States Sales Manager for Steelcase, a leading furniture manufacturer.
Elle received her undergraduate degree at Katharine Gibbs College in New Jersey, and she completed her education at Syracuse University, where she majored in Sociology and Interior Design.
Treasurer - Kathy Henney shares her home with six Dachshunds, three of whom are rescues. In fact, she is what we lovingly refer to as a "foster failure," because out of the seven POMDR dogs that Kathy has fostered, she has adopted three!
Kathy has a special interest in helping seniors and senior pets. Following her move to the Monterey Peninsula in 1996, she began her work for animals as a regular volunteer assistant to the off-site adoption coordinator at the SPCA for Monterey County. She was also a member of the St. Bernards, a group in Carmel that looks out for seniors in need of assistance. Kathy combined her desire to be of service to these two groups when she joined Peace of Mind Dog Rescue as a volunteer in April of 2010. Kathy joined the POMDR board in 2011 and became the Treasurer in 2012.
Kathy's volunteer experience also includes serving four years with the City of Carmel on the Historic Resources Board and fourteen years with Pacific Repertory Theater. In her professional life, Kathy worked as a Registered Nurse, and she retired after a 40-year career in the operating room.
Kathy earned a Bachelor of Science in Nursing and a Master's degree in Health Care Administration from California State University, Long Beach.
Secretary - Tracey Pepper has always adopted pets from shelters and rescue organizations. She currently shares her home with three POMDR canine companions: Taiko, Sprocket and Luna.
Tracey became involved in POMDR in December of 2013 after she adopted her first POMDR dog, Nugget. Her volunteer contributions include staffing and leading adoption events, transporting dogs, conducting home checks, training foster families, and facilitating dog adoptions. Tracey graciously took on the role of Interim Dog Program Manager in 2015, and naturally transitioned to Board Member in April of 2016.
Now retired, Tracey enjoyed a 35-year career in Leadership Development, Talent Acquisition, and Organizational Effectiveness for several Fortune 500 companies including MBNA America, Bank of America, and US Airways. Tracey began her career at the US Geological Survey, working in the groundwater division.
Tracey holds a Master's degree in Business Administration/Management from Johns Hopkins University and a Bachelor's degree in Geography/Geology from Towson University in Maryland.
Board Member - Tracy Bellem started rescuing dogs on the country roads of Tennessee as a young girl. Some years later, after she and her husband had lost their 15- and 16-year-old dogs, both rescued from deplorable conditions in Tennessee, they moved to California, where they became POMDR foster parents to Barbie. It took only a few days before they became her proud parents! Not long after, two more rescue dogs joined Tracy's little pack. Tracy became a POMDR board member in April of 2017.
When Tracy is not devoting her time and energy to animal rescue, she works as a State Farm insurance agent.
Prior to becoming a State Farm insurance agent, Tracy devoted 26 years to working with Easter Seals, a nationwide nonprofit for children and adults with disabilities. She worked 20 years with Easter Seals Tennessee and then six years with Easter Seals Central California, based in Aptos. During that time, Tracy was responsible for the organization's fundraising and marketing, including support to help children and adults attend an overnight camp where they could enjoy assisted activities like horseback riding, swimming, sitting around a campfire, or going for a stroll in the woods, many for the very first time. During Tracy's time at Easter Seals, she managed a capital campaign to build a school for children with special needs where they could go to pre-school side-by-side with their typically developing friends.
Tracy received an MBA in 2010.
Staff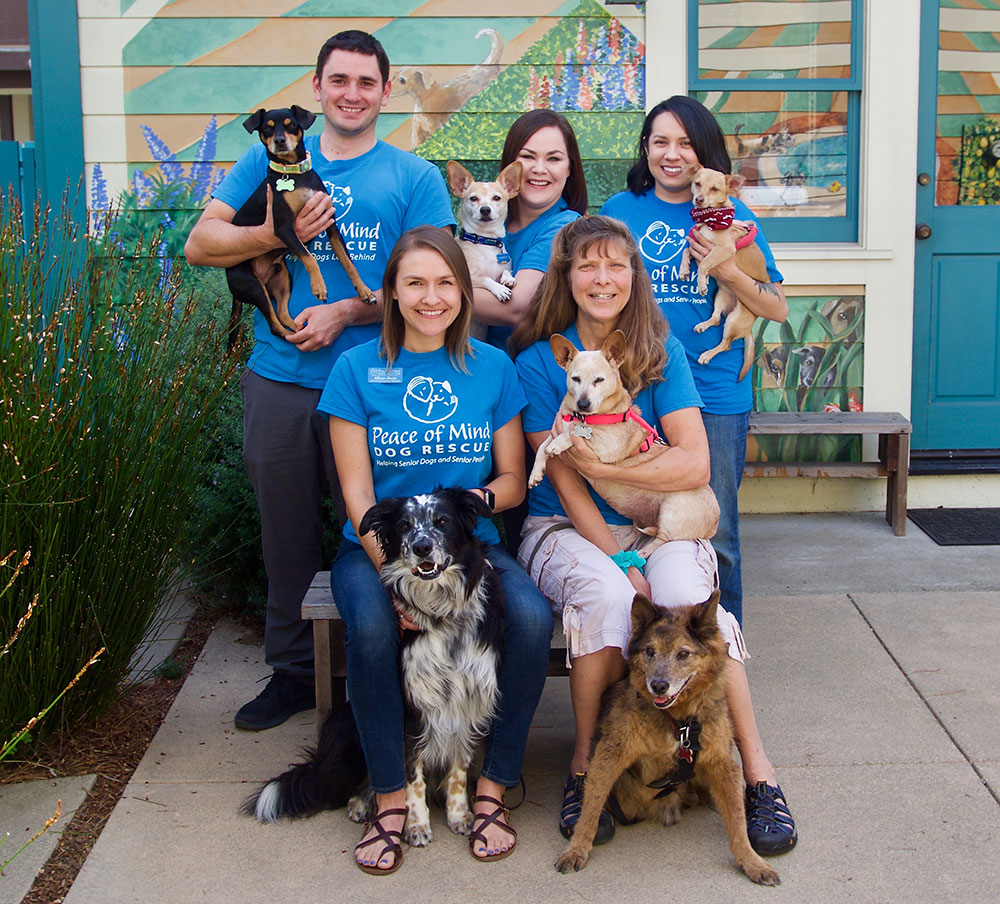 (Top L-R): Bryan Van Loh, Angela Preston, Alyssa Celaya
(Bottom L-R): Allison Souza, Carie Broecker
Dogs (Top L-R): Kenji, Forrest, Bambi
Dogs (Bottom L-R): Jackson, Daffodil, Willie

Executive Director and Co-founder - Carie Broecker shares her life with six lucky senior dogs, and is usually fostering multiple POMDR dogs, too.
Carie co-founded POMDR with Monica Rua in 2009. Upon its inception, she worked full time running POMDR as Board President, and in 2010 Carie won the American Red Cross Animal Rescue Hero Award for her role in starting POMDR. In 2012 she was hired as Executive Director, POMDR's first paid staff person.
Prior to co-founding POMDR, Carie was one of the first volunteers for AFRP in Pacific Grove. She joined the AFRP board in 1999, and served for 12 years as Treasurer and unsalaried Executive Director. 
Carie and her husband Scott are the publishers of Coastal Canine magazine. Carie's other career achievements include working as a bookkeeper and accountant for several businesses. She also worked as the Client Services Director for the Monterey County AIDS Project, where her work earned her the 1994 Monterey County Outstanding Woman of the Year award.
Carie graduated from UC Santa Cruz with a Bachelor's degree in Sociology, minoring in Business Economics with a concentration in Accounting.
Operations/Volunteer Manager - Allison Souza currently shares her life with an amazing, loving, big-hearted, hilarious Border Collie mix named Jackson, whom she rescued from Manteca Animal Control in 2010 after knowing him for a mere 60 seconds! She then added POMDR dog Maya to her family, after helping capture the frightened escape artist and then falling in love with her. The two lucky pups now enjoy adventures like hiking in Yosemite with Allison and her family.
Allison attributes her love for animals to the fact that she was brought up in a family with a long history of adopting rescue dogs and cats. The family "zoo" also included horses, rats, hamsters and birds. As a kid, Allison volunteered with the SPCA, and, later, with Hope, Horses and Kids, an equine learning program that focuses on helping children, particularly those with special needs, build confidence through working with horses. This experience helped Allison realize that her true passion lay in working with animals and people, rather than in corporate management. Soon after, in May 2015, she joined the staff of POMDR. Allison did indeed find her niche, as after just two years she was promoted to Operations/Volunteer Manager overseeing all aspects of POMDR programs!
Allison's career includes a decade in retail management with Starbucks Coffee Company, and experience working as an Educational Outreach Coordinator for the Los Padres Forest Association. She is also passionate about international politics, travel and meeting new people (and their dogs).
Allison is conversationally bilingual in Spanish, and she holds a Bachelor's degree in International Relations from San Francisco State University.
Intake/Foster Manager - Angela Preston had already rescued three young strays, Ricco, Forrest and Teller, from the streets and SPCAs of Oakland and Monterey, whom she fondly refers to as her "Hoodrat Dog Pack," before joining the staff of POMDR as Dog Program Manager in October of 2015.
Angela's budding career is already packed with vast experience, care and concern for animals both wild and domestic. While working on her undergraduate degree, she volunteered/interned at SLEWTHS (Science Learning and Exploration With The Help of Sea Lions), for three years, working her way up to Assistant Trainer, and overseeing the care of five California Sea Lions and two pigeons, as well as educating the public on the importance of marine conservation and recycling. Upon graduation, Angela gained valuable experience working at the SPCA for Monterey County as an animal care technician and Customer Service Representative for a year and a half. Meanwhile, she also brings her 2015 Dog Trainer Certification from Animal Behavior College, and her related work experience training adoptable dogs at the Rhodesian Ridgeback Rescue of Northern California, to Peace of Mind Dog Rescue!
Angela graduated from Cal State University, Monterey Bay in 2013 with a Bachelor's degree in Environmental Science Technology and Policy with a concentration in Marine and Coastal Ecology.
Adoption Manager - Bryan Van Loh adopted Kenji from POMDR in August 2017. He first became involved with POMDR in July of 2015 as a Helping Paw Brigade dog-walker and a fundraising volunteer. Bryan joined the staff of POMDR in May of 2017.
Bryan's volunteer experience includes working with The Marine Mammal Center, where he is still active in all aspects of the operation from sea lion, elephant and harbor seal rescue to re-release into the wild.
Before joining the POMDR staff, Bryan worked in guest services at the Santa Lucia Preserve. In addition, he taught high school English in Okinoshima, Japan, and acted as an ambassador for American/foreign culture in a special education school.
Bryan graduated from the University of San Francisco with a Bachelor's degree in Biology, minoring in Japanese.
Helping Paw Coordinator - Alyssa Celaya has been involved in rescuing animals since she was a young girl. Presently, she shares her home with five dogs from a menagerie of rescues and shelters.
Alyssa has been a foster parent for puppies and dogs for three years. She became involved with POMDR when she fostered a Shih Tzu in 2016, and joined the POMDR staff as Helping Paw Coordinator in October of 2017.
Always striving to do more for animals, Alyssa became pet CPR certified. She worked as a groomer for two years, specializing in terriers and earning a certificate in senior pet grooming.
Currently, Alyssa also manages a women's boutique in Monterey, where her duties include hiring and training staff, creating employee handbooks, purchasing merchandise, planning and executing floor changes, payroll, and planning monthly events. She is also enrolled as a part-time student at Monterey Peninsula College and is working towards a degree in Sociology.
Intern
Andrew Donati

has had senior dogs, and he knows the challenge of caring for them in their golden years as well as the depth of their sweet gratitude. When he found out that POMDR helps senior people and senior dogs in our community, he realized the true importance of the work done here, and he knew that this was where he wanted to complete his internship in the Field Placement portion of his program.

POMDR welcomed Andrew to the pack in 2017. His duties include daily office duties of printing, filing, copying, etc., some tech work, responding to records request calls and emails from volunteers as well as other inquiries, and inputting volunteer applications.

Andrew grew up doing volunteer and community service work. Through his schools, he participated in fundraising events, school rejuvenation projects, an annual Spring Festival, beach clean-up days, e-waste recycling events and baseball camp for local youths.

With a passion for giving back to the community, Andrew chose to pursue an undergraduate degree in Collaborative Health and Human Services, concentrating in Public Administration and Nonprofit Management, at California State University, Monterey Bay (CSUMB). It was through this program that Andrew became aware of POMDR.
Advisory Council
Patrick Casey

became involved with Peace of Mind Dog Rescue in February of 2012 when he and his family fostered Charlotte, a sweet little Pomeranian/Terrier mix.  A week later, they adopted her! "There was no way we could give her up," Patrick says. He joined the POMDR Advisory Council in 2017.

When he is not acting as a member of the POMDR Advisory Council, Patrick keeps busy as a practicing business attorney.  He has been with the L+G law firm for over 17 years, where his CPA license and 24 years of experience allow him to effectively represent clients in complicated real estate deals, corporate negotiations, and closings.

Patrick has a variety of nonprofit volunteer experience as well.  He served the YMCAs of Monterey and San Benito Counties on the Board of Directors, and in various aspects of community campaign support over two decades.  He also served on the Board of Directors for the Grower Shipper Association Foundation and for the Monterey County Barristers Association.

Patrick is a graduate of the Leadership Salinas Valley program, and the AgKnowledge program.  He holds a Bachelor's degree from Albion College and a JD degree from Loyola Law School in Los Angeles.

Barbara DeGroodt

shares her life with a 15-year-old Chihuahua mix, a little red-headed terrier, an oversized Yorkie mix and two Rottweilers.

Barbara has been involved with animal rescue and volunteering for as long as she can remember. She used to run a private Rottweiler rescue, and she has been a volunteer with POMDR since its inception, helping with dog evaluations, transportation, dog training and behavior counseling.

Barbara has a keen interest in animal behavior, and she holds certificates from multiple training seminars. Barbara has worked with trainers in India, New Zealand, Thailand, Spain and all over the United States. Barbara currently speaks at three Carrington College campuses for the vet tech behavior segment, and she has worked with the Venezuela airport drug detection dogs. Barbara was awarded Trainer of the Year at a Westminster pre-show event. With all her excellent experience, Barbara is a natural choice to join the POMDR Advisory Council!

Barbara earned a Bachelor's degree in Animal Science, and she is working on a Masters degree from University of Edinburgh.

Megan Moon

has devoted her life to the humane treatment of animals. She has over 10 years of experience in nonprofit leadership and animal welfare, including program management, development, special events, strategic planning, humane education, volunteer management, marketing, public relations and grant writing.

Megan's volunteer experience is vast and includes many humanitarian relief efforts, as well as animal welfare organizations, such as Animal Friends Rescue Project, Mercy for Animals, and Wags Inn Canine Charities.  She not only serves on the POMDR Advisory Council, Megan also currently serves as Board President for regional nonprofit UnChained, and she is a member of the Association of Professional Humane Educators (APHE).

Megan's professional credentials include working in several capacities with the San Francisco SPCA, the Humane Society of Greater Dayton, the Society for the Improvement of Conditions for Stray Animals, and the Institute for Humane Education.  Now based in San Antonio, Texas, she continues her good work for animals as Founder & President of Humane Education Coalition.

Megan holds a Bachelor of Science degree in Humane Leadership from Duquesne University in Pittsburgh, Pennsylvania, where she graduated Summa Cum Laude in 2011.  She also became a Certified Humane Education Specialist (CHES) through the Humane Society Academy in Washington, D.C. in 2009, and she earned an Animal-Assisted Therapy Certification (AAT-C) at Oakland University of Rochester, Michigan in 2017.

Henry Nigos

has always had dogs since he was little, and he currently shares his home with Elvis, whom he adopted from the SPCA in 2007. He has fostered at least six POMDR pups since he started fostering in 2009. Henry became a member of the POMDR Finance Advisory Committee in 2013 and then became a member of the POMDR Advisory Council in 2017. He finds it "an honor and a privilege to be able to help serve an organization that focuses on serving the needs of senior dogs and seniors in our community."

Henry has a long history of volunteer service. His past and present commitments include Board Member for the Monterey Junior Tennis Association, Pacific Grove Chamber of Commerce Board Member and Chairman of the Board, Oversight Finance Committee member for the Pacific Grove Unified School District, Forest Grove Elementary School drop-off traffic control, Pacific Grove Museum of Natural History Marketing Committee, Pacific Grove Rotary member, and Pacific Grove Downtown Business Improvement District Board member.

Henry is president and owner of his own wealth management company, Nigos Investments, Inc. He is a United States Air Force military veteran with much active duty leadership training. Henry holds a Bachelor's Degree from San Francisco State University.