Who will care for your dog if you no longer can?
Our mission is to be a resource and advocate for senior dogs and senior people on California's Central Coast. We focus on helping dogs and people from Monterey, Santa Cruz, and San Benito counties.
Meet a few of our adoptable dogs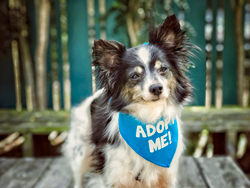 Help POMDR Build Our Veterinary Clinic
Goal: $2,000,000

We are currently raising funds to build our very own veterinary clinic. We will hire our own veterinary staff to provide medical care for the dogs we bring into our program.

With the support of several generous donors, we were able to purchase a commercial building in Monterey. The build-out has begun, and we still have a little ways to go to meet our goal. Help us raise the thermometer!
10th Anniversary - Oldies But Goodies Party and Adopted Dog Reunion
POMDR is turning 10! Come Celebrate with us. All humans and friendly dogs welcome.

Date: Sunday September 29

Time: 1 - 4:00 PM

Where: Carmel Valley Saddle Club, 85 East Garzas Road, Carmel Valley

Cost: $40 per person

What: Vegetarian BBQ with all the fixin's, wine, beer, raffle, live music with the classic rock cover band - The Shanks. At 2:30 we'll do a group photo!

Prizes for Best Oldies Attire! (50's, 60's, 70's)

Thank you to our sponsors George and Debra Couch!

Purchase tickets here.
Hofsas House Hosts Wine Tastings in 2019
Join POMDR and Hofsas House for the last Locals Fridays wine tasting of 2019 in the poolside meeting room. Sip local wines, enjoy small bites and support Peace of Mind Dog Rescue. Your four-legged friends are invited too!

September 20, 5:30 - 7pm Featuring Wines From Twisted Roots Vineyard

Hofsas House is located on San Carlos Street between 3rd and 4th, Carmel.

$15.00 per person includes one glass of wine and nibbles. Space is limited to 40 attendees. Reservations required. To make a reservation, contact Carrie at Hofsas House at (831) 624-2745 or carrie@hofsashouse.com. 100% of the proceeds benefit POMDR. More info.
Choose Your Cruise Raffle
Win a cruise for two people to the destination of your choice!

You will voyage on the Princess Cruises line.

Cruise choices are: Alaska, Hawaii, Mexico, Panama Canal, or Northwest & California.

Departure dates in 2020 or 2021.

Tickets are $100 each or six for $500.

No more than 500 tickets will be sold.

Drawing will take on Thursday, March 12, 2020. (Need not be present to win!)

Download your raffle order form.
AmazonSmile
According to Amazon, on average, customers spend $1K a year on their site.

Did you know Amazon donates 0.5% of the price of eligible purchases to charities selected by its customers?

Learn how to turn your Amazon purchases into thousands of dollars for Peace of Mind Dog Rescue!
Cards and More by Catherine Sullivan Benefiting POMDR
Artist and POMDR supporter and volunteer, Catherine Sullivan, has created a website showcasing her dog and floral themed artwork and greeting cards.

We have an assortment of Catherine's greeting cards, postcards and canvas totes for sale at the POMDR Bauer Center (615 Forest Ave, Pacific Grove).

You can also purchase Catherine's cards and artwork through her website.

100% of proceeds from the sale of her merchandise go to POMDR!