Who will care for your dog if you no longer can?
Our mission is to be a resource and advocate for senior dogs and senior people on California's Central Coast.
Meet a few of our adoptable dogs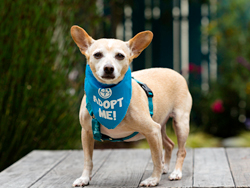 Help POMDR Build an Intake and Care Center
Goal: $2,000,000

We are currently raising funds for our very own Intake and Care Center. We will hire our own veterinary staff to provide medical care for the dogs we bring into our program.

With the support of several generous donors, we were able to purchase the property next door to our headquarters in Pacific Grove. The next step is to raise the funds needed to build and staff the clinic
Costume Party at the Haute Enchilada
When: Sunday October 28, 12:30 - 3pm
Where: The Haute Enchilada Social Club Parking Lot, 7902 Moss Landing Rd., Moss Landing
What: Burrito Bar, Chips & Salsa, Agua Fresca, No Host Bar 12:30 - 2pm, Raffle, Costume Contest with Prizes 1:15 - 1:45pm

Prize categories are: Scariest, Cutest, Best Human/Dog Duo, Most Creative, Best in Show

Admission: $25 Donation to POMDR.


Purchase Tickets
AmazonSmile
According to Amazon, on average, customers spend $1K a year on their site.

Did you know Amazon donates 0.5% of the price of eligible purchases to charities selected by its customers?

Learn how to turn your Amazon purchases into thousands of dollars for Peace of Mind Dog Rescue!
Cards and More by Catherine Sullivan Benefiting POMDR
Artist and POMDR supporter and volunteer, Catherine Sullivan, has created a website showcasing her dog and floral themed artwork and greeting cards.

We have an assortment of Catherine's greeting cards, postcards and canvas totes for sale at the POMDR Bauer Center (615 Forest Ave, Pacific Grove).

You can also purchase Catherine's cards and artwork through her website.

100% of proceeds from the sale of her merchandise go to POMDR!