POMDR Patricia J. Bauer Center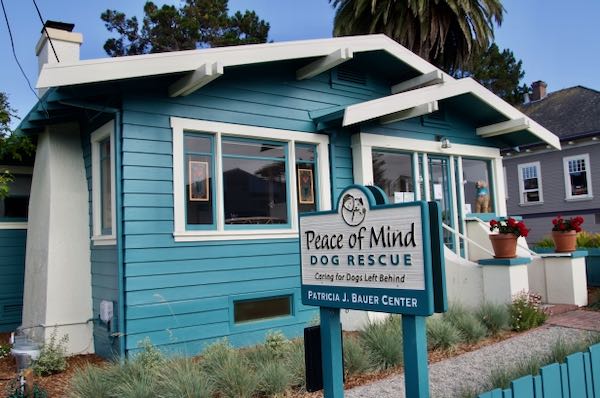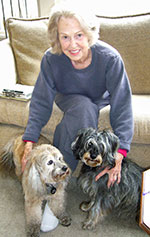 The POMDR Patricia J. Bauer Center is located at 615 Forest Avenue in Pacific Grove. The Bauer Center house was generously donated to POMDR by Patricia J. Bauer in September, 2011.
POMDR was able to help Ms. Bauer care for her beloved dogs, Mattie and Morgan, in the last three months of her life. POMDR Helping Paw volunteers walked Mattie and Morgan every day for three months as well as fed them, brushed them, and took them to vet and grooming appointments. (Ms. Bauer and her dogs, Morgan and Mattie, are here.)
Ms. Bauer wanted to leave a gift to POMDR to show her appreciation and to carry on as a legacy for helping more dogs left behind.
Mattie and Morgan stayed in Ms. Bauer's home with her until the day she died. The morning of her death, a POMDR board member visited Ms. Bauer and put the dogs on her bed and let her know that Mattie had an adoptive home waiting for her and Morgan, her 17-year-old poodle in failing health, had a forever foster home ready to take him. Just hours later, Ms. Bauer passed away peacefully.
Mattie was soon adopted and continues to thrive. Morgan passed away just three weeks after Ms. Bauer.
The POMDR Bauer Center is now the offices and headquarters for POMDR .
Our front room, "Mattie's Playroom," is named after Ms. Bauer's 6-year-old playful Schnauzer. The garden surrounding the center, "Morgan's Memorial Garden", is named after Ms. Bauer's 17-year-old poodle mix. Mattie was immortalized by having her paw prints and name impressed in the cement patio in the garden.
Ms. Bauer and her dogs will never be forgotten.
The front desk at the POMDR Bauer center is staffed by volunteers 11am - 4pm Monday through Saturday or by appointment. If the door is locked, ring the bell.