Dog Tag Donor
Your sponsorship will help POMDR carry out our mission of helping senior dogs and senior people.
Dog Tag Donor: $500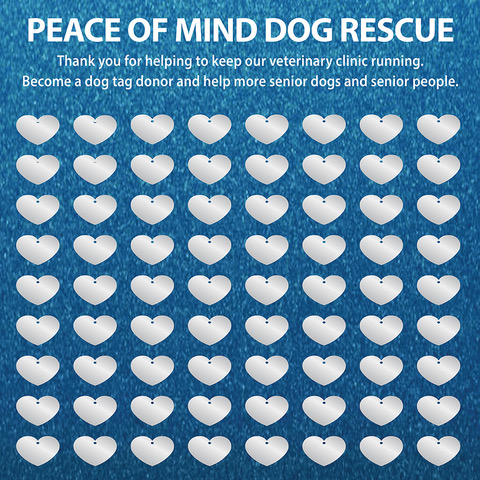 Your name will be displayed on a dog tag on our Dog Tag Donor Board at our POMDR Boand Clinic. The dog tag donation will help cover the cost of veterinary care for the dogs we rescue. There is room to include the name of a person or dog you are honoring as well.
Current Dog Tag Donors
We would like to thank the following dog tag donors at the POMDR Boand Clinic.
Darla and Rick in Memory of Zuzu
Darla and Rick in Memory of Bruno
The Tuitupous in Honor of Millie
Fred and Joanne in Memory of Bob Cordy
Stephen Gordon in Honor of Kiwi Fruit
Steve Edgar in Memory of Lucky
Valerie and Sander Saidman
The Dunkckels in Memory of Max and Phoebe
Neil and Diane Goodhue in Honor of Stella
Fred and Joanne in Memory of JS Bach's Golden Note
Marjorie and Nina in Memory of Miss Ella
Max and Sunshine in Honor of Monica and Carie
Scott and Dina in Memory of Chica
Heape Family in Memory of Sammy and Weda
Dr. Gail Lebovic in Honor of Carie Broecker