Fostering - A Very Rewarding Job
We do not have a facility where our dogs are kept. All of our dogs live in foster homes as members of the family until they find their permanent home. Foster parents serve as a bridge for our dogs to transition from their previous family experience to their new homes. For dogs who have lost their family, this can be a very difficult and stressful time and they will need compassion and patience while they adjust to a new home and a new routine. For dogs that come from a shelter or from a neglectful or abusive situation, the adjustment to a loving foster home may be a dream come true for them.
Fostering can be one of the most rewarding experiences a dog lover can have. Often the foster parents feel they have received as much, if not more, than they have given. If you would like to become a foster volunteer, please fill out an online volunteer application.
For a complete list of dogs that need fostering click here.
Meet some of our foster parents.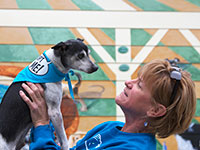 Christine with Romeo
It can feel overwhelming to think of senior dogs in shelters. I can make a difference for dogs in need every time I take in a new foster dog. It is very satisfying when my foster dog finds a new family who falls in love with him or her. Then once they are adopted, I can help another dog in need find his way to a new home.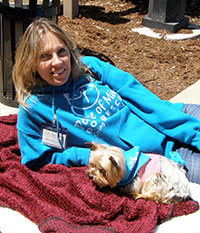 Darla with Tori
Whenever I think about the dogs my husband and I have fostered and hear or see how they are doing in their forever homes, it warms my heart, and I get a little tear of happiness. Some of these dogs have been injured, frightened strays, or their guardians could no longer take care of them. Fostering can sometimes be a challenge, but it is an incredibly satisfying experience. No matter how challenging some may be at first, all dogs seem to come fully loaded with unconditional love and affection. By the time our foster dogs found their forever homes, it was always much more difficult than we expected to let them go. So much so in fact that our last two fosters were adopted by us and we could not be happier with that decision.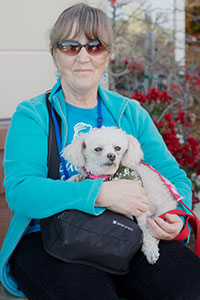 Eileen with Mimi
I love fostering because I love dogs and can't adopt them all. Fostering helps everyone involved with dogs in transition. The dogs get a loving home environment, as opposed to the shelters. I get to love and nurture another dog. The new owners will hopefully have a more calm, less fearful dog to begin their journey with!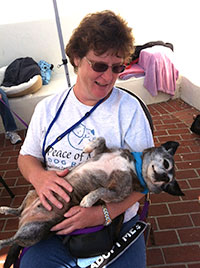 Gina with Cara
I find it difficult to not foster because I know the need is so great. We have space in our home, in our pack, and in our hearts so why not? How many opportunities do you get to improve the life and well-being of another living creature to this degree? The dogs really are so grateful. And you meet some of the nicest people, too!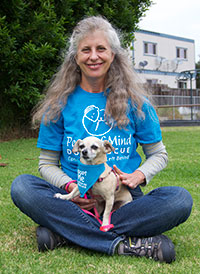 Jacki with Jasmine
Fostering for POMDR I feel like a 'matchmaker'. It is fun and interesting to meet, learn and care for dogs of various breeds, and it is super rewarding when your foster dog finds his or her special person and thrives in that forever home!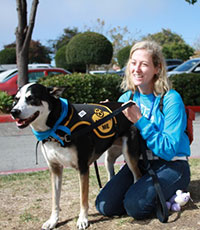 Lynn with Deja
I've had the same refrigerator magnet on various fridges for 10+years. The quote on it says "A house without a dog is not a home." I started fostering for POMDR because I needed dog love in my life. It always feels so good to bring a new foster home for the first time. To watch them start to heal from whatever trauma they just went through before they came to my home. I would give them plenty of time to adjust. The best was when they would jump up on the couch for the first time and settled down with me. Simple comforts of life.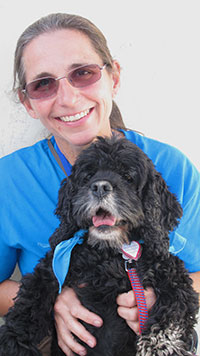 Lynn with Gracie
Tony and I foster for selfish reasons. We enjoy the feeling of contributing to a need in our community. We delight in the behavior of dogs playing alone or with our other dogs and ourselves. We feel valued when we return to all the happy faces and wagging tails attached to individuals who think far more of us than we deserve. We have a sense of achievement when we help transform a sick, timid and/or forgotten old dog into a healthy, confident dog with a forever home with people who adore him or her. And our home is opened to receive another senior dog in need. These and many more are the reasons we foster. We encourage anyone who enjoys dogs to foster; the rewards are endless.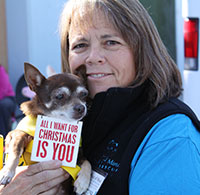 Marilee with Daisy
Animals, particularly dogs, have always been important to me and have brought tremendous amounts of love and joy into my life. I foster so that I can repay the favor and give back to dogs who are at risk of euthanasia. Dogs are amazing beings: their courage, ability to forgive and their capacity to give endless love seem to be an intrinsic part of their DNA. My foster dogs become part of the family, until wonderful people come along, tell the dogs how special and beautiful they are and then open up their homes to them with kindness and love. Every dog deserves a loving home; no dog should ever die alone, afraid and unwanted.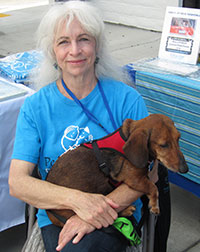 Polly with Maurice
Fostering is good for your soul as well as your heart. I believe this is true for the foster pet as well. I could not imagine a life without fostering. It is rewarding in more ways than I can name, and the love and thankful look you receive from the dog you are fostering is only the beginning. A precious life is put in your care, and I, as well as my family, have been repeatedly blessed with seeing how thankful these dogs are to be loved once again. We have seen them relax and almost breathe a sigh of relief, even when they have been through a tough time, sometimes having lost a loved one of their own. I know it can be difficult to give them to a forever home, but I always know it is right for both of us, and when I hear back from the new family how well the new dog fits in, as if it has always been meant to be, it makes me get teary-eyed in a happy way. When people tell me they could never foster, as they would keep them all, or it is too sad, I challenge them with the fact that they are giving new hope to a dog, and it feels so good, it far outweighs any misgivings you may have had.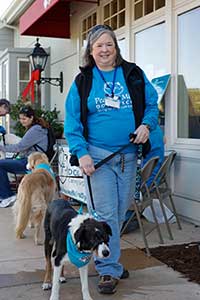 Rhonda with Earnhardt
Fostering is falling in love over and over again, and loving the dogs enough to let them go. It's seeing the love and joy when an adopter meets your foster for the first time and realizes they are meant for each other. It's occasional messed up floors, then pride in them as they learn to use the doggie door. It's when they eat your cell phone, and you know you can't be mad at that goofy sweet face. It's knowing you've given them a new life by taking them in and getting them ready for their new forever home. Why should you foster? No, it's not always easy, but the unconditional love of a dog who may or may not have experienced love before is worth it. You should foster because not only will it help the dog, but it will help you.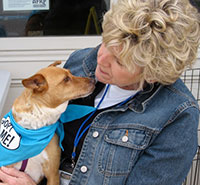 Susan with Roxie
I'm struck by the comment many people make, 'Oh, I could never foster.' I thought the same thing once.....but oh, the rewards! The most common question I get asked is, 'After spending so much time with these dogs, how do you give them up?' I always say, if I don't let them go, I can't help any of the others.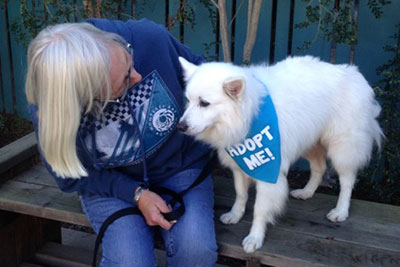 Terry with Charlie Eskimo
I decided to foster the breed I know best, American Eskimo Dogs, Eskies, after watching too many returned to shelters by their prospective families. Eskies are really cute, all white and fluffy and alert. They do not do well being left along, they bark a lot, and they need mental and physical exercise. Of course I miss them and cry when they leave, but I also know they are with the right family because of the thorough application process. And if the adoption doesn't work out, they come back to me until the right home is found. I always have room in my heart and home for another Eskie in need of a forever home.