Other Adoptable Dogs - Courtesy Listings
The following dogs are not under the care of Peace of Mind Dog Rescue. We provide these listings as a courtesy to the community to help these dogs find new homes. Please contact the person named in the dog's writeup if you're interested in finding out more about one of them.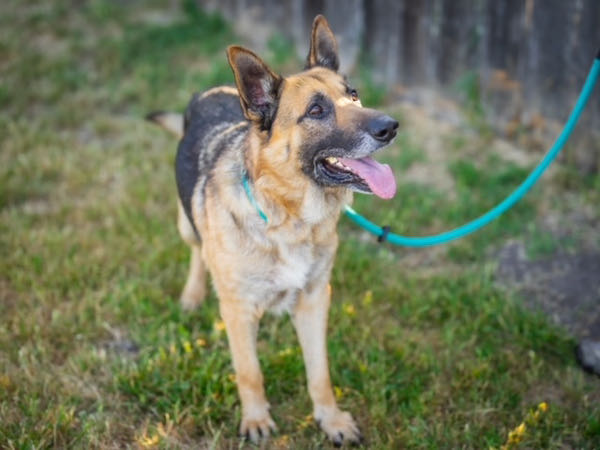 Luke is a roughly 8 year old Shepard boy who landed at Santa Cruz County Animal Services after his previous owners were unable to care for him any longer. This sweet senior is looking for a home to spend his golden years in. He has primarily lived outdoors in his former home. Due to the exposure to the sun and elements, his skin is not in the best of shape. Luke is looking for a comfy couch to hang out in in the next home and an adopter that will include him as part of the family. Luke has been tolerant of handling, including during a veterinary examination and a blood draw. Typical of shepherds, Luke will react at other dogs that are barking at him. He may not enjoy a busy environment with lots of passing pups. Luke has met several dogs at the Shelter and has coexisted nicely. He will greet with a nice sniff of the bum and then hang out in the yard. Any resident dogs will need to meet prior to adoption. Shelter staff are pretty smitten with handsome Luke - come to the Shelter to see why!
To inquire about Luke, please visit Santa Cruz County Animal Services or call 831-454-7200 or email Jill at
Jillian.Ganley@santacruzcounty.us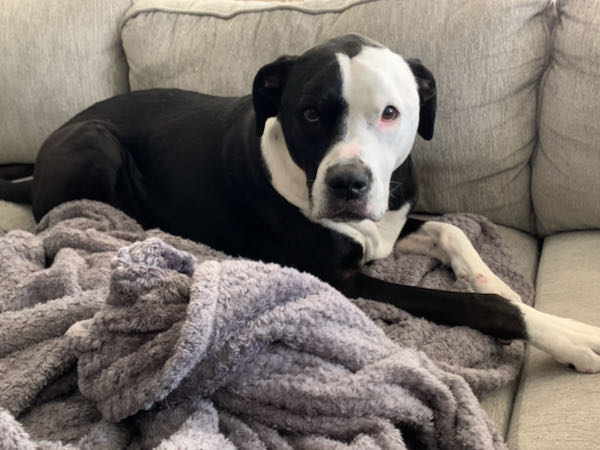 Meet the handsome 10-12-year-old Pittie, Moose! Moose's current family recently welcomed twins. The new stress in the home has him showing signs of aggression toward some visitors to the home but is fine with others. He also has a number of physical issues that cause him pain (torn CCL, arthritis in hind legs, joint issues in front paws, and mast cell tumors). He's looking for a new home where he can feel at ease and focus on healing.
Moose is house trained, crate trained, and knows basic commands. He gets along very well with the other dog in his current home, though he needs to work on sharing his treats and toys! Moose enjoys walks but would appreciate a family to help him work on his leash manners while walking.
Moose's current family is heartbroken that they can't continue to care for him, and eager to help him find a new home where he can thrive mentally, physically, and emotionally. For more information about Moose, please contact Claire at 831-252-5107
clairegoodmanslp@gmail.com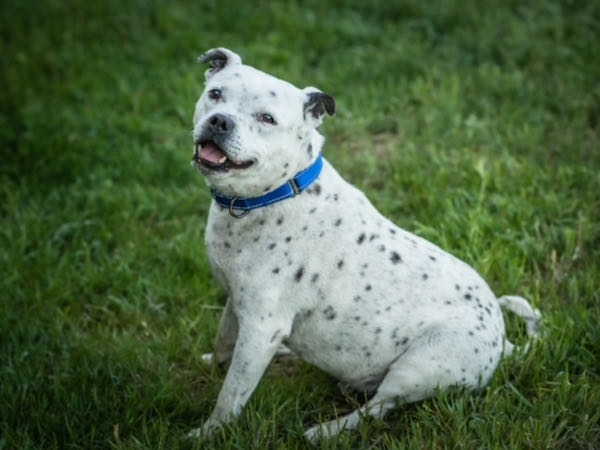 Julius is a sweet 12 year old Staffie-Dalmation mix looking for a home to settle into. He's got a great white coat with beautiful black spots, you could almost confuse him with a harbor seal! He had lived in a home with toddlers previously. Unfortunately, the unpredictable movements and noises of the toddlers made him nervous so the previous owners thought it would be best to find him a new home. Julius can be a bit shy when first meeting people but warms up quickly. He enjoys nice slow walks, gentle pets and sunbathing. Respectful kids in the home may be appropriate provided they meet at the Shelter prior to adoption. Julius has met dogs at the Shelter but has been tense. Based on his history and observed behavior at the Shelter, a home without other pups would be best. Julius loves car rides so a home with lots of puppachino trips would be great. For more information, please contact the Santa Cruz County Animal Shelter at 831-454-7200 or via email: Jillian.Ganley@santacruzcounty.us.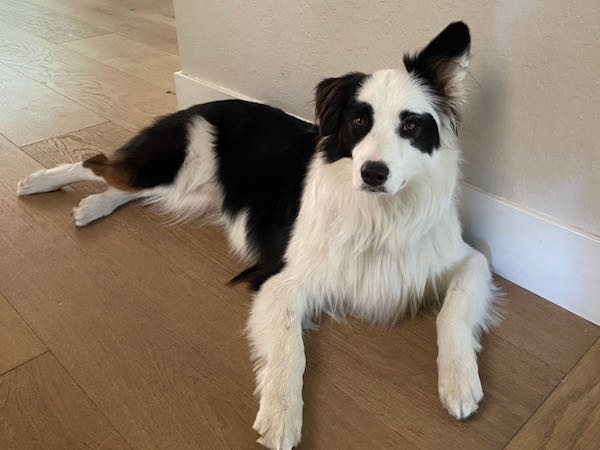 Theo is an energetic boy looking for a fun and active home to join. Theo is only 15 months old and an Australian Shepard, so he's got a lot of energy to burn and does well on leash walks. He is house trained and crate trained, and understands basic commands, but may jump from excitement when he's first meeting new people. Theo usually gets along with other dogs though he has a bit too much puppy enthusiasm for the older dog he's currently living with. Because of his extra energy, Theo shouldn't share a house with cats.
If you're looking for an exercise or walking buddy, Theo might be the puppy for you! For more info please contact Martin at: (408) 666-9944,
aptos253@icloud.com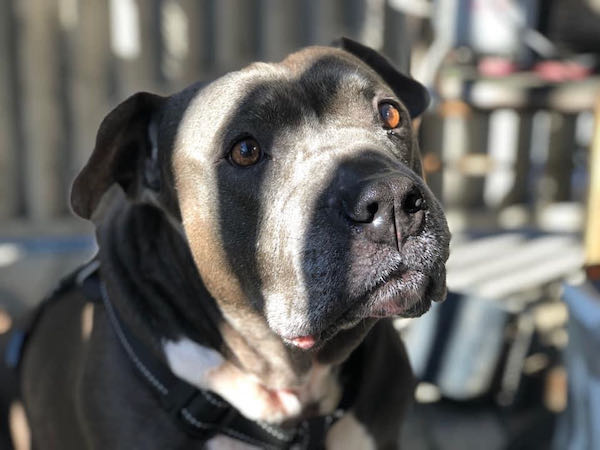 This handsome 80-pound gentleman is Travis. He is a 12-year old pittie, who is looking for a new home because his previous guardian passed away. Travis is very well behaved and does not mind spending some alone-time in the house. He is mellow and calm, walks well on leash, and knows some basic commands. This sweet boy loves cuddling up with his people and snoozing the day away next to you on the couch, but also gets excited about playtime and outdoor adventures. Travis does great with children. He has been around younger kids and they were his best friends. He is comfortable around other dogs, especially females. He would probably also be fine with cats, but has only met them from a distance. This guy is a perfect family dog and is ready to be your best buddy. For more information, please contact Cassandra at 831-578-3300, or
cassieann161819@gmail.com
.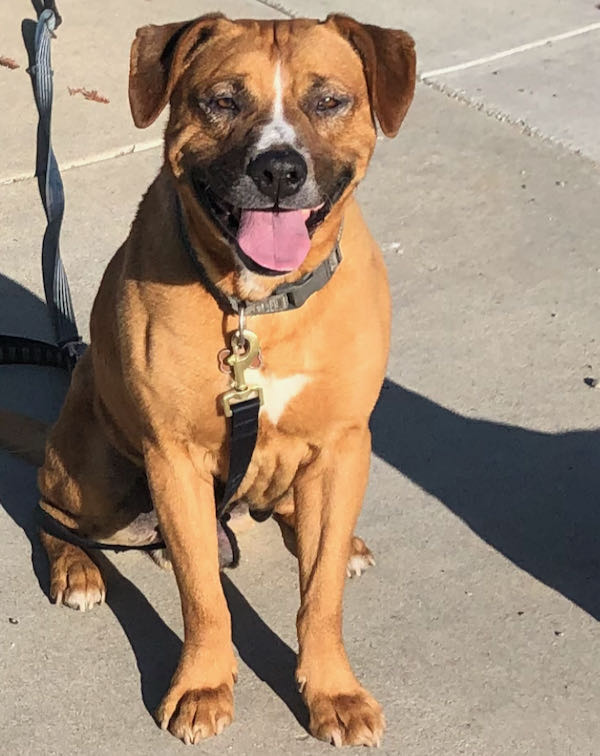 Luke is a 6-year-old, easygoing Lab Pittie mix. His current guardian broke her hip and can no longer take care of him and is searching for a new home to call his own.
This hunk loves people, is very friendly with children, and gets along well with other dogs, big or small. He walks well on leash, is crate-trained, and knows basic commands. Up until now, he lived outdoors with a canine companion and may need some training to transition to indoor living.
Learning new tricks should come easy to Luke, though, as he is well-behaved and listens well. He prefers when his humans are around and may complain when he is left behind. For more information about Luke, please contact Veronica at 650-815-1377, or
luke.lab.pittie6@gmail.com
.
Molly and Lizzy
Posted 6/9/2022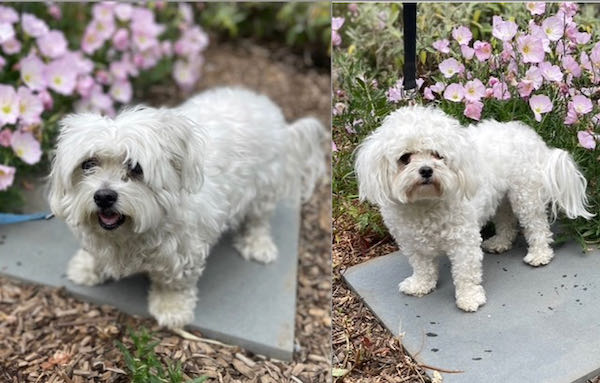 Molly and Lizzy are two lovely purebred Maltese dogs. Molly (2.5 years old) and Lizzy (12 years old) have lived their entire life with their senior owner, a well-known artist in Sausalito, who walked them along the Bay saying hello to her many human friends and other dogs. Molly(black leash) and Lizzy(blue leash)'s owner passed away unexpectedly this past March. Friends and neighbors have been taking both dogs on their familiar daily walks, but Molly and Lizzy spend most of their days alone in the house waiting for their owner to come back, which sadly will not happen.
Molly and Lizzy are very well socialized, gentle, and walk well on the leash. Lizzy can be a little reserved but quickly warms up to people. Molly is very outgoing and happy girl! Lizzy has Cushing Disease and will need special care to manage that for life. If you would like to learn more about Molly and Lizzy please contact Frits at
fritsv@sonic.net
.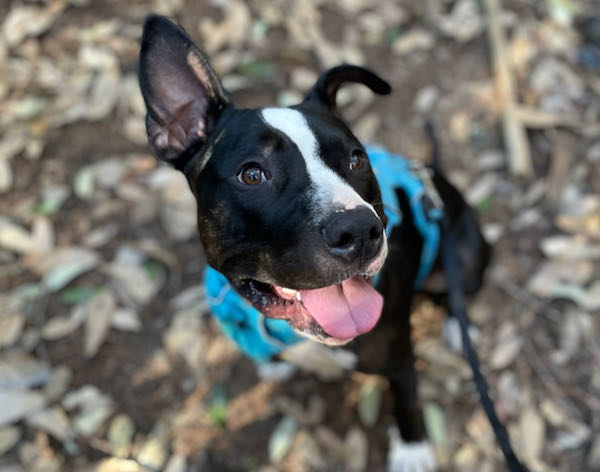 Turbo is looking for his special someone. This handsome guy is part wild man, part angel (and 100% American Pit Bull Terrier according to his DNA test). Him: Active, smart, affection, a little ADHD at times, playful, snuggly, food motivated, dorky, fun, silly. You: Active, good sense of humor, patient, not averse to living with a 60 lb. lap dog or the dirt and slobber that come with him. Turbo loves everyone, sometimes a little too much, so a home with sturdy humans (probably no kids under 12) is ideal. He is pure teenage boy much of the time so has little to no sense of personal space and sometimes lacks impulse control (getting much better!), which means fragile and/or small dogs are also not his best match. He is also too enthusiastic to cohabitate with cats that would need to share the same space. Turbo is about 2.5-years-old, neutered, microchipped, housetrained, and UTD on vaccines. He will blossom in the hands of someone ready to work and play him into the fantastic dog he has the potential to be. Turbo originally came from the Oakland shelter and is now adoptable through the Santa Cruz SPCA. See more info
HERE
. and/or contact his foster mom, Jenny with questions:
jennyprice1@gmail.com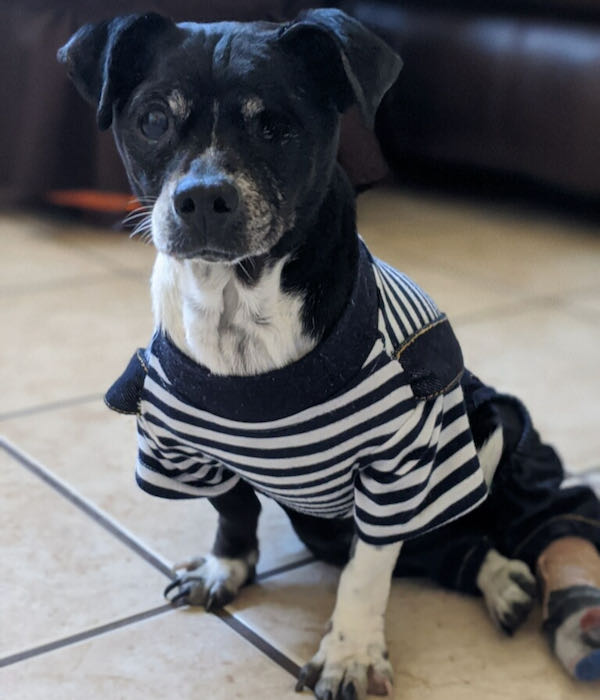 Junior is under the care of All Creatures Rescue in Hollister. He came to them from SJACS in December 2021 when he needed surgery for a perineal hernia. He had in the surgery in January 2022, and is fully recovered, with the exception of his back paw which got injured in his cage while recovering from the anesthesia. He has been having cold laser treatments at Family Pet Care in Hollister, and it has greatly improved his walking ability. We believe that at the end of May he will no longer need treatments. Junior is vision impaired and has only one eye.
He is such a good little dog. His foster parents adore him. He is housebroken, good on a leash, and LOVES other small dogs. Enjoys going to the beach, loves to go for rides in the car. He is not a barker, and loves his nap time. He has quite an extensive wardrobe, loves being dressed up and wearing a bow tie. Junior is best suited to a home that is quiet, with another small dog, retired couple or person this is a great dog for you. NO YOUNG CHILDREN. If you would like to meet Junior, please complete an application from the website:
www.allcreaturesgs.org
and email it back to them. ACGSRescue, Inc. 831-917-5570 email:
vivatacgsinc@aol.com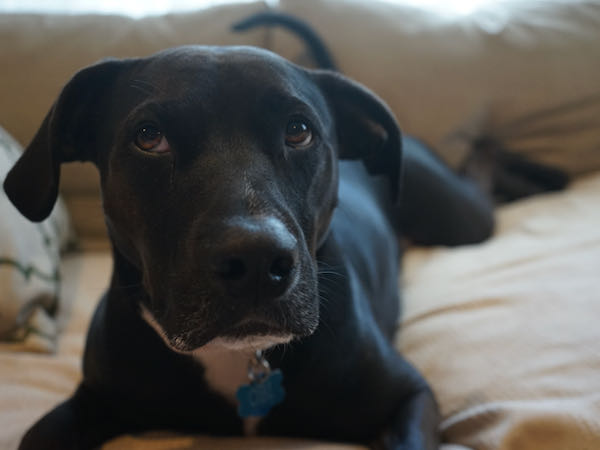 Obi is a 7 1/2-year-old black Lab mix looking for a new forever home. Obi is house trained, crate trained, and knows basic commands. He's very good with kids; we aren't sure how he'd be with cats. He enjoys lounging around the house while his current guardian works from home, and does well walking on leash. Obi does not do well with other dogs. He recently escaped from his yard and bit another dog. Because of this, his current guardian's housing community is insisting that the family rehome Obi. They aren't able to move, so must give up Obi or lose their housing. If they aren't able to re-home him, they may have to put him down. To learn more about Obi, please contact Joe at
joecourtney13@gmail.com
.
Luna is a 10-year-old Chihuahua who is cute as a button! Luna has lived with her current owners for nine years. Luna loves her human companions like they're her own species, and she generally prefers people to other dogs! She is outgoing and loves to meet new people. She'll even jump up on strangers' laps! Beauty rest is also at the top of Luna's list. She will snooze for hours on the bed or couch. If humans are not around, she will happily doze off with a blanket and heating pad! Luna is house-trained and independent. Although she enjoys human company, she does just fine home alone. While she is very affectionate towards humans, Luna is not always as sure about other dogs. She is laid-back and easygoing in a calm and quiet space, and she does best in a house with the same energy level. Luna does just fine with low-energy dogs, but energetic dogs are not her cup of tea. Luna gets along with cats, and she is fine with children if they don't startle her. If Luna sounds like the dog you've been searching for, please contact Zenda at (831) 332 9779 or
Zendalubeck@gmail.com
.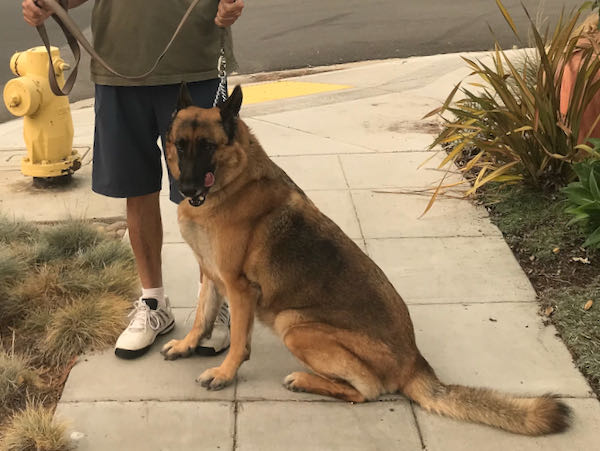 Kaila is a gorgeous, healthy, 7-year-old, spayed female German Shepherd. She has been a loyal companion to her person for the last 4 years, but he has become ill and can no longer care for her. The family is heartbroken but knows finding Kaila a new home is in everyone's best interest. Kaila is not a huge fan of other dogs (or cats) so needs to be the only pet in the home. At 110 lbs, Kaila is more than enough dog to satisfy all your needs! Out on walks she is generally indifferent to her canine cousins and when she does take an interest, she is easily redirected. People are Kaila's bread and butter; she is friendly and even slightly submissive with everyone she meets. Energetically, she is the perfect combo of active (likes her walks, likes to play) and mellow (pro at holding down the couch). She walks well on leash, knows her basic commands, is housetrained, and is fine about being left home alone, when necessary. Kaila is the complete package!
Kaila was originally adopted from the San Diego Humane Society and still lives in San Diego but will relocate for love! She needs to find her new home as soon as possible. Contact Nicole at 857-526-6888 (best) or
nicolemyatt@gmail.com
.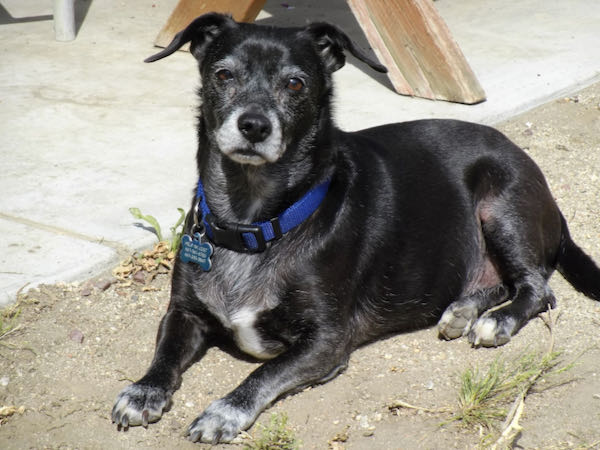 Fenie is a friendly little guy who's in need of a new home. His owner for the last 14 years is having difficulty caring for him now that she has two new babies, and is hoping he can find someone to give him the attention he deserves. Fennie is 16 years old and has started having occasional incontinence issues along with some vision and hearing loss. But he still loves snuggling on the couch and taking walks and getting to meet new people. Fennie does well around children but may be uncomfortable around other male dogs.
If you have a spot for this sweet boy please contact Samantha at (661) 361-6780 or at
sv.meza@yahoo.com
Miss B Haven
Posted 3/3/2022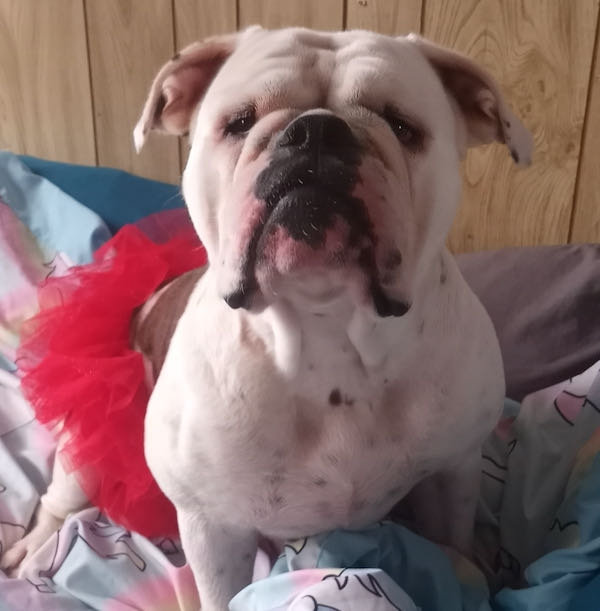 Miss B Haven is a sweet, loving, and energetic 2.5 year-old female English Bulldog. Miss B is looking for the perfect next home. Miss B is a beautiful 65-pound girl. She is house trained and crate trained, and she'll be fine left alone indoors for up to three hours. Miss B also stays in her crate at night. Miss B loves children, but she is particular about her furry friends and prefers a household without other dogs or cats! Miss B will react to other dogs when out walking, so she'll do well with someone who can curb her enthusiasm when needed. Miss B likes to greet strangers and may bark at first, but sometimes she doesn't make a sound. Miss B is very energetic and stays fit with aerobic activity of any kind! Miss B is under the care of a vet for allergies. Although she comes close, Miss B isn't quite perfect yet, but she is working towards perfection by addressing some behavior issues. If Miss B Haven sounds like your match, contact Canvida Dominquez at
cruzd1971@aol.com
or by phone at (831) 707 9369.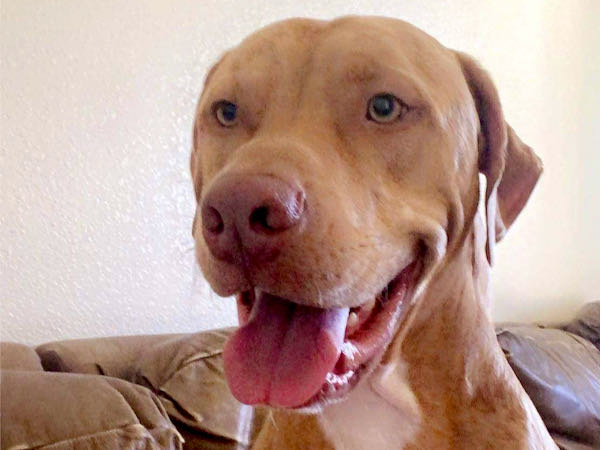 Simba is a 3 year old, neutered Male who weighs 69 pounds. he is needing a new home because his current people are moving for the military and Simba cannot tolerate air travel or very long car rides. He has high anxiety and needs help being soothed. He is looking for a home without small dogs, no cats or children, and where he will be with his person much more often than not. He is house trained and very sweet, loving people and gives them licks in exchange for scratches. He is very anxious when seeing another dog on a walk and starts chirping and pulling towards them. He is insecure and will shake a lot. He matches his person's energy, napping and cuddling if that is what they want to do or running around in play. He gets very anxious when alone. He is usually calm if there is a tv on or has access to lay down somewhere comfy. If interested, please contact Briana at 727-687-1040 or
Hristovabri@gmail.com