Other Adoptable Dogs - Courtesy Listings
The following dogs are not under the care of Peace of Mind Dog Rescue. We provide these listings as a courtesy to the community to help these dogs find new homes. Please contact the person named in the dog's writeup if you're interested in finding out more about one of them.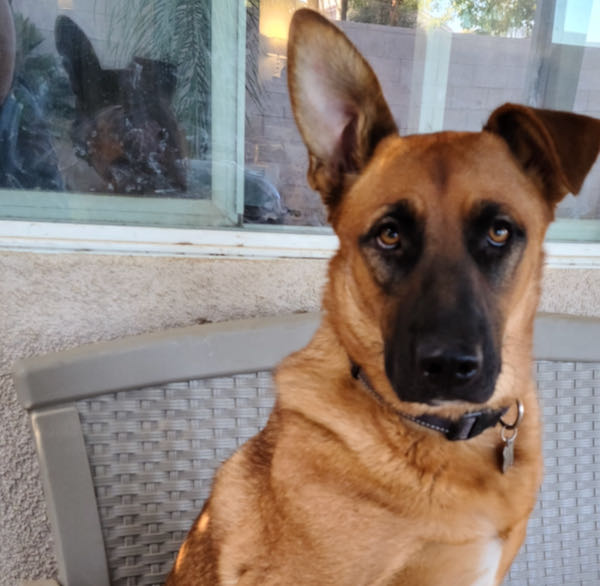 Buddy is a one-and-a-half-year-old, 75 lb, German Shephard Mix. Buddy does great around other dogs, he even gets along with cats. He walks well on leash but he can be a bit of a puller. Buddy can be a bit off-put when meeting new people bt quickly warms up to them giving enthusiastic tail wags. Buddy is crate trained and does well when left home in his crate. Buddy's guardian is no longer able to provide the care Buddy needs due to his own health.
If you are interested in learning more about Buddy please contact Bethany at
bethany.zoeller@gmail.com
or call 661-809-0834.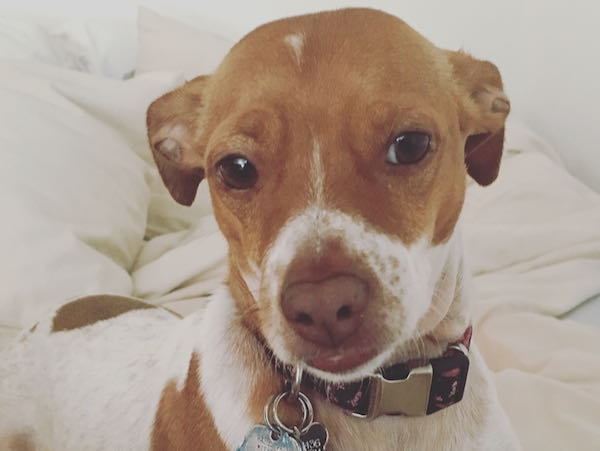 Miss Penny is a 10 year old, 17lb Jack Russell, Italian Greyhound Mix. Penny would love to find a home without children and without cats or other dogs around. She loves to go for walks and walks well on leash. Penny has a bit of anxiety. She would do best in a calm environment where there is not a lot of people going in and out of the home.
If you are interested in learning more about Penny please contact Jasmine at
Jasmineleventhal@gmail.com
or call 310-467-1436.
Whiskey a go-go
Updated 12/23/2021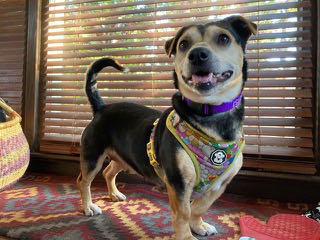 Whiskey a go-go is a 1.5 y/o 25 lb, spayed dachshund/chihuahua mix being fostered in Santa Cruz. She was running loose for several weeks, scared, before she was caught and brought to a local shelter. She had never had collar or leash on previously so has had a lot to learn. She is initially very scared of people and will need an experienced, patient adopter to win her trust and help her gain confidence. She is doing great in her foster home, extremely loving and playful when she feels safe. Whiskey would do best with another dog that can show her things are ok. She will need a quiet home with secure fencing. A confident cat would likely be ok, she has a tendency to chase but listens well to direction. She is housetrained, fully vaccinated and microchipped. For more info email
ginger@dougross.com
or call or text 831-252-2757.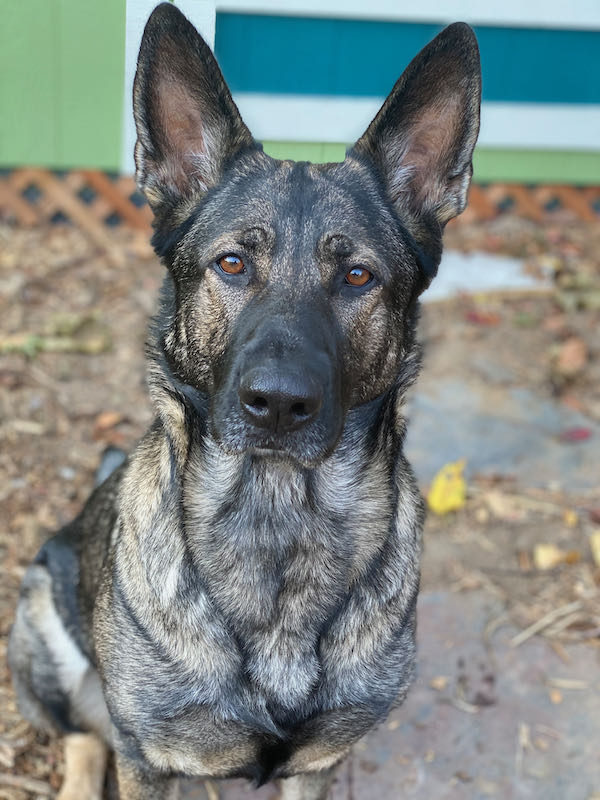 Sasha is a 4-year-old, spayed, 90-pound German Shepherd from Czech Republic. She is highly intelligent, agile, and physically strong, trained in German commands. She is incredibly sweet and attuned to her owner. She is a very healthy dog who will likely live a long life. She was bred in her current home; Sasha has been aggressive just towards one of the female puppies that the family kept. She has not demonstrated any other aggressive behavior, with the exception that she will occasionally bark aggressively at other on-leash dogs on a walk, but this can be redirected. She has been off-leash at the beach, at the forest, and at the park, and around adults, children and a variety of other dogs with no problems. She is excited to greet adults and children; she may jump on people she meets due to overexcitement. She rides calmly in a car. She pulls a bit on a leash; she has a strong prey drive and will pull hard if she sees something interesting. She requires a physically strong handler. She is anxious when separated from the family. She will need a home with an owner who is willing to spend a lot of time bonding with her by keeping her close to them. She is best suited for an environment with lots of exercise and room to run around that's bigger than a suburban back yard. She requires a closed yard with a 6-foot fence. Sasha needs someone who is really dedicated to her and will do additional training with her. If you are interested in hearing more about Sahsa please contact Kim Goldman at
Drkimgoldman@msn.com
or 714-478-6412.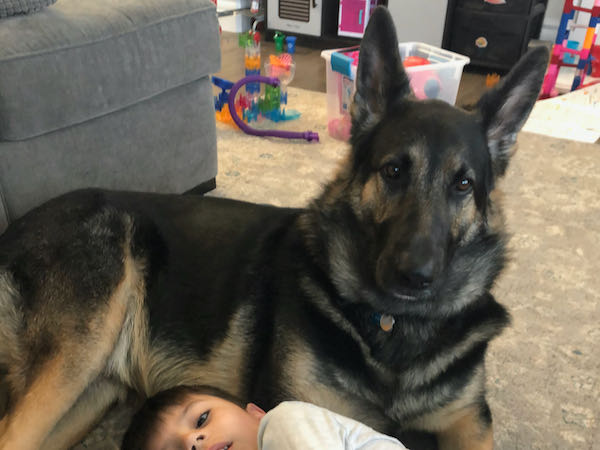 Loki is a 4 year old 140lb neutered male German Shepherd. He is searching for a new home as he has grown much larger than expected and is bigger than his current guardian is able to care for. Loki has excellent house training manners, he is crate trained, walks well on leash and knows basic commands. While out for his daily walks, Loki loves to smell flowers as he is out and about. Loki gets very excited to meet new people, he gives curious sniffs to all he meets. He can get a bit overly excited and jump when saying hello. His favorite activities include lounging in the sun and going for walks. Loki does well when left home along for short periods of time. If you are interested in hearing more about Loki please contact Nina at 831-920-2799 or by email: nina.michele.white@gmail.com.
Precious
Posted 11/19/2021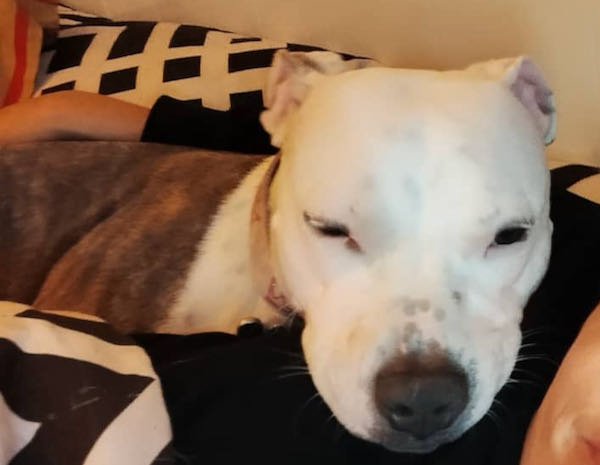 Precious is just that, precious! She is an 8 month old spayed Pitbull puppy. Precious is still learning to explore the world around her. She is working on learning her basic commands and on crate training. Precious will need some training with walking on a leash as this is a newer concept for her but with that puppy enthusiasm she should catch on fast! She has loads of energy and is looking for an active home that is able to channel that energy into training. If you are interested in hearing more about Precious, please contact Rebecca at 831-585-3247 or by email rebeccascheuermann32@gmail.com.
Lilly
Updated 10/22/2021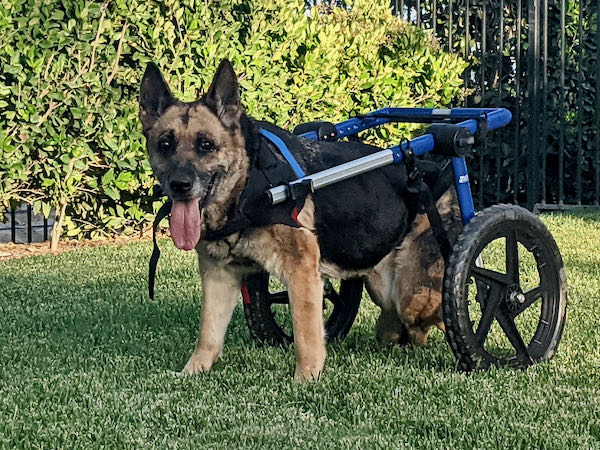 Hi! My name is Lilly. There's something really special about me! I have some wheels to help me get around and my foster mom says I'm as happy as a clam cruising from place to place. I'm a 10 year old German Shepherd and of course will need a very special adopter. I get along famously with my foster dog siblings and am very appropriate with other dogs. A lot of chaos makes me want to try and calm things down. I'll do best with a mellow household and an adopter who understands my need for quiet time. Puppies and small children would not be a good match for me. I have nice house manners and will let you know when I need to go out. I definitely don't want to be outside alone. I am friendly and social girl. My foster mom says I'm really easy to have around. I love my soft cool beds and enjoy just relaxing with my people. If you're looking for a chill girl to keep you company, maybe we can meet. To meet and adopt, use this link:
https://www.bayareagsr.org/available-dogs/1545-lily
.
Ellie
Updated 10/20/2021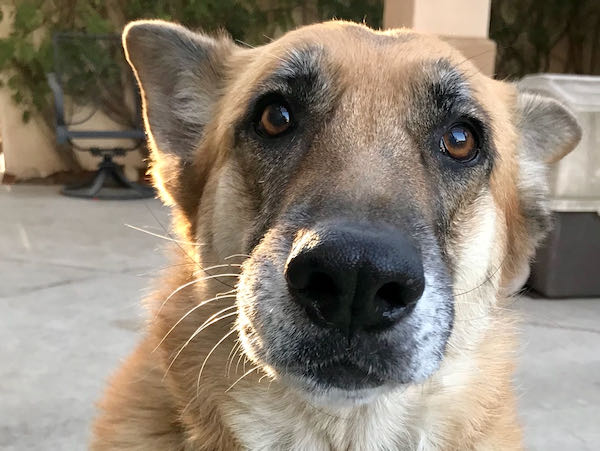 Ellie is an 8 year old, 70 pounds German Shepherd. She is house and crate trained and responds to basic commands. Ellie is needing a new home because her person is going to be stationed out of the country for the next 3 years and does not have anywhere for her to live. She gets excited over most things and does bark when amped up. But she is sweet and has lived with another dog. Her socializing has been rare recently but she thrives on exercise and adores attention from her person. If interested, please contact Jodi at 831-682-3332 or
jodismith@live.com
Simba
Updated 10/20/2021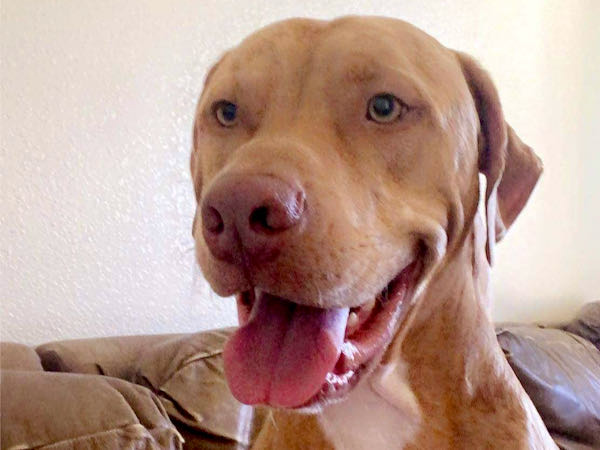 Simba is a 3 year old, neutered Male who weighs 69 pounds. he is needing a new home because his current people are moving for the military and Simba cannot tolerate air travel or very long car rides. He has high anxiety and needs help being soothed. He is looking for a home without small dogs, no cats or children, and where he will be with his person much more often than not. He is house trained and very sweet, loving people and gives them licks in exchange for scratches. He is very anxious when seeing another dog on a walk and starts chirping and pulling towards them. He is insecure and will shake a lot. He matches his person's energy, napping and cuddling if that is what they want to do or running around in play. He gets very anxious when alone. He is usually calm if there is a tv on or has access to lay down somewhere comfy. If interested, please contact Briana at 727-687-1040 or
Hristovabri@gmail.com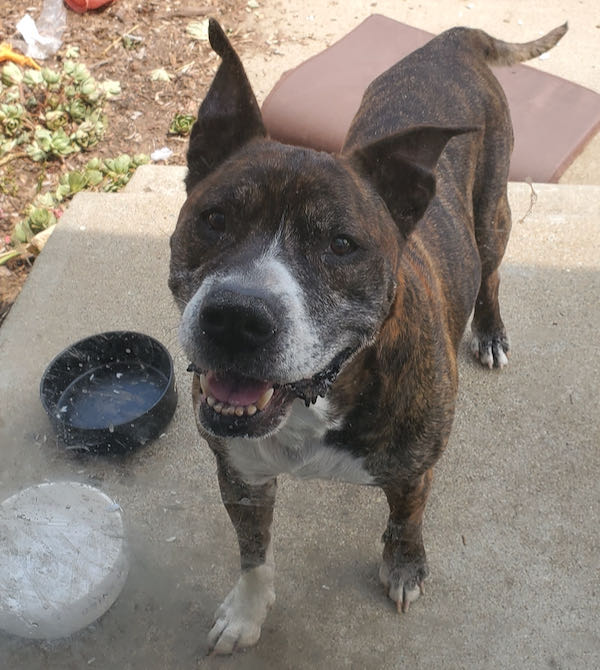 Meet handsome Hades. This fellow is 10 years old, 70 lbs and is a bulldog terrier mix. Hades is leash trained and knows his basic commands/manners. He is friendly with other dogs and does not have an interest in cats, but he strongly prefers to not be around children. He is very cautious and their quick movements are scary for him.

Hades is energetic and would enjoy a household of adults (or an adult) that can spend time playing with him, taking him for walks, and working on positive reinforcement training so he can gain more confidence and see that the world isn't such an uncertain place. He does well at home when his person needs to leave to run errands or go to work for a bit and he enjoys sleeping inside near his person when it's time to wind down. Hades would love to be a part of your world! If you are interested in learning more about Hades please contact Mohammed at 831-917-7219 or email mohammedgoumaa@yahoo.com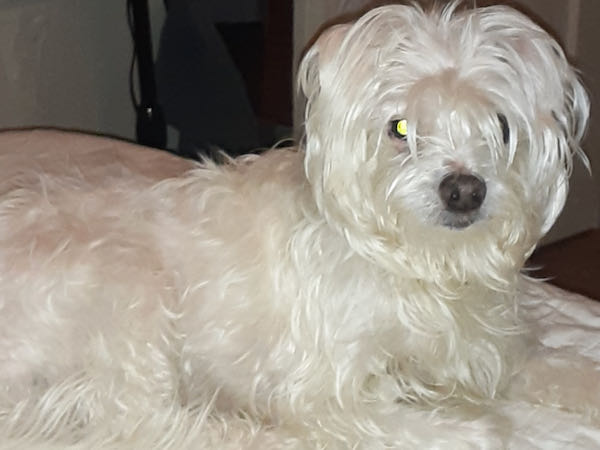 Brody is a 16 year old, 9 lb Maltese. Brody was adopted a few years ago from the SPCA. Brody's guardians are moving out of state and are searching for a new home for Brody as soon as possible. Brody is house trained and walks well on leash.

He is not a fan of other small dogs but he loves people especially men! Brody loves to snuggle up into a doggy bed and sleep much of his day away. He isn't phased being left alone while his people are away. If you would like to hear more about Brody please contact Marilyn at 831-770-9034 or email Vegasmarilynm@aol.com.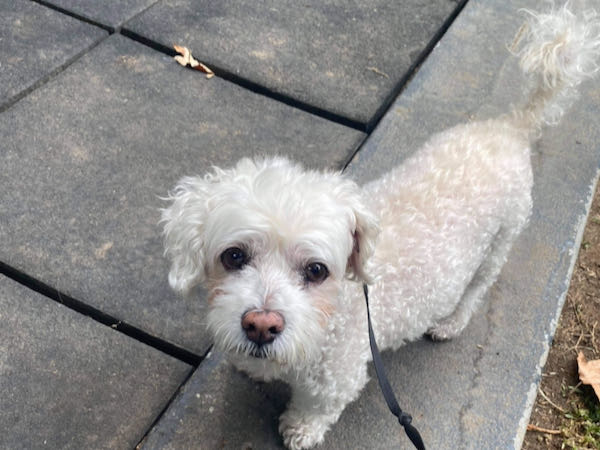 Peanut is looking for a new home as he is not getting enough attention at his current home and is seeking a home where he can get more human companionship as he really does love being with people. Peanut tolerates other dogs but would really do best as an only dog in the household and should be in a home without children.

Peanut is house trained, crate trained, walks well on leash, and knows basic commands. Peanut has high anxiety and nips at people when he is touched in sensitive areas so for this reason he should be in a child free home and interested adopters should be savvy to how to navigate a nippy dog. If you would like to hear more about Peanut please contact Camaron at Camaron5271@gmail.com or 619-341-3981.
Chrissy
Posted 9/28/2021
Chrissy is a cuddly 7 year old, red, female Miniature Pinscher, weighing approximately 9 lbs. looking for her forever home. This precious girl found her way into rescue when a local breeder passed away unexpectedly. Chrissy is a favorite and rightfully so. She is an amazing girl that enjoys short, loose-leash walks, gracing you with the melodic sounds of squeakers in her plush toys, sunbathing and going on adventures in her booster seat in the car with her beloved human. Chrissy is as mellow as they come and will gladly hang out on the couch with you all day long. Chrissy has some visual impairment and is on an eye medication regimen which includes ointments and eyedrops 2-3 times a day. We have seen a tremendous improvement to her overall eye health. Although Chrissy has lost some of her vision it has not impacted her ability to explore every inch of her backyard. Chrissy loves to be be held, adored and reassured with endless belly rubs. She also prefers a quiet and calm household. Please submit an application for this loving girl if you would like to be considered as her forever home.

Note: Chrissy is located in Northern California in the Sacramento region and we will not fly this girl.

If you wish to adopt, please fill out our IMPS Min Pin Adoption Application using the following link:https://www.minpinrescue.org/home.htmlFor more details, please contact Sandy at sandy.chang@mac.com.