Other Adoptable Dogs - Courtesy Listings
The following dogs are not under the care of Peace of Mind Dog Rescue. We provide these listings as a courtesy to the community to help these dogs find new homes. Please contact the person named in the dog's writeup if you're interested in finding out more about one of them.
Wrigley
Posted 1/20/2021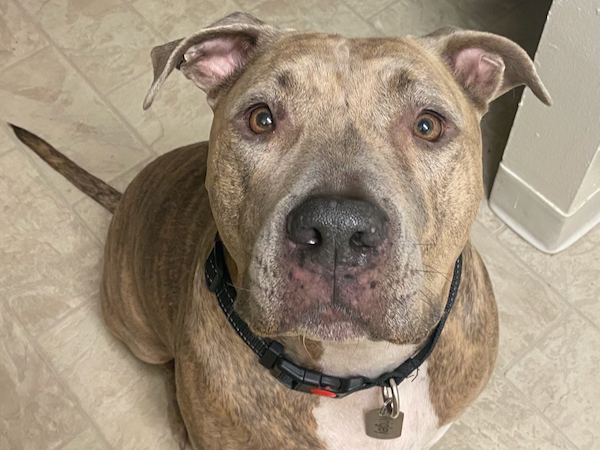 Wrigley is 6 years old and about 100 pounds. He is a smart, people loving dog that needs a home with a secure yard. This is important for him for while he is good on leash, he can be reactive toward some alpha dogs so needs walks without confrontations and absolutely no dog parks or beaches. He has lived with other dogs that are gentle or smaller and shared space well but has a threshold and he does not like being pushed around by another dog. He needs a home without cats too. Wrigley is good in the home, follows directions well, and is quiet. He loves people, but does have a tendency to try to jump on them. He welcomes them excitedly into his home. Otherwise, he is usually pretty mellow and naps a lot. He does like to play for a few minutes throughout the day. He is comfortable being left alone. He is very well behaved and loving. If interested in Wrigley, please contact Krystal at 415-653-6006 or
Krystal.thomas831@yahoo.com
Dallas
Updated 1/14/2021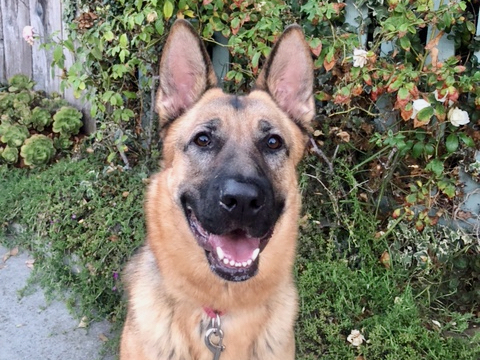 Dallas is a 2 year old, 90 pound German Shepherd. And wow is he handsome! Unfortunately, his person was a victim of domestic abuse and had to leave their home. They could not secure dog friendly housing and Dallas needs a home ASAP as he has been and remains in boarding. Dallas is house trained, crate trained and knows a few basic commands. He is good with familiar people but introductions with new people can vary. He can be weary of some people and barks at them. He had some bad experiences at dog parks and can be reactive towards dogs, especially behind a barrier. He is not good with cats. Dallas needs a lot of exercise as an outlet and loves running in a backyard. He also loves playing tug of war with toys. While he can be a little nervous and territorial, he will bond and be a great companion and he was absolutely loved in his previous home. If interested, please contact Sylvia at 831-737-5850 or
Wannasharpei@aol.com
Stella
Updated 1/14/2021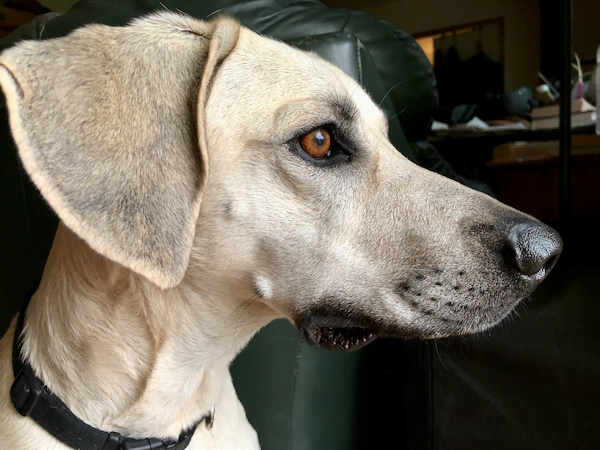 Beautiful Stella is a 2 year old Black Mouth Cur. She is 60 pounds and spayed. She is healthy and up to date on care. She does gets itchy skin but this is easily managed with supplements. Stella is needing a new home because she has become aggressive with other dogs in her current home. She prefers a home as the only dog as she wants all the love from her people. She is good with dogs at the dog park, though. Stellah is house and crate trained, happily sleeping in a crate or on a bed. She walks great on leash and when out and about, she is happy excited to meet all the humans, or when they come to her home. She loves and is very good with kids but does want to chase cats. She has a strong prey drive but does currently live fine with a cat. She does well left alone at home but needs tall fences (she can jump over 4 feet). if interested in Stella, please contact Morgan at 831-331-0048 (best) or
demuthsolutions@gmail.com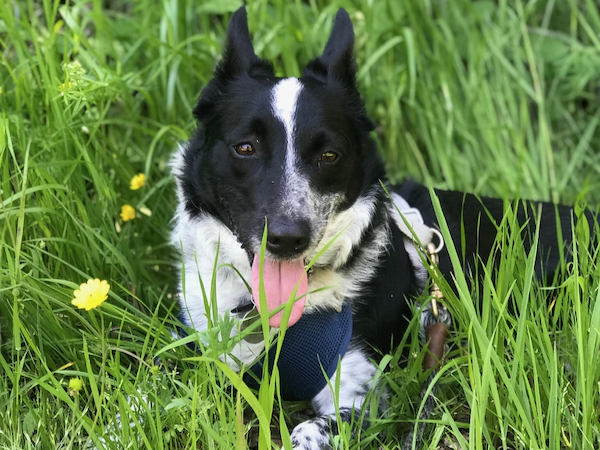 Lexi is a 6 year old Queensland Heeler and Border Collie Mix. She is needing a new home because her people for whole life have a 2 year old daughter and another child on the way. Lexi has grown more anxious and unpredictable with the daughter (showing teeth, growls). It has just been vocal warnings but they can see Lexi is not happy and would prefer a home without children. She is very sweet and loving with adult people and our other dogs in the home. Lexi is house trained, is great on leash, and follows directions well. She recently has become more leash reactive with unfamiliar dogs but gets along well with familiar dogs and so will need help with safe introductions. In meeting new people, she will usually be timid and a little anxious. Very friendly and loving once familiar with people. Lexi has high exercise needs, but settles nicely after exercise. "We love our dog very much and want her in good home, but feel we have exhausted every resource in helping her including training sessions for on leash and child training." To learn more about Lexi, please contact John at (415) 328-8505 or
jrgalante89@gmail.com
Raven
Updated 12/17/2020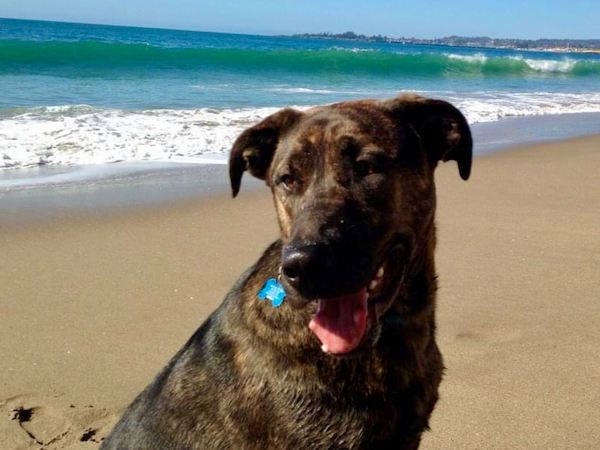 Displaced Family Seeks temporary (or forever) Home for Large, Energetic, Special Needs Dog. The family has been displaced by the Santa Cruz fire. Raven is a loving and energetic 100 lb. seven-year-old Black Lab and German Shepherd Mix. She is agile and athletic, and is very affectionate. She excelled through many levels of obedience school and she is excellent with many commands and tricks. She does very well with our indoor/outdoor cat, though she has chased other cats. She was born with a medical condition (structural abnormality that is not repairable with surgery) that requires her to be on medication 3 times a day in order to control her urinary incontinence. The medication we have her on controls her urinary problems 100%, and has since she was a puppy. Raven is also on a daily dose of an anti-anxiety medication to help her. Raven is territorial and need to be the only dog at her future home. Please contact Erik with interest:
erikbarnes79@yahoo.com
, 831-233-1608 (texts are ok)
Malkovich and Eva
Updated 12/16/2020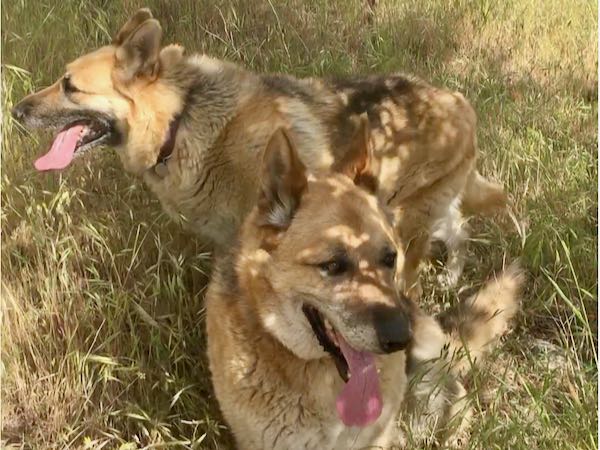 These two dogs were rescued from euthanasia at a shelter and went to live with a senior guardian for the past three years. Sadly, she fell recently and is no longer able to care for them. They are a bonded pair and would love to be adopted together. If you are interested in them, please call Brent at (661)400-3873.

Both were raised by same owner since puppies. At some point, the owner retired and decided he no longer wanted the responsibility of taking care of dogs. Both dogs placed at Tehachapi Shephard Rescue in 2017. Should be adopted as a pair. Malkovich: Big sturdy male with no hip dysplasia. Fiercely loyal and recognizes and appreciates a loving family. Loves to go for walks and good off the leash. Eva: Looks like a big hamster. Loves attention, loves people and like Malkovich, loves walks and is good off the leash. She big goofball. She is also pigeon toed and at times can be awkward.
Allie
Updated 12/16/2020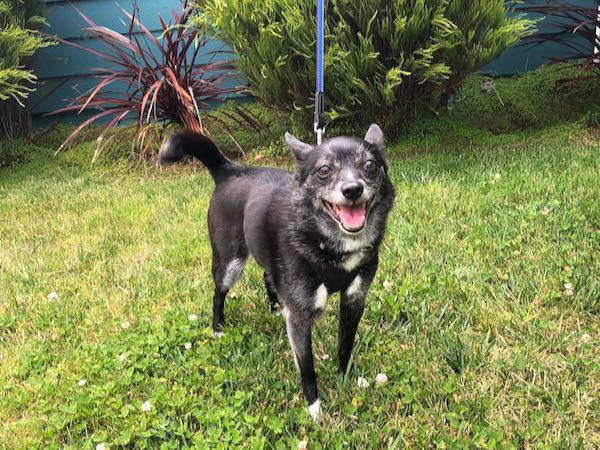 Allie is an 11-year-old Schipperke mix who was rescued earlier in her life. She has lived with a loving, patient guardian since then, but unfortunately she is moving and can't take her along. Allie has some quirks that a new adopter will need to help her with. She's very nervous when first meeting someone and will need to be mostly ignored during the first greeting so she feels safe.

Her ideal home is an adult-only, dog-savvy, patient adopter(s) who want a dog who loves them once she's comfy. She prefers to be a home-body (maybe you do too!) and stays within her comfort zone. She can be nippy when she is feeling stressed & fearful but loves her family after acclimating. If you'd like to adopt Allie please contact Lisa at (650)346-0156.
Kornelius
Posted 12/11/2020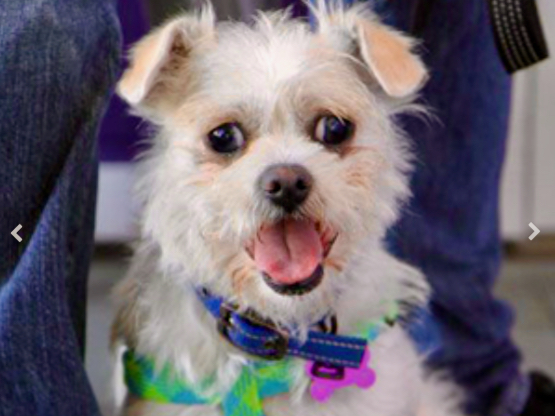 Kornelius is an enthusiastic and friendly 1-year-old, 15-pound Westie Terrier mix with special needs. His vision is impaired, yet he Is easily trained, smart, loyal and sooo much fun! He was born with detached retinas, and resulting glaucoma. He has some perception of light and dark. Eventually his eyes may become painful and require surgery to remove them, despite how traumatic it may sound, it is a fairly common procedure that dogs adapt to very well. AFRP will work with the approved adopter to ensure his eye health needs are taken care of. He navigates the world easily, learning the layout of his foster home within a week! Kornelius has a big heart and will repay your kindness will wags by the dozens! Since he can be startled easily, a calm, adult household would be the best match. Currently he requires eye drops three times a day. For more info about meeting or adopting Kornelius, please fill out an
Online Application
..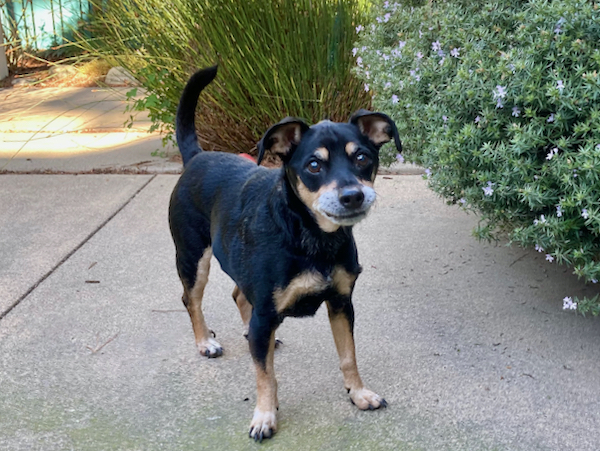 Tucker is a handsome dog at 12 years old and 14 pounds. He is needing a new home because his person is ill and has dementia and thus can no longer provide care or a home for Tucker. He has been with him since being a puppy and it is heartbreaking. Tucker has been a wonderful dog for him but Tucker is insecure around new people and hard eye contact or over attention in him can result in barking. Tucker could be a great addition to your home as he does love his people and has lived with other dogs, cats, and more. He just needs time to acclimate to new people. A couple day of going on walks and receiving food and he will quickly learn to trust and then love his new people. He is great on leash sturdy, and bonds strongly to familiar people. If interested in learning more about and meeting Tucker, please contact Nicole at 925-586-9063 or
Nya2013@gmail.com
Tolliver
Posted 12/1/2020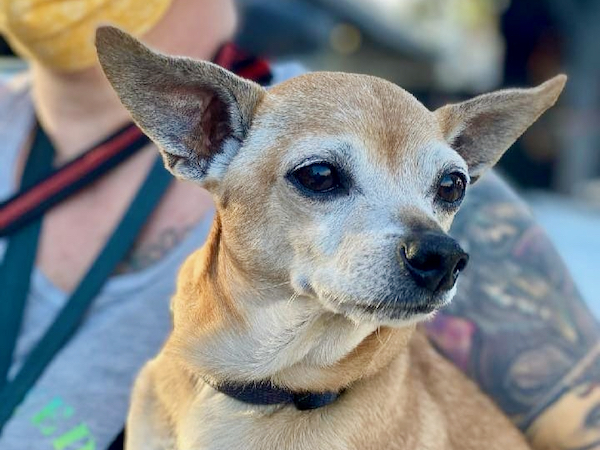 When 10 yr old, 12 lb. Tolliver came into foster care several months ago, he received much-needed medical attention including a dental, neuter, and large mass removal from his tiny hiney. Tolliver's foster family has loved having him as part of their sizable pack, but now this gentle boy is ready to move on to his forever home. Tolliver is very polite, quiet, well-behaved, and 100% potty trained. He adores car rides and is happiest when he is curled up on the passenger seat and can ride for hours. This happy guy is fine with meeting new people, has comfortably lived with indifferent cats, respectful small dogs, and even ignores the chickens in his foster home. He's not an overly playful boy but is still super perky and enjoys walks around the neighborhood. He is prone to "reverse sneezing" and has a slight heart murmur, but the vet has checked him over well a few times and says that he is doing fine. Thank you for considering making space in your lap and your heart for this wonderful older gentleman. He will make a wonderful companion for a loving family. If you'd like to meet Tolliver, please contact Jennifer Flick at 408-666-5320.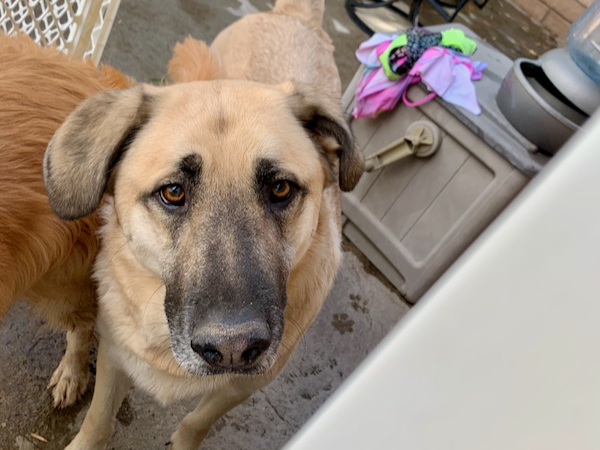 Luke is a handsome Anatolian Shepherd who is 4.5 years old, neutered, and 65 pounds. He is crate trained, gets along great with other dogs, but does bark at cats. He will thrive in his forever home with regular activity like walks and getting out to smell the world. Luke is excited about so much; meeting people, interacting with other dogs, walks, and food. He does protect his food and needs to be fed separately and monitored if food is present around other dogs.
Luke was found in need and has been helped but cannot be kept in his current place. He will need help learning about indoor life but has lots of potential. If interested, please contact Hailee at 9519615010 or
Haileekayyoung@yahoo.com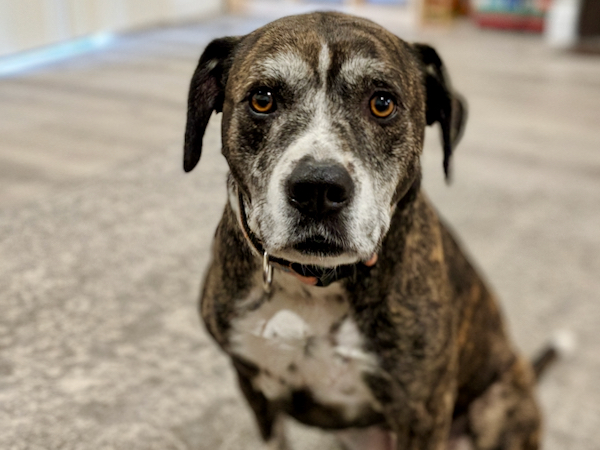 Olive is a Catahoula Mountain Dog at 9 years old and 55 pounds. She is wonderful with children and people but she is not great with most dogs. She is reactive towards dogs and needs to live without any other canines. She would be a lovely companion to someone without other pets. She is incredibly loyal and sweet and loving. She is house and crate trained and listens well. She is very excited and happy to meet people. She is not good with cats. Olive needs a good amount of exercise as her energy level is solid. She is comfortable being alone and mostly sleeps. She is a beautiful, wonderful girl and we would love for her to find a home where she can bring someone joy. If interested, please contact Joanna at 909-896-3539 or
jr624666@gmail.com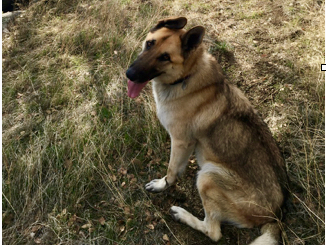 Lucky is four years old and is very puppy-like. He loves attention. During walks, he will routinely return to the walker and stand in front of them to get hugged or petted. He is good off the leash. And he truly recognizes and appreciates someone who cares for him and will become completely devoted once that bond is established. Occasionally, someone can negatively trigger Lucky to respond poorly to them. He may come across strangers or be anxious around certain people and make it known. Lucky is looking for someone to help his confidence and better his socializing. If interested, please call Brent at (661)400-3873.