Other Adoptable Dogs - Courtesy Listings
The following dogs are not under the care of Peace of Mind Dog Rescue. We provide these listings as a courtesy to the community to help these dogs find new homes. Please contact the person named in the dog's writeup if you're interested in finding out more about one of them.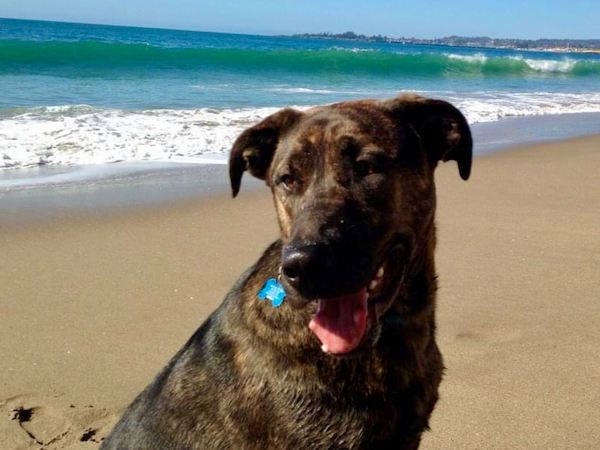 Displaced Family Seeks temporary (or forever) Home for Large, Energetic, Special Needs Dog. The family has been displaced by the Santa Cruz fire. Raven is a loving and energetic 100 lb. seven-year-old Black Lab and German Shepherd Mix. She is agile and athletic, and is very affectionate. She excelled through many levels of obedience school and she is excellent with many commands and tricks. She does very well with our indoor/outdoor cat, though she has chased other cats. She was born with a medical condition (structural abnormality that is not repairable with surgery) that requires her to be on medication 3 times a day in order to control her urinary incontinence. The medication we have her on controls her urinary problems 100%, and has since she was a puppy. Raven is also on a daily dose of an anti-anxiety medication to help her. Raven is territorial and need to be the only dog at her future home. Please contact Erik with interest:
erikbarnes79@yahoo.com
, 831-233-1608 (texts are ok)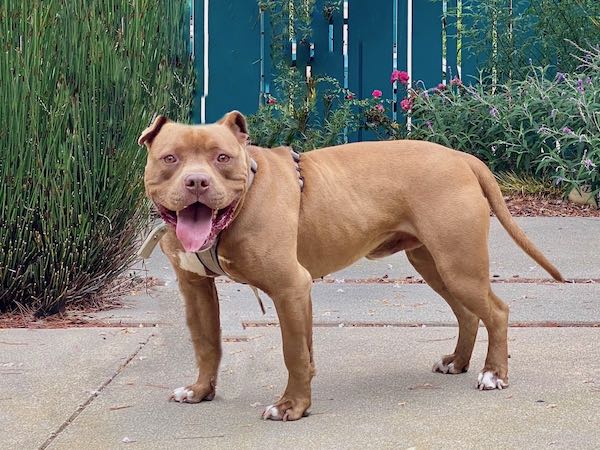 Blue is a 4 year old, 80 pound Pittie who has so much potential. He is sweet with new people and gives lots of kisses, but he needs a physically capable handler who can help him work on his leash skills and help him get used to riding in the car.

He is strong, energetic and loving, and has a big smile! He wags his tail when he meets other dogs and seems friendly, but also needs someone who can help him calmly meet new pups & become friends because he gets really excited in new places. Please call Robin at (831)869-3371 or (831)272-3237 if you'd like to learn more about Blue. He is currently in Monterey County.
Malkovich and Eva
Posted 9/19/2020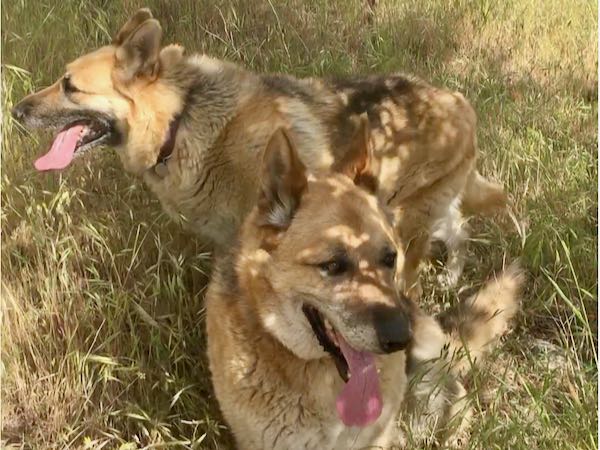 These two dogs were rescued from euthanasia at a shelter and went to live with a senior guardian for the past three years. Sadly, she fell recently and is no longer able to care for them. They are a bonded pair and would love to be adopted together. If you are interested in them, please call Brent at (661)400-3873.

Both were raised by same owner since puppies. At some point, the owner retired and decided he no longer wanted the responsibility of taking care of dogs. Both dogs placed at Tehachapi Shephard Rescue in 2017. Should be adopted as a pair. Malkovich: Big sturdy male with no hip dysplasia. Fiercely loyal and recognizes and appreciates a loving family. Loves to go for walks and good off the leash. Eva: Looks like a big hamster. Loves attention, loves people and like Malkovich, loves walks and is good off the leash. She big goofball. She is also pigeon toed and at times can be awkward.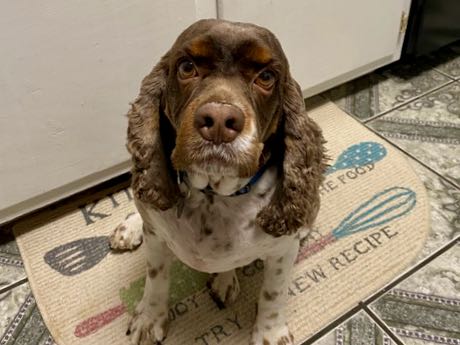 Buster is a handsome Cocker Spaniel at 45 pounds and 6 years old. He is neutered and doing well, other than needing a new home. thankfully, this guy is friendly to everyone...unless you are a cat. Buster will bark at cats. But is great with new people and other dogs and has lived with other dogs. He is great on walks and has good energy. When he is enamored with a bone or food, he does not protect and allows it taken away. He is a nice home companion, being appropriate and even responding well to basic commands.

Buster's guardian moved to nursing home and the rest of the family cannot take him. If you are interested, please contact Arnold at 209-675-2571.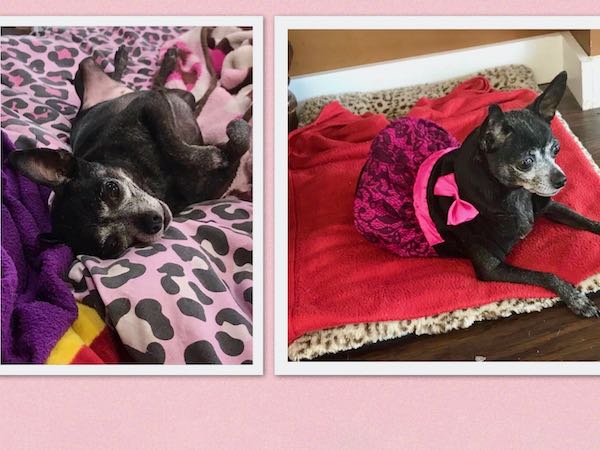 FiFi is looking for a loving furrever home. Her mommy passed away recently from a heart attack. She's 12 years old, fixed, has no health issues, and is up to date on vaccinations. All medical records will be shared. FiFi is an absolute sweetheart.

If interested in learning more, please contact Nikki at 323-327-1268
Charlotte
Updated 9/4/2020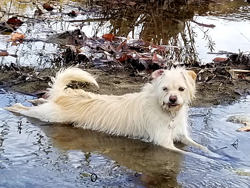 Charlotte is a 4-year-old, female, terrier mix looking for a special adopter. She was trapped as feral 2 years ago and has been in foster care with South County Animal Rescue, working on her extreme fear of humans. She has made great progress but needs to be in a quiet home with a regular routine. She does not interact at all with strangers and would take time to adjust to her new human. Charlotte also needs a home where she will get daily exercise as she thrives walking off leash and exploring.
To learn more, please text (831) 970-8878 or contact Maria at
magik1213@yahoo.com
Beckett
Posted 8/25/2020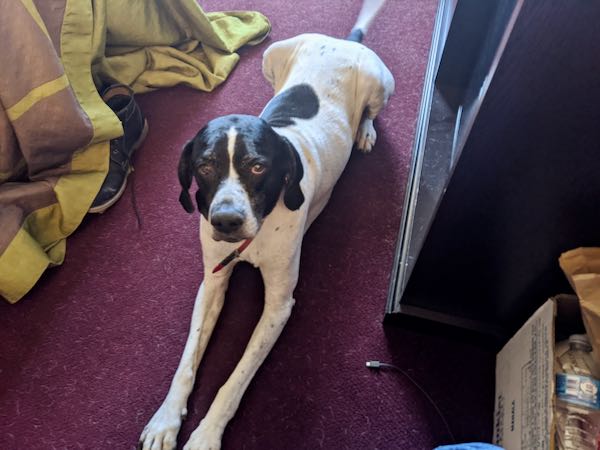 Beckett is looking for a new home after his guardian passed away. Beckett is 10 years old, about 40 pounds, and is an unaltered male. He is a good boy but can be protective of his person when indoors, but is highly sociable outside and out and about. Beckett is healthy, house trained, walks great on leash, and responds well to some basic commands. He gets along well with other dogs outdoors. However, dogs and people that come into the home will get a reaction out of Beckett and he needs help understanding. He should go to a home without kids as he will grumble if food or a toy is taken away or if asked to move from a comfortable place. While he is protective and territorial, he makes up for it by being a sweetheart to people he knows. If interested, please contact Michael at 8313251078 or
michaelmoran87@gmail.com
Buddy is a neutered, 20 pounds, and 11 years old. His guardian passed away and after grieving with his lost guardian's daughter, who unfortunately cannot keep him forever, he is now doing well and needs a forever home.
Buddy is good with other dogs, is house trained, knows basic commands, and walks well on leash. He is great with people, and meeting them in the home, but can be timid while out and about. He does well with kids but has never met a cat. He sleeps great in his little bed and is comfortable being left home alone. Buddy does have seizures and will need an understanding adopter. To learn more about him, please contact Claudette at 510 935-9509 or
comptonclaudette@yahoo.com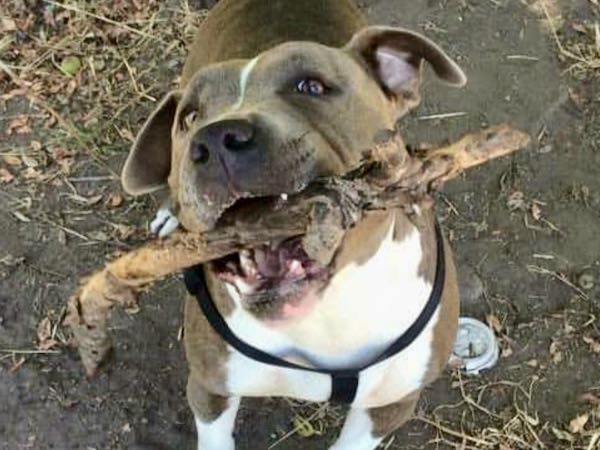 Duke is a positive pup that loves attention from anyone willing to give it. His family wants what is best for him and unfortunately, they are unable to provide for him the way they believe he deserves. Duke would best fit in a only-dog family home with children older than 5. He needs his own space, yet also is very gentle in showing his boundaries. An owner with patience, dedication and willingness to train would be a great fit. Duke knows simple commands and is by no means a "guard dog." He was rescued from a dog fighting ring where he was to be used as a bait dog. His soft and gentle demeanor are just a small part of the characteristics that are lovable about him. He loves the beach and toys, as well as just relaxing with his family. If interested, please text - 510-258-3667 for more info. That is Andrea who is a family friend of the dog guardian.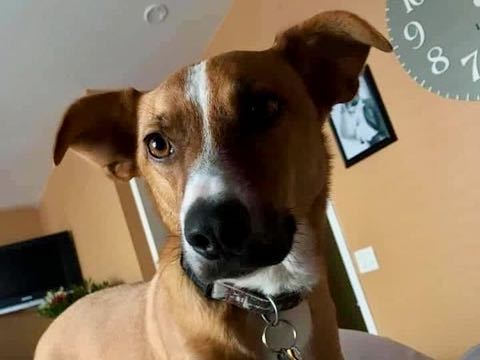 Toby is a 7 year old loving dog that needs a forever home. He can live peacefully with another dog and adores his people. A dog savvy person will help him with introductions in meeting new dogs If interested in learning more about Toby, please contact Kelly at (805)390-8596.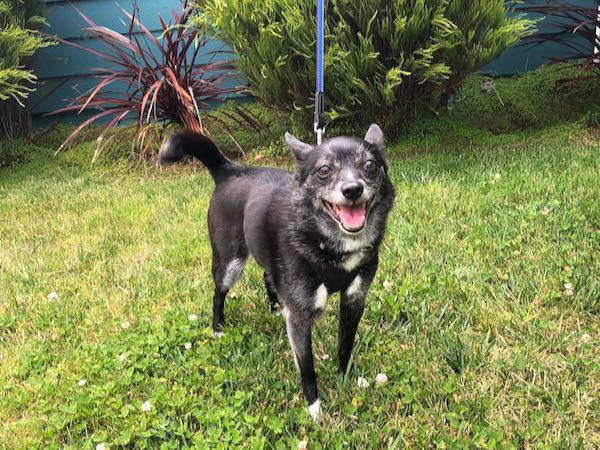 Allie is an 11-year-old Schipperke mix who was rescued earlier in her life. She has lived with a loving, patient guardian since then, but unfortunately she is moving and can't take her along. Allie has some quirks that a new adopter will need to help her with. She's very nervous when first meeting someone and will need to be mostly ignored during the first greeting so she feels safe.

Her ideal home is an adult-only, dog-savvy, patient adopter(s) who want a dog who loves them once she's comfy. She prefers to be a home-body (maybe you do too!) and stays within her comfort zone. She can be nippy when she is feeling stressed & fearful but loves her family after acclimating. If you'd like to adopt Allie please contact Lisa at (650)346-0156.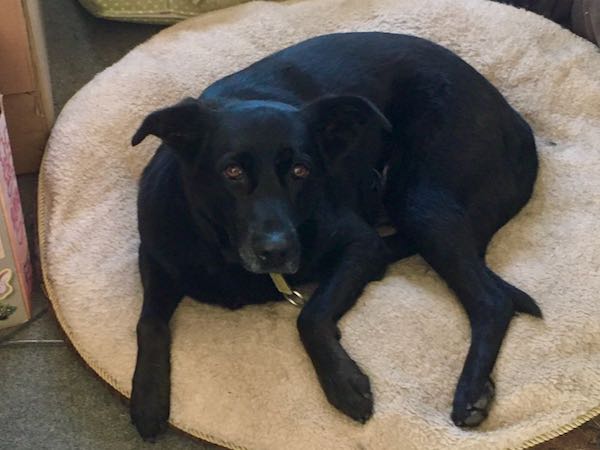 Harry is a 70 pound, 6-year-old neutered male. He is needing a new home after a change in his current family's life that leaves Harry alone too often and he deserves more human interaction. He is good in the home and knows basic commands. A savvy adopter is best because Harry needs help in introductions with other dogs. While he has lived happily with another dog and does get along with dogs once introduced carefully, he needs help with the first meeting as he is protective and reactive. On walks, he is curious and doesn't start barking at new dogs but will lunge if in close proximity. Harry is extremely friendly to people on walks and wants attention from guests in the home. With children, he likes to lick them on the face and used to share a bed with two young girls. He does not respond well to cats.
Harry is high energy and would like to play ball all day. He likes to wrestle with you for toys but is sweet with his play. He has no issues being left alone. He is a great family dog where he should likely be the sole dog. Even though he is a big boy, he believes he is a lapdog. Please contact Jim to learn more at 925-640-6290 or
jimmmgrant@gmail.com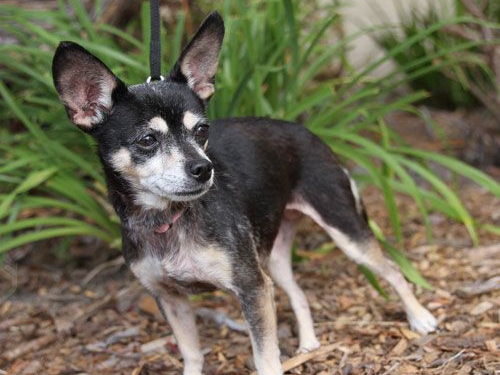 Nani is a spunky 11-year-old, 8-pound Chihuahua mix that has experienced some bumps in the road of life, and she's ready to spend her golden years in a loving home. Found as an injured stray dragging herself on the side of the road with her front legs, Nani has gradually regained strength in her hind legs and she is now walking very well. She has some disc disease and will need to continue taking anti-inflammatory medications for her lifetime. Nani is doing great in foster care and is house trained, well mannered and great with people and gentle kids. She can be choosy about her dog friends and might do best as a single dog in the home, or with another compatible small dog. Nani loves to burrow under blankets for a cozy snooze! For more information please contact Animal Friends Rescue Project at 831-333-0722.
Donkey
Updated 6/24/2020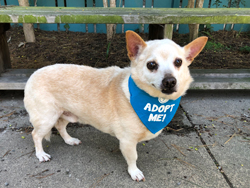 This is Donkey, a handsome senior that is looking for a new home. Donkey is 22 pounds and is neutered. He is friendly and affectionate. Smart too, being house and crate trained and responding well to basic commands and being lead on leash. He is good with other dogs but occasionally needs time to warm up to them. He has successfully lived with other dogs and children. He actually loves children. He is excited to receive attention and is a great companion. Something in his past makes him strongly resist getting picked up and it is best to avoid that.
If you'd like to meet Donkey and see if he can be your little pal, then please contact Ashika at 831-521-1558 or
ashikasundar@hotmail.com
Dusty and Snowy
Updated 6/24/2020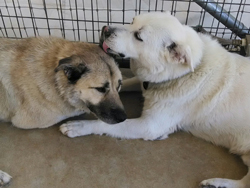 These two males are beautiful and fluffy. Dusty is 65 pounds and Snowy is 75. Both are 10-year-old great dogs in need of a new home after their guardian passed away. They are currently living in boarding at the Sacramento Independent Animal Rescue and are a little kennel stressed. They were both being poorly cared for during the latter stages with their guardian who passed, as he was unable to physically care for them.
They both know basic commands and are good on leash. They seem to do well with other dogs and should go to a home without cats. They would love to have a backyard to explore and keep them contained.
To meet Dusty and Snowy, please contact Christina at 916-224-5421 or
mejita_cr@yahoo.com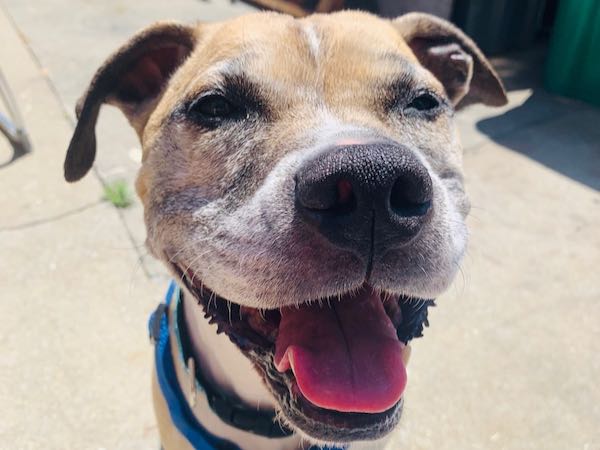 Myla is a spayed 55 pound American Staffordshire Terrier Mix at 12 years old. She was surrendered to the current caregiver when a friend had to suddenly move. Myla is house trained and walks great on leash. She really loves going out for walks. However, she is reactive towards other dogs while on leash and doesn't get along with most dogs in the home. She is excellent with people and has lived with kids. She cannot live with cats, though.
Myla is looking for a loving home where she can spend ample time with people, sleep and cuddle with them, and get plenty of exercise. This may need to be a one dog home or she will need help with proper introductions with other dogs and monitoring. She is a love and should be considered. If interested, please contact Trisha at 831 521-7276 or
trisha.giudice@gmail.com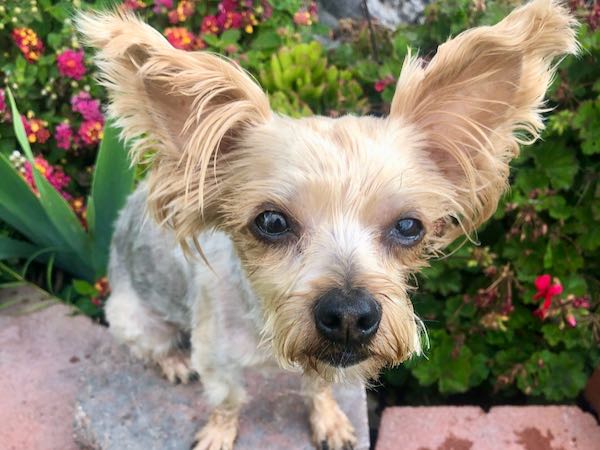 Buddy is a very friendly dog who gets along with everyone he meets. He is 12 years old and 10 pounds. He is good with other dogs and is neutral towards cats he meets. He is a great dog looking for a second chance with a family. He is house trained and knows basic commands. When out for walks, he will pull on leash and is very interested in sniffing all new things.

He was originally owned by an elderly person in hospice care who could no longer take care of him. He was recently diagnosed as diabetic and will need continued care to keep him balanced. He also has periodontal disease and a heart murmur. If you are able to help this handsome boy then please contact 805-481-9434.