Other Adoptable Dogs - Courtesy Listings
The following dogs are not under the care of Peace of Mind Dog Rescue. We provide these listings as a courtesy to the community to help these dogs find new homes. Please contact the person named in the dog's writeup if you're interested in finding out more about one of them.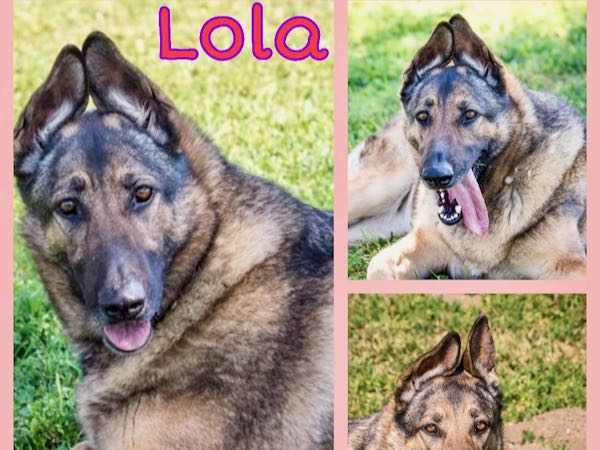 Lola is a 6-7-year-old female German Shepherd at 70 pounds. She is a sweetheart who walks well on a leash. Lola is currently plump, so she is on a restricted diet and she is receiving lots of walks. Lola also rides in a vehicle fine and we are told she loves kids.

Please call Westside Animals for Adoption at (209) 892-3114 if interested.
Donkey
Updated 3/27/2020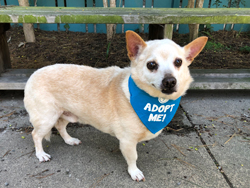 This is Donkey, a handsome senior that is looking for a new home. Donkey is 22 pounds and is neutered. He is friendly and affectionate. Smart too, being house and crate trained and responding well to basic commands and being lead on leash. He is good with other dogs but occasionally needs time to warm up to them. He has successfully lived with other dogs and children. He actually loves children. He is excited to receive attention and is a great companion. Something in his past makes him strongly resist getting picked up and it is best to avoid that.
If you'd like to meet Donkey and see if he can be your little pal, then please contact Ashika at 831-521-1558 or
ashikasundar@hotmail.com
Milo & Bella
Posted 3/25/2020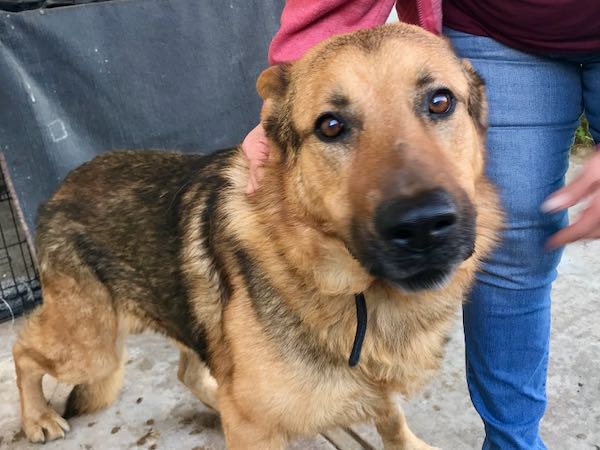 Meet Milo, a 95-pound, 8-year-old German Shepherd. He is a sweet, older guy who moves around slow and likes to sniff and enjoy his environment. He just wants a comfy place to lay around and relax. He lives with and gets along well with his house mate, Bella. Bella is a 4-year-old, 10-pound Terrier mix. She has more pep in her step, and loves attention from her humans. She is happy to go on walks and play, or lay next to her people and relax with them. Milo and Bella are looking for new homes because their guardian is becoming too elderly to care for them.
If you are interested in Milo and/or Bella, or would like more information, please contact Mary at 831-295-0186 or
Cherylheraz@yahoo.com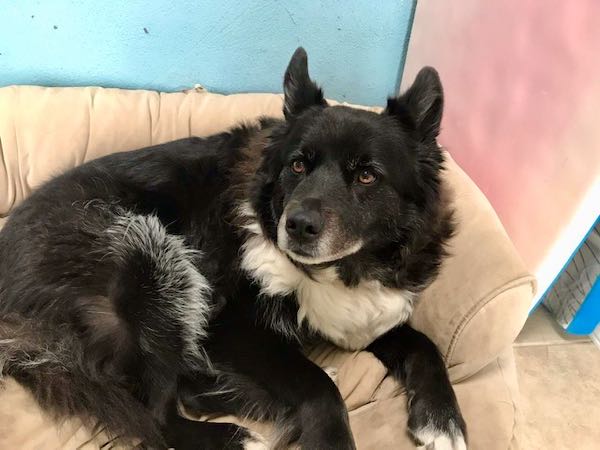 This is Zzip, a 10-year-old Border Collie mix. She is a calm girl who likes to be with her people. She is good on leash and likes to go for walks. Although she mostly ignores dogs on walks, she is a bit hesitant around other dogs in general and does not like to interact with them. Therefore, it may be best if she goes to a home without other dogs. She does great when home alone and knows all the house rules. Because of her age she does have some incontinence, but that is well managed with medication. Zzip is looking for a new home because her guardian has become ill and is physically unable to care for her anymore.
If you would like to adopt Zzip or get information, please contact Baily at (949) 303-6266 or
bndonlin@gmail.com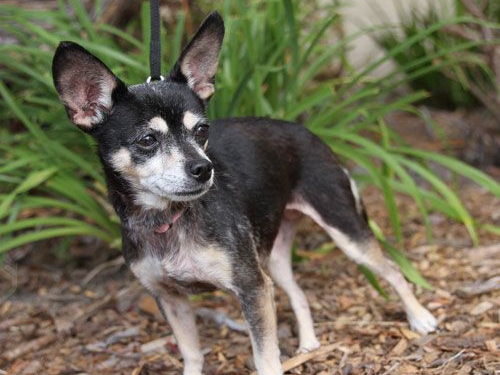 Nani is a spunky 11-year-old, 8-pound Chihuahua mix that has experienced some bumps in the road of life, and she's ready to spend her golden years in a loving home. Found as an injured stray dragging herself on the side of the road with her front legs, Nani has gradually regained strength in her hind legs and she is now walking very well. She has some disc disease and will need to continue taking anti-inflammatory medications for her lifetime. Nani is doing great in foster care and is house trained, well mannered and great with people and gentle kids. She can be choosy about her dog friends and might do best as a single dog in the home, or with another compatible small dog. Nani loves to burrow under blankets for a cozy snooze! For more information please contact Animal Friends Rescue Project at 831-333-0722.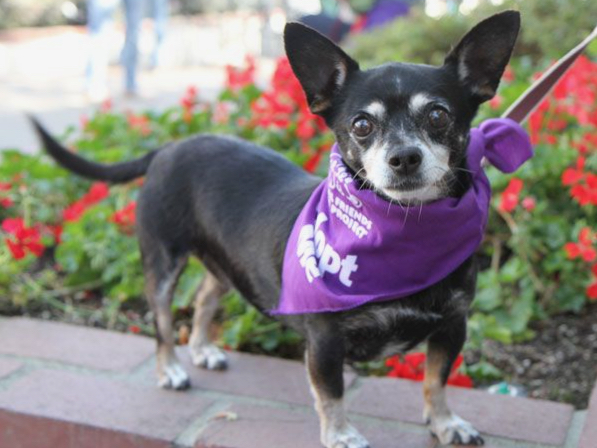 With a tail that wags like a little metronome, Happy is a super sweet and well-mannered 13-year-old, 11-pound Dachshund/Chihuahua mix that returned to AFRP when her guardian could no longer care for her. She was originally from the Monterey County Shelter, and was very much loved in her previous home. Happy is house trained and knows how to use a doggie door. She enjoys two walks per day and likes to have a pile of blankets on her doggie bed so she can arrange them just the way she likes! Happy is okay with other mellow dog friends but she would prefer to be a single dog in the household. She is in good health and has lots of love to share with the next person in her life. For more information please contact Animal Friends Rescue Project at 831-333-0722.
Dusty and Snowy
Updated 2/19/2020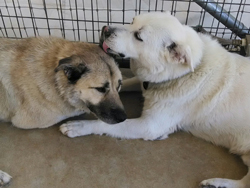 These two males are beautiful and fluffy. Dusty is 65 pounds and Snowy is 75. Both are 10-year-old great dogs in need of a new home after their guardian passed away. They are currently living in boarding at the Sacramento Independent Animal Rescue and are a little kennel stressed. They were both being poorly cared for during the latter stages with their guardian who passed, as he was unable to physically care for them.
They both know basic commands and are good on leash. They seem to do well with other dogs and should go to a home without cats. They would love to have a backyard to explore and keep them contained.
To meet Dusty and Snowy, please contact Christina at 916-224-5421 or
mejita_cr@yahoo.com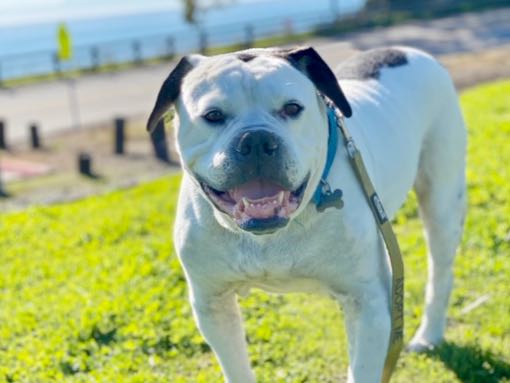 Goose the Moose is a 9 year old, male bulldog mix. He is fixed and up to date on all his shots. He was in the shelter in Los Angeles for a while so his foster mom had to help him get out. He is house broken, walks well on the leash and can be left alone. Goose Loves everyone and wants to meet everyone while on his walks. He comes when he is called. He loves to be loved on and is great with all other dogs. He has done great at social events and is great with sharing food, treats etc. He lived in home with dogs and a cat. He is an all around great dog! If interested in learning more about Goose, then please contact Grace at
gracegreenbach@gmail.com
Dagwood
Updated 2/5/2020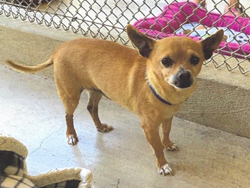 Hi! My name is Dagwood and I am in need of a home. My owner passed away and left me alone. I am about 10 years old and do well with other dogs but really enjoy being with humans most of all.
To be honest, I really hope to find someone to pamper and love me for the rest of my life. If that is you, then please contact Kathy at Pet Friends
office@petfriends.org
Ava and Roxie
Posted 2/1/2020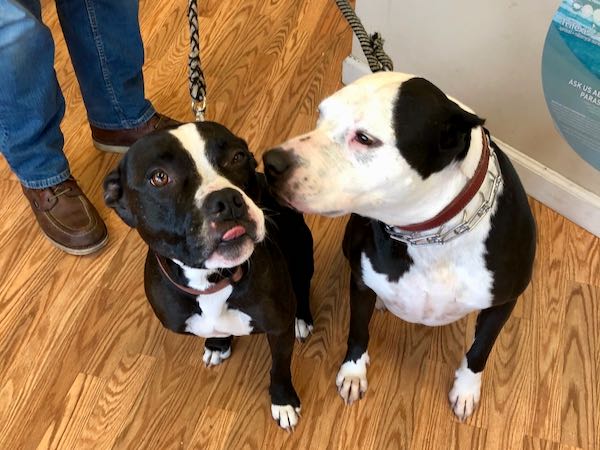 Meet Roxie (left) and Ava (right). Roxie is a 4-year-old Staffordshire Terrier/Pitbull mix who is about 45 pounds. Her housemate, Ava, is a 7-year-old Pitbull mix who is about 55 pounds. Their guardian is moving and cannot take these two sweet girls with them, so they need to find a new home as soon as possible. Both girls are house trained, do well on leash, are crate trained, and do well being left alone. They are great with other dogs and politely sniff new dogs. They should go to a home without cats though. These girls love meeting new people, and have grown up around children and love to play with them. They are mellow dogs, but do like to play and go on walks.
If you are interested in Roxie and/or Ava, please contact Steve at 831-272-9180 or
1stevefirth@gmail.com
Charlotte
Updated 12/31/2019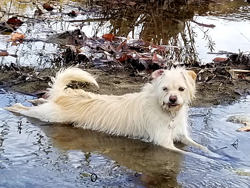 Charlotte was found as a stray with two puppies. She was the BEST mom. They have weaned off and Charlotte has been living with a foster family for several months. Charlotte loves being part of a pack. She comes when called now and thrives with a routine. She is head shy but eventually warms up and sits, enjoying pets and attention. She is happy and energetic unless she's nervous. Those are her two moods. She needs an adopter who is willing to keep working with her to acclimate to a good routine and life. She loves the outdoors and water. She is certainly a good girl. She is 2 years old and under 15 pounds.
To learn more, please contact Maria at
magik1213@yahoo.com
Hoggie
Posted 12/14/2019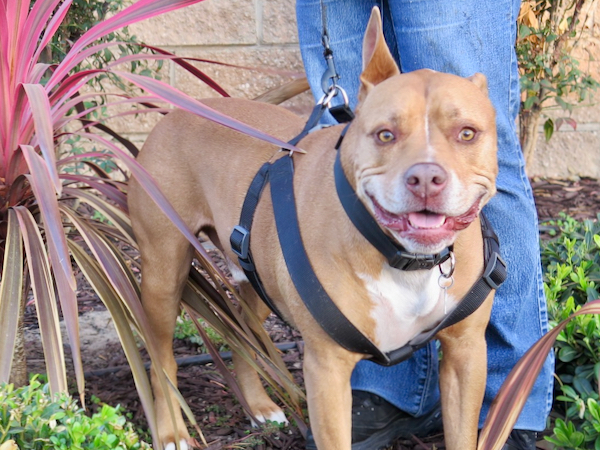 This is Hoggie. His guardian thinks he is the BEST dog in the world! She says Hoggie is housetrained, LOVES kids, loves to go for a walk and walks nice on a leash, loves to play soccer with his soccer ball, and even does well with her cat! Hoggie knows several commands including SHAKE, SIT, and DOWN. Hoggie is 7 yrs old and about 55 lbs. He is already altered, and current on vaccinations. He is an inside dog and sleeps on a dog bed in the home. His person cannot find pet friendly housing, heartbroken, she hopes to find him a new family. Hoggie currently lives in Tracy, CA. If you are interested in finding out more about Hoggie, or interested in adopting him then call 209-832-2783 or fill out an application through this link:
www.friendsofcanines.org
.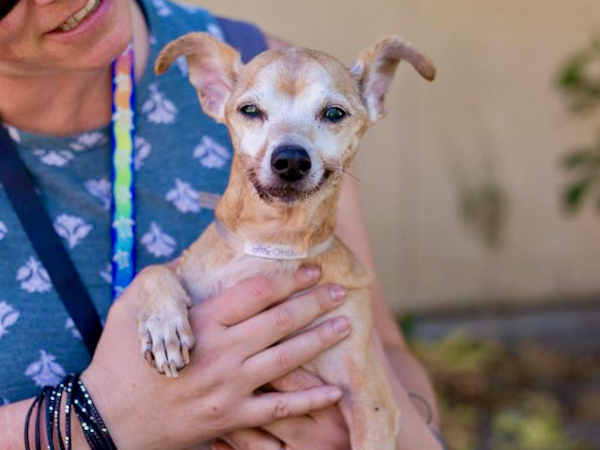 Omar is a sweet 12-year-old, neutered male, tan chihuahua/terrier mix. He came into the Contra Costa Animal Services as a stray in August 2019. He was missing most of his teeth but through donations he was able to get periodontal surgery. Omar is currently living the good life at his foster home but it's not the same as having your own place. His blindness and separation anxiety make him bark sometimes when he can't see his person. He is being treated for his anxiety with medication and this will likely settle down once he knows he's home for good. Omar is great with children and gets along fine with big or small dogs and even cats. He'd like you to go slow but once he warms up he's a total love bug. He's got a chill personality and doesn't ask for much, other than a super cozy bed to rest on and tons of hugs and kisses. If you are interested in adopting Omar please contact:
set.cccounty@gmail.com