Other Adoptable Dogs - Courtesy Listings
The following dogs are not under the care of Peace of Mind Dog Rescue. We provide these listings as a courtesy to the community to help these dogs find new homes. Please contact the person named in the dog's writeup if you're interested in finding out more about one of them.
Luli and Mitt
Posted 3/25/2023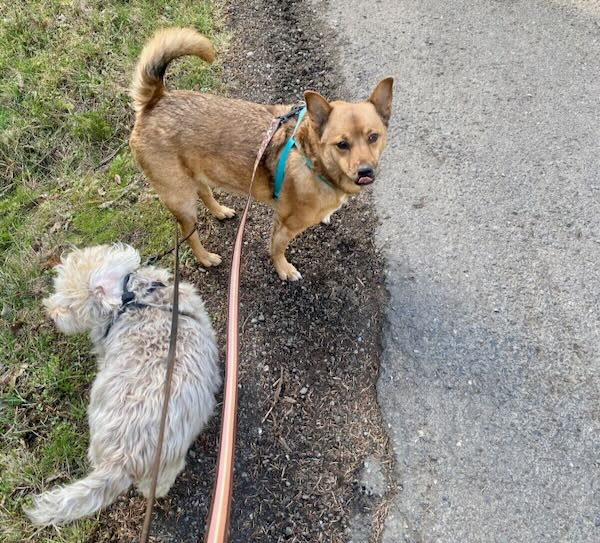 Luli and Mitt are a bonded pair of Mixed Breed pups that are searching for their forever home, could it be with you? Luli is about 14 years old and weighs in at about 18lbs. She has had some elevated liver enzymes at her last vet check up which will need to be monitored in her next home. Mitt is about 12 years old and the 'big sister' weighing in at about 30lbs. She has a previously injured back leg but otherwise seems to be in good health.
These two sweet girls are searching for their next home as their current guardian is moving into a nursing home and is not able to take them. They are house trained, walk well on leash, and know basic commands. If you are interested in learning more about these two, please contact Alane at 408-310-7052 or by email at
Alaneg@rocketmail.com
.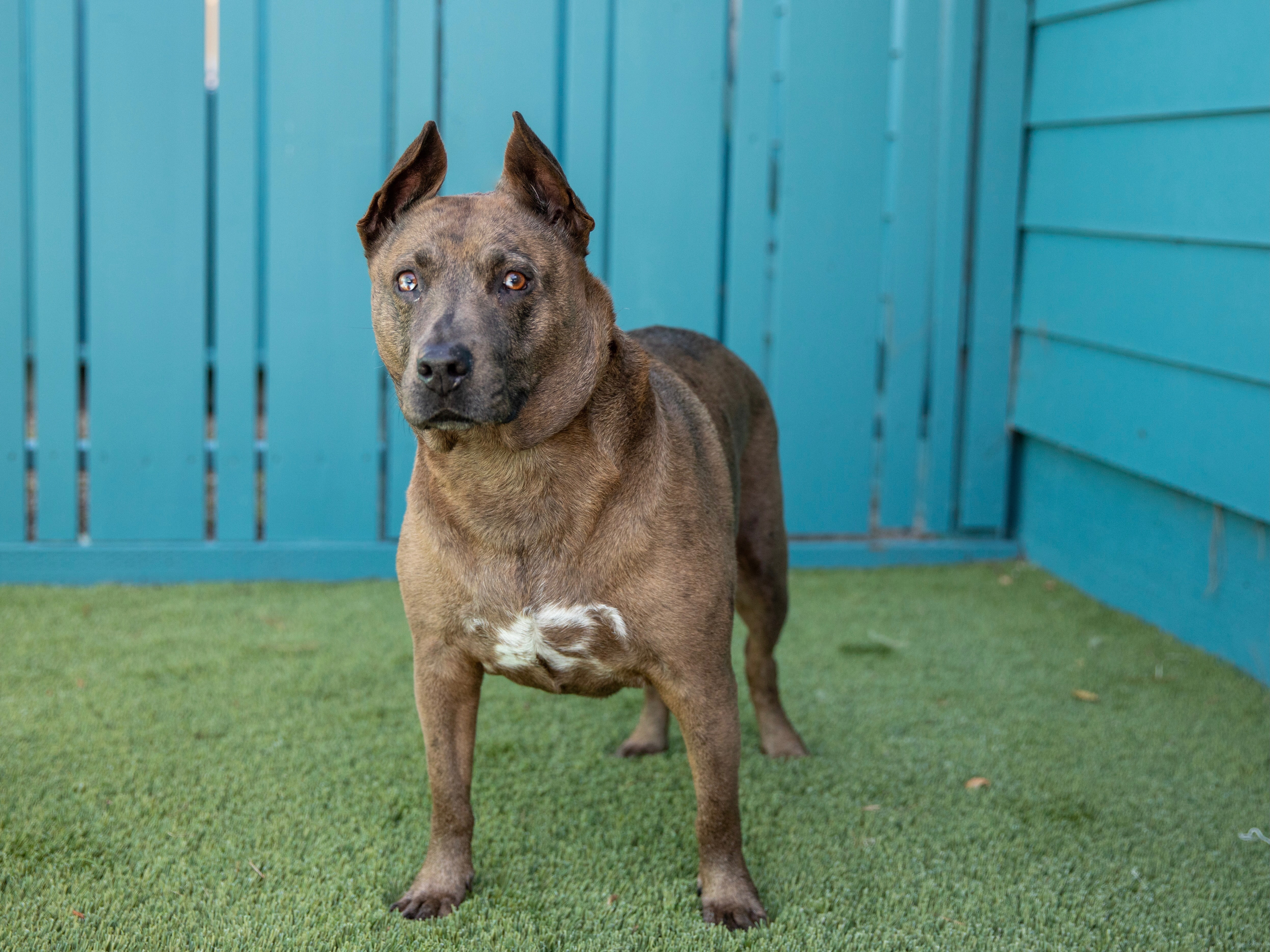 Hyena, named for her gorgeous looks and ridgeback mohawk which goes up from time to time, is looking to be your next companion. She is a Ridgeback x Cattle Dog Mix who weighs in at about 65 lbs and is 9 years old. She finds herself searching for a new home as her current guardian who loves her very much has been unable to find housing that will allow him to bring such a big pup along with him. Hyena does well around other dogs and even cats. She has also lived with children in the past. If you are looking for a laid back companion who walks well on leash and enjoys playing and spending time with her people, Hyena may be your next best friend!
To learn more about this beautiful girl, please contact Jarod at 831-313-5389 or by email
jarodgotsthis@gmail.com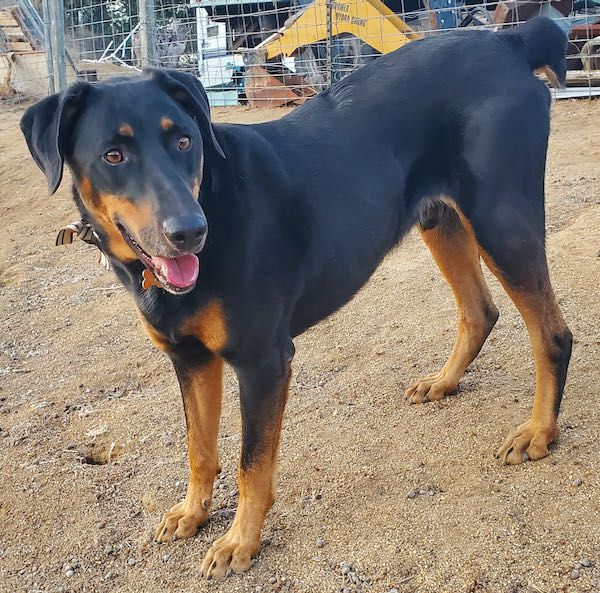 Check out this exuberant and handsome boy, Buddy! His whole body wiggles as soon as he sees you! He is 6-7ish years old, looks like Rottweiler/Kelpie, and weighs about 70 lbs. He is neutered, up to date on vaccines, and microchipped.
He has a strong prey drive and must have a home without cats or livestock, but he is friendly with other dogs of all sizes. Buddy has a lot of energy and needs room to run and play in his next home. His indoor manners are very good - he doesn't go on the furniture, jump on people, or show food aggression. He is learning to sit before eating, going out the door, etc. He is responsive to corrections, but knows few commands. Buddy and his Aussie friend Bear are living with their fosters while they help a neighbor find them a new home because he going through a divorce and neither person can keep the dogs. Buddy is a sweet, playful dog who deserves a home full of love and engagement! For more information about Bear, please contact their foster, Lynn at (831) 224-5059 or email her at
lovertree@sbcglobal.net
.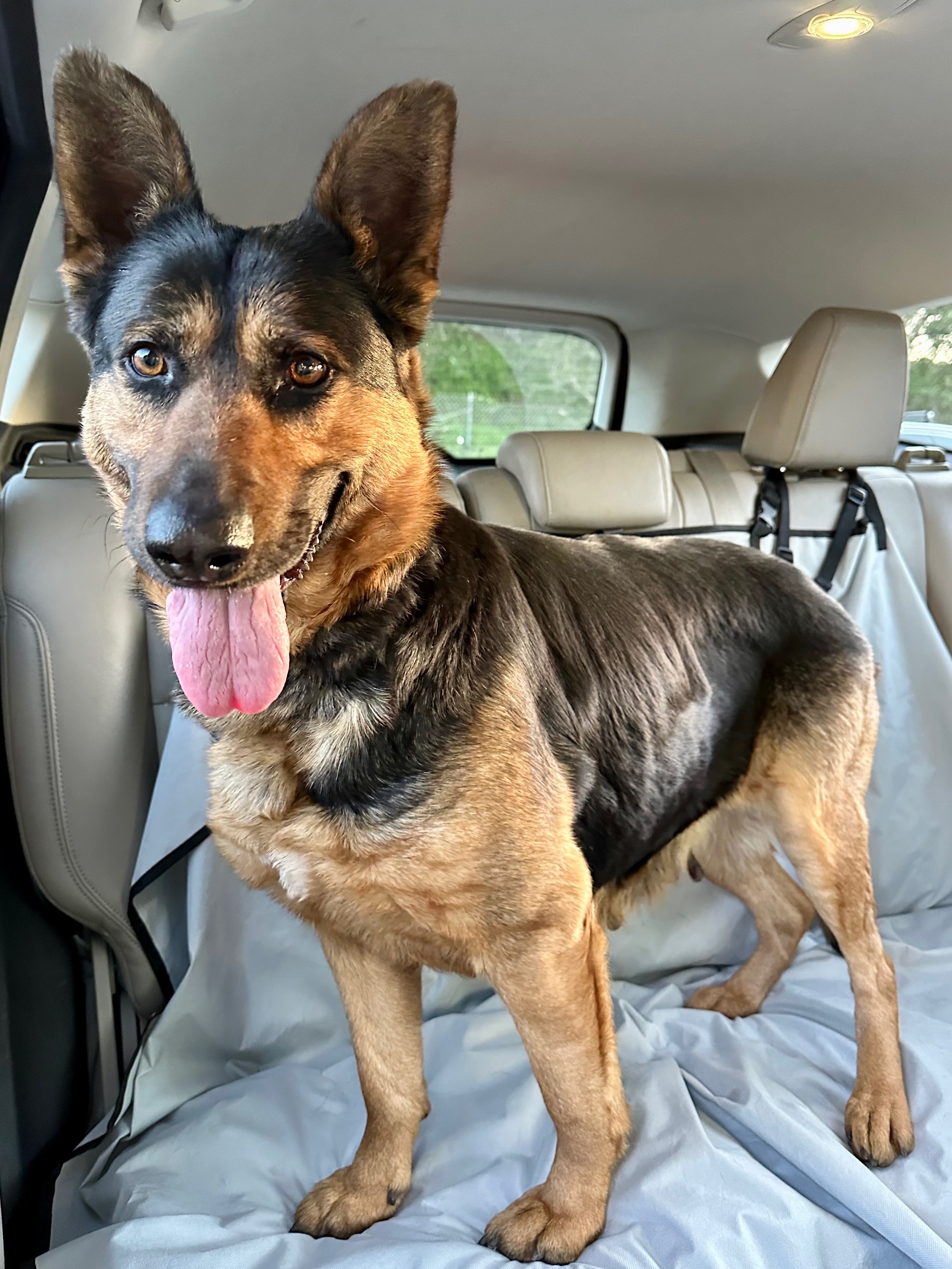 Luz (pronounced Loose, short for Lucille) is a pro at making everyone she meets fall in love with her! This 4-5 year old 55 pound German Shepherd mix is a darling little girl with short stocky legs, we think she may be mixed with cattle dog. Luz was found as a stray and brought to Hitchcock Road Animal Services where it was clear she had been used as a breeder dog and has had many litters of puppies. After a tough start in life, Luz would love nothing more than a family to call her own and a nice dog bed to snuggle up in- she wouldn't say no to joining you on the couch for cuddle time, in fact, that would be her top choice!

Luz does well with some dogs, usually smaller males, but can be reactive and bark in fear when seeing or approached by most dogs. She is looking for a loving home where she can be the apple of her family's eye as their only pet. Luz is working on polite leash walking manners and basic obedience and focus training to help decrease her fear and reactivity towards other dogs. If you would are interested in adoption Luz or learning more about her, please contact us at 831-718-9122 and leave a message or send us an email at info@peaceofminddogrescue.org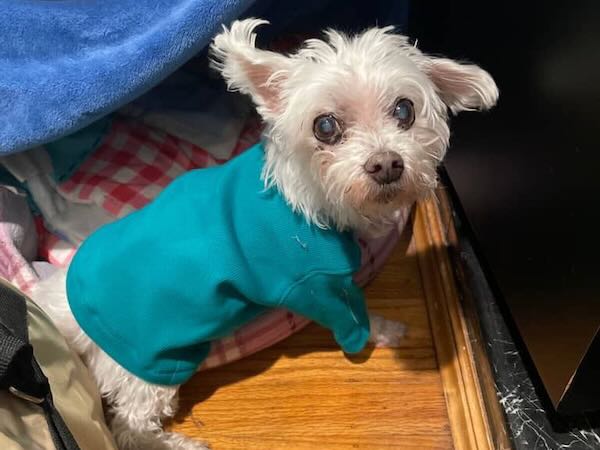 Cute as can be Phoebe is searching for her forever home, could that be you? Phoebe is about 13 years old and a petite 7lbs. Her former family was moving out of state and was not able to take her along for the move. Phoebe prefers to keep to herself. She will bark if other dogs enter in her personal space but she does just fine with new people. This sweet girl is lower energy and would do well in a mellow home that matches her low energy level.
If you are interested in learning more about Phoebe, please contact Natalie at 408-839-0670 or by email at
natalieyeh@ymail.com
.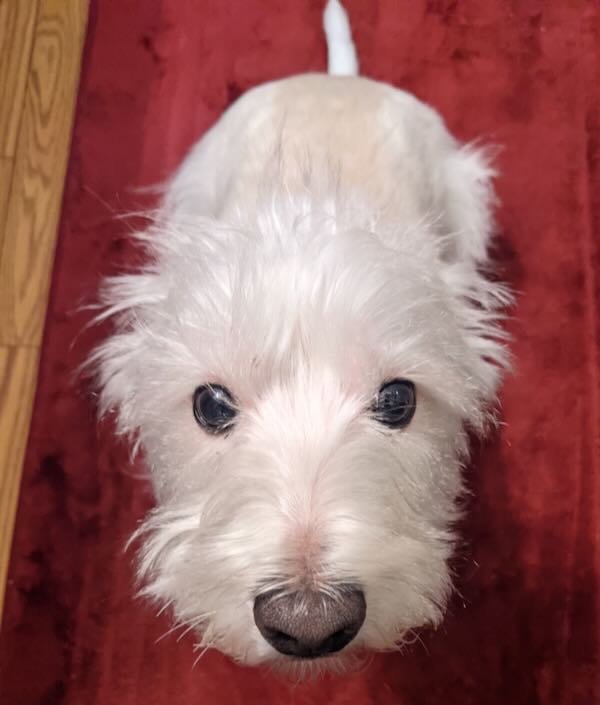 Winnie is a 7 year old, 20lb, spayed Female, Westie Mix who is ready to join your home. This sweet girl has so much love to give. She finds herself looking for a new home as her current guardian is moving into assisted living and is unable to bring Winnie along with him. Winnie adores people and is bound to smother everyone she meets in the sweetest kisses! She gets along well with other dogs but is a fan of chasing kitties so a cat free home is a must in her next home.
Winnie has been diagnosed with Addison's disease which will require specialized care life long in her next home. If you would like to learn more about this sweet girl, please contact Heather at 925-922-0665 or by email
Hnernst25@gmail.com
.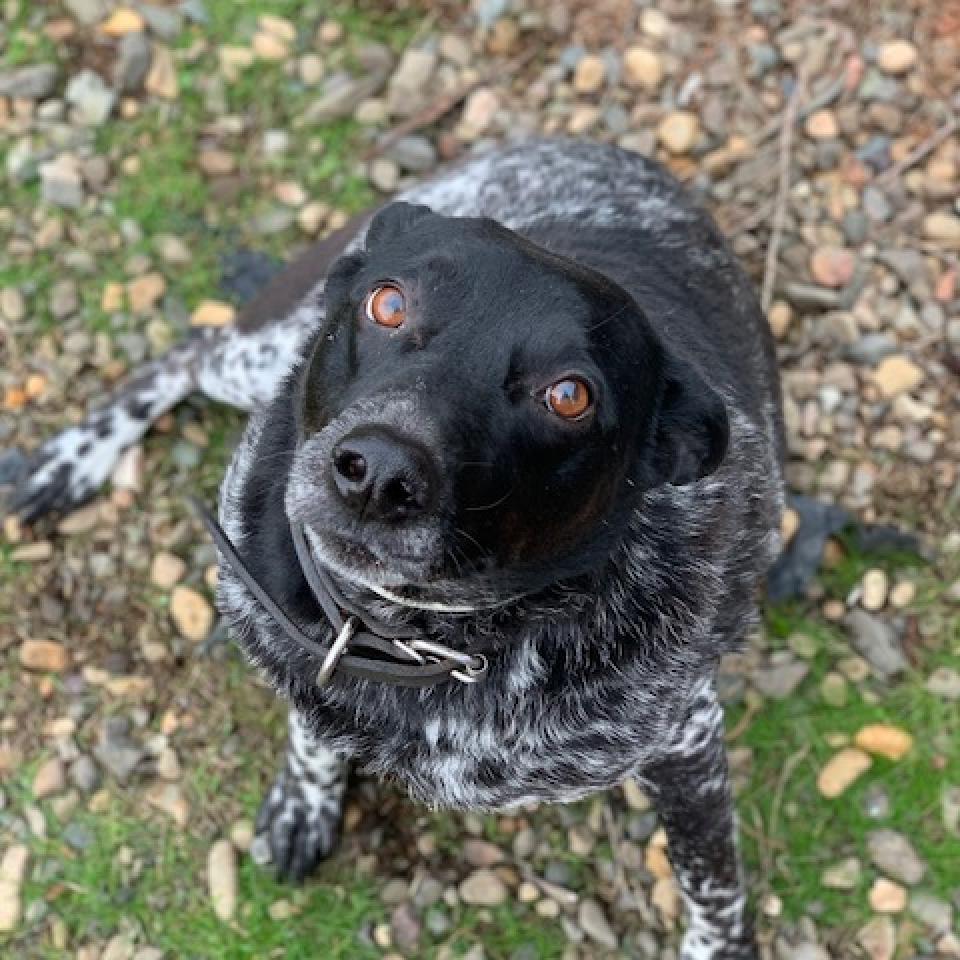 Aspen is a 9 year old, 55 pound Blue Heeler. He is also one of the most handsome and adoring dogs you could meet! He is a goofy guy who loves a good belly rub! Aspen enjoys lounging on the couch when he's invited up. He has lived with chickens without issue. He is devoted to "his people" and bonds very closely with his humans. Loyal is this guy's middle name!
Aspen has been recently showing some of his herding nature, in a less than ideal outlet, by nipping lower legs/ankles of visitors in his current home. Once he knows and accepts you as his pack, he is a huge love bug! He doesn't show the herding or protectiveness behaviors when out in public, it is only when he's home and at his most comfortable. Aspen's breed trait of nipping at cattle ankles has unfortunately transferred to people. He is searching for a new home with an adopter who is familiar with navigating this breed trait. Aspen is also working with a trainer in his current home, but we hope he can find a perfect place where he might actually get to herd cattle or sheep so he has a great outlet for his urge to herd! Aspen would do best in a home as an only dog so he can be the apple of your eye. If you would like to learn more about Aspen, please call Peace of Mind Dog Rescue at 831-718-9122 or email us at
info@peaceofminddogrescue.org
so we can help him find his special adopter!
Diggity
Updated 3/7/2023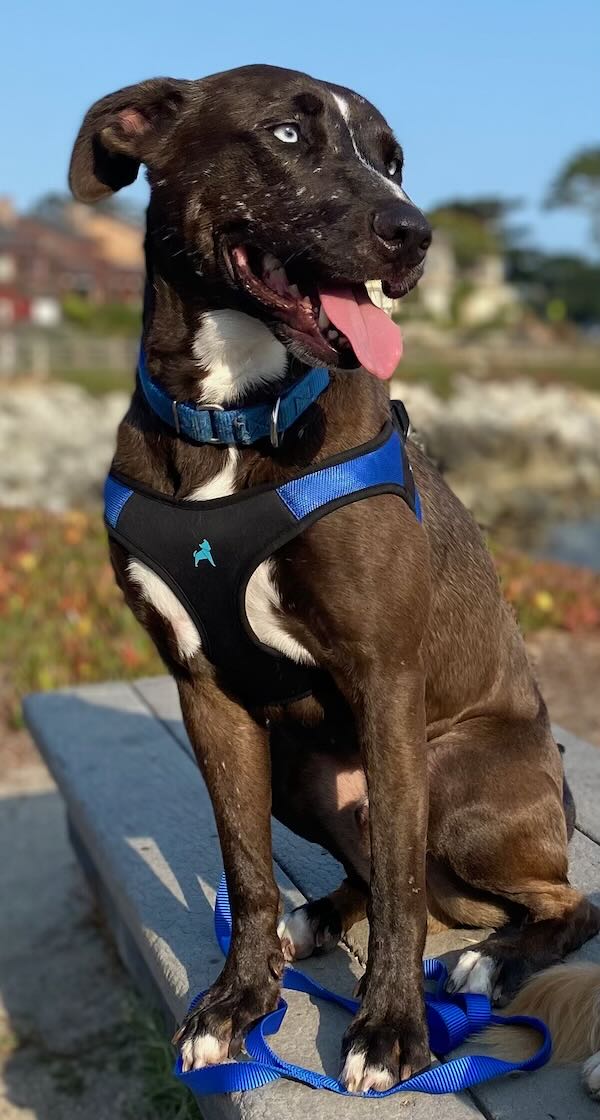 Diggity is an awesome 2 and a half year old dog who is neutered, crate trained, house broken, knows basic commands, and plays well on doggie playdates. His cuddling skills are top notch and he's very food motivated and eager to please! He is a very high energy and would do great as a running and adventure buddy. He does well with many of his canine companions, even being crated with one dog while his current guardian is out and sleeping with a different dog in a crate overnight.
Diggity does great with most of the other dogs he lives with, but there is one with whom he has gotten into scuffles. Because that dog is older and has difficulty with change, his guardian has made the heartbreaking choice to look for a new, loving home for Diggity. We think he would do well with another confident female or really easy going pups, but would do best without another male dog who also tries to be in charge. If you would like to learn more about Diggity and adopting him, please contact Dawn at 408-647-8032 or email
justlikethemorning@gmail.com
.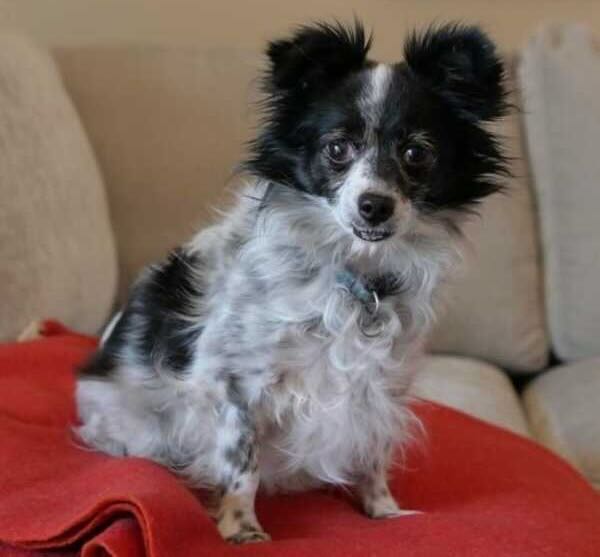 READY FOR MY NEW HOME! Hi. I'm Huey! If you're a mature adult looking for a like-minded companion, look no further. Tired of scrolling through dating apps like "Silver Singles" and "Our Time" and getting matched with nothing but losers? Well I'm here to make all your dreams come true! At about 8 years old, I'm not exactly a pup, but don't let that fool you. I can see and hear like a youngster, and I'm fast on my paws. And I haven't lost my good looks or charming personality. And everyone needs love, regardless of their age, right? You won't have to worry about your furniture getting chewed or holes dug in your backyard because those wild days are behind me. I just want to kick back and enjoy my golden years with a warm lap and some bingeworthy tv. If you want to take me out on a date, you'll have to do the driving. My license was revoked when I stopped to pee on a fire hydrant. Maybe we can go for a romantic beach walk instead--hand-in-paw along the sand. I'll bring the wine .
If you already have another small dog in the household, that's cool. I enjoy the company of dogs around my same size; I maintain a trim figure at around 10 pounds. And I love girl dogs. Small ones, big ones-- bring it on! But just like with any new relationship, I need some time to get to know you. So, if you are patient and willing to give me some time, I just might be the dog of your dreams. But hurry, my profile is already getting lots of "super likes"!
If you are interested, contact my agent at
rescue@deniselarkin.com
or 760.212.9394.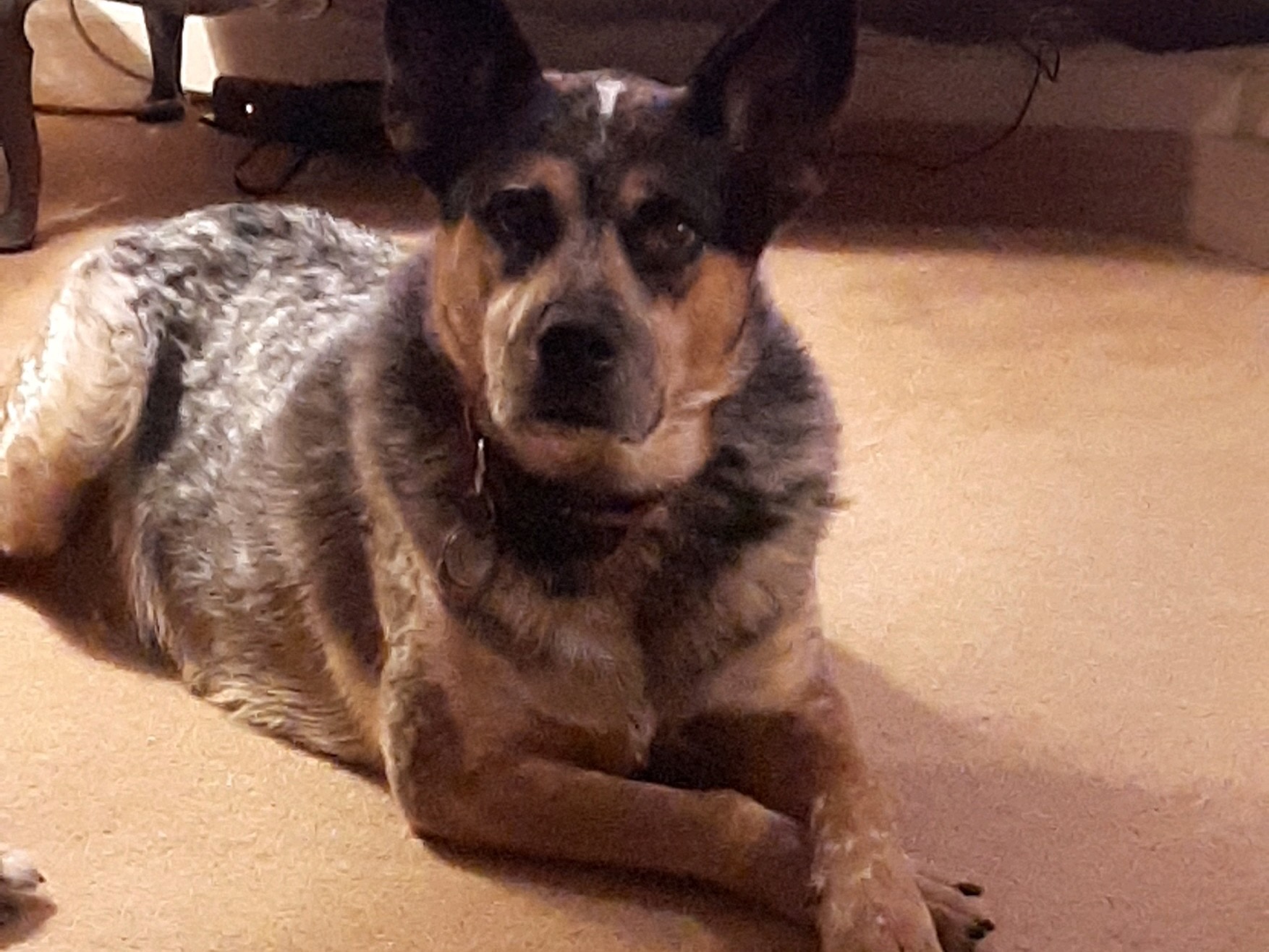 River, a 5-year old Queensland heeler, is looking for a new home because his previous guardian recently passed away. Until now, River has enjoyed a free-rambling lifestyle, roaming the woods around his house on his own, but always coming home for dinner time. He has been well taken care of, but had no structured training such as walking on leash or learning basic commands. True to his heeler roots, River has lots of energy to burn when outdoors, but once he is indoors, he is extremely mellow and calm. He is house-trained and tucks himself into his crate for a nap or hangs out near his person. River's social experiences are limited. This sweet, loving boy bonded strongly with his previous guardian and he lived with a male Border Collie. Beyond that, he has probably not met too many other people or dogs. His drive for the chase is high and he would likely chase after an inexperienced cat.
River is looking for a new home where he can get lots of exercise and attention. He is very smart and will respond well to training. At the moment, he exhibits separation anxiety, likely as a result of all the big changes in his life and lack of much needed exercise. River is diabetic and requires daily insulin injections. Luckily, he is easy to medicate and cooperates eagerly because he knows that he will get a treat for each poke. River is ready to take a plunge into a new chapter in his life. For more information, please contact Pamela at (831) 461-5417 or
vonglider@gmail.com.
.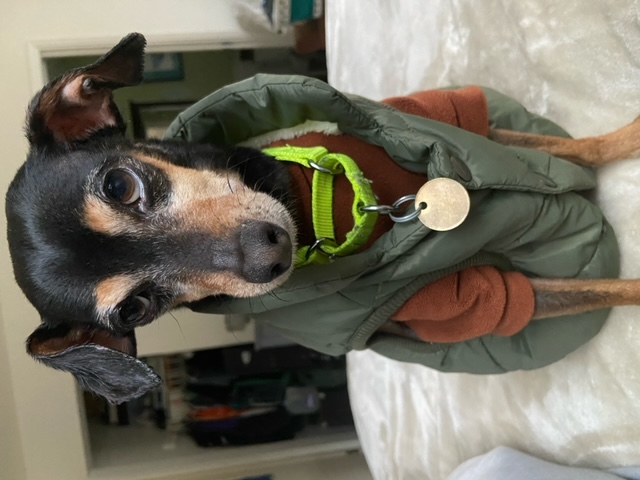 Otis (aka Oter-boat) is patiently waiting for his forever home! He is approximately 7 years young and weighs just under 11 lbs. If you're looking for a stereotypical Min Pin that will make you laugh and shake your head all at the same time, this boy will not disappoint! Otis should take his comedy routine on the road. He loves chasing down his defenseless ball or playing dramatically with something as simple as a paper towel cardboard tube. Otis has the perfect amount of energy to delight you with random bursts of play. When he feels he has given his audience an adequate amount of entertainment, he will retreat for his power nap or wait for your praise and affection.

He will stare longingly into your eyes and occasionally paw at you if he feels you're not getting his subtle hints for attention. He loves giving a good morning kiss as you first wake up or when you've returned from an outing so you know how much he adores and misses you. He will go into his crate in the evening on his own and patiently wait for you to tuck him in for the night. Otis walks well on a leash and is an excellent sidekick in the car.

As is true of most Min Pins, Otis can be vocal but is also responsive to correction. He prefers to be an only dog but currently coexists with 3 other dogs in the home. No cats please. He is not a candidate for apartments, dwellings with shared walls or close proximity to neighbors. He will require a calm, assertive and confident leader who is Min Pin-experienced. Here's a short video clip of Otis: https://www.youtube.com/watch?v=pTvRDb8ftto

He is available for adoption to California residents or possibly bordering states. His lucky adopter must be able to have an in-person meet and greet at his location. Otis is located in Nevada County and we will not fly this boy. For more details, contact Rebecca: minpinlove_imps@yahoo.com or if you'd like to be considered as a forever home for Otis, please submit an application using the following link: https://www.minpinrescue.org/home.html.
Sky Blue
Posted 2/16/2023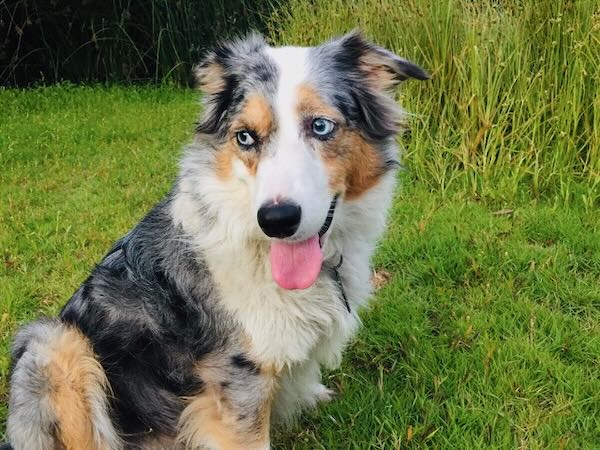 Sky Blue is a gorgeous Border Collie x Australian Shepherd mix. She's spayed, about 10 years old, and 43 pounds. Sky Blue is a very smart and happy girl with tail wags for everyone she meets. She loves to play with toys or fetch a ball. She adores going out for walks and settles in nicely at home after getting some steps in with her people. Sky gets along well with other polite dog friends. She has nipped at a few humans and will need some further training in her adoptive home to work on this behavior. An adopter with herding dog experience would be preferred so they understand this behavior and can help her find an outlet for her herding dog nature.
If you are interested in learning more about this stunning girl, please contact James at 831-899-2226 or by email at
chilsu@yahoo.com
.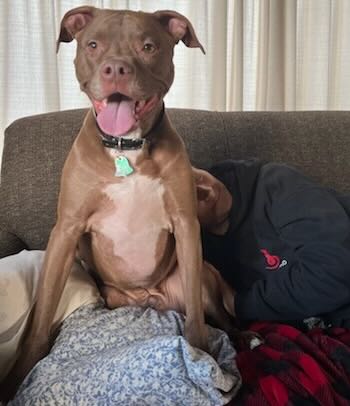 Dozer is a handsome American Pit Bull Terrier and Boxer mix. He is currently searching for a new home because his guardian recently passed away. Dozer is a 65 lb neutered male who is about four years old. Since he's still a young dog, Dozer has no shortage of energy, and he loves going for walks and getting exercise! Fortunately he walks well on a leash, so you can take Dozer just about anywhere you care to stroll. Dozer is also a gentleman who loves spending time with people, and he will gladly be your best friend if you'll be his! He is described as a sweet dog by his current caretaker. Along with his good manners, Dozer is also house-trained, and he knows all the basic commands. He is a healthy pup with no medical issues, and all his medical records are available. It is unknown whether Dozer has had previous experience with children or other animals.
To learn more about sweet Dozer, contact Grace Powell at (619) 886-7029 or by email at
grace.powell@gmail.com
.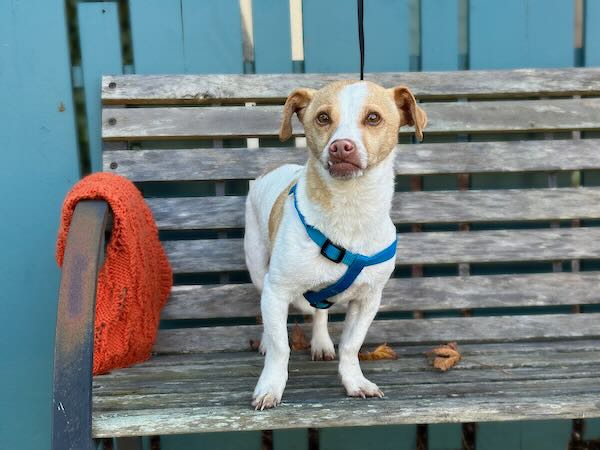 S'more is about as sweet as his name sake. This sweet boy is on the shy side and will need some help adjusting to new people and things in his next home. He has lived with other dogs his size before but can be a bit intimidated by new dogs so slow introductions are a must. He will be a fun boy to bond with as he breaks out of his shell. S'more is searching for his next home because his senior guardian is no longer able to care for him.
If you are interested in hearing more S'more, please contact Lupe at 831-809-7585 or by email at
lupe_r49@yahoo.com
.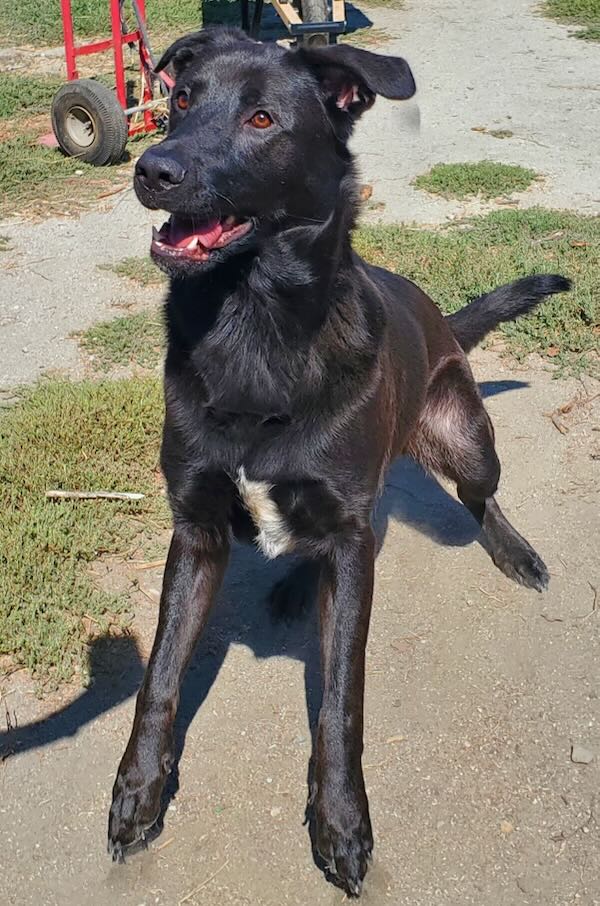 Thor is a 9-month-old, 90-pound Lab/Border Collie mix. He's recently neutered and has been an outdoor dog for his life so far. He isn't a fan of cats but gets along well with other dogs, and enjoys meeting new people.

He looks forward to finding his new family and doing some puppy training to learn the ways of the world. Thor does well with children but being that he could use some training, he does some jumping when excited. He could use some work on slimming down as he is holding a few extra pounds currently. Thor's former guardian wasn't able to take his dogs with him to his new home. Thor is currently residing with a friend while he searches for his new forever home. For more information about Thor, please contact Danielle at 661-417-9106.