Hospice Care
Sometimes when we bring a senior dog into our care, we find out they have a life threatening medical condition. For some of our dogs who are expected to live only a few months, we provide Hospice Care.
Providing Hospice Care for a dog is a big commitment and a rewarding experience. If you are interested in providing foster care for a dog for the last several months or more of their life, contact us. As with all foster assignments, POMDR will cover all medical expenses for dogs in hospice care.
Please consider becoming a sponsor for one of these sweeties.
Gurdy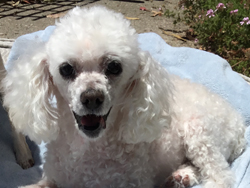 Sponsored By:
Cecille and Jim Shoemaker in memory of Walter (dog), Elbina Rafizadeh, BooBoo Foundation, Kira Steinberg
Gurdy is a 12-year-old, small mixed breed. She is a fantastic little lady who is gentle and amazing with everyone. She is great with other dogs and a wonderful lap companion. Gurdy is having trouble walking even though she is on multiple pain medications. Her foster is keeping in close contact with the veterinarian to evaluate Gurdy's needs. She is also blind and it was decided the best option is to have her stay in her familiar foster home where she can continue to receive great care.
Gurdy was rescued by good Samaritans who found her as a matted stray. They helped her get cleaned up and find her way to POMDR.
Please consider sponsoring Gurdy's forever care.