Hospice Care
Sometimes when we bring a senior dog into our care, we find out they have a life threatening medical condition. For some of our dogs who are expected to live only a few months, we provide Hospice Care.
Providing Hospice Care for a dog is a big commitment and a rewarding experience. If you are interested in providing foster care for a dog for the last several months or more of their life, contact us. As with all foster assignments, POMDR will cover all medical expenses for dogs in hospice care.
Please consider becoming a sponsor for one of these sweeties.
Sheeba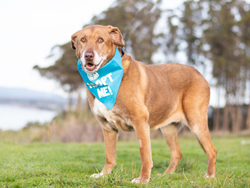 Sponsored By:
Kathleen and Bob Seibel, Kira Steinberg, Elbina Rafizadeh
Sheeba was picked up by animal control after her person passed away. She came to POMDR from the SPCA of Monterey County.
She has been in foster care of over 18 months. Due to some severe mobility issues, we brought Sheeba into our hospice program. She will stay in the loving care of her foster family for the rest of her life.
Please consider sponsoring Sheeba's forever care.